A (Black) Gat in the Hand: Dime Detective – August, 1939
A (Black) Gat in the Hand: Dime Detective – August, 1939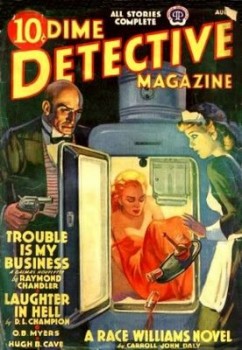 "You're the second guy I've met within hours who seems to think a gat in the hand means a world by the tail." – Phillip Marlowe in Raymond Chandler's The Big Sleep
(Gat — Prohibition Era term for a gun. Shortened version of Gatling Gun)
Dime Detective hit newsstands in November of 1931. The pulp would become Black Mask's most enduring competition. In fact, Black Mask would be bought by Dime Detective's publisher and the latter would outlast the legendary magazine. I'm a big fan of Dime Detective and I'm working on a post about the magazine for Todd Vick's excellent pulp blog, On An Underwood #5 (I'm sure you deduced that it's Robert E. Howard-centric!).
Editor Kenneth S. White was given marching orders to lure as many Black Mask writers as he could, offering an extra penny a word – a palpable pulp inducement! Most pulps paid one (or even less!) cent per word. Two cents was a desirable wage, which is why so many of the successful pulpsters turned out such prodigious word counts. They needed to just to make a living. Black Mask paid three cents a word, indicative of its status and quality. Dime Detective offering an extra penny a word was significant bait.
Many of Black Mask's writers jumped ship: Erle Stanley Gardner, Frederick Nebel, Carroll John Daly, T.T. Flynn and Frederick C. Davis among them. Norbert Davis, whose hardboiled humor wasn't to editor Cap Shaw's taste, flourished at Dime Detective. Davis is one of my favorites, which you surely know because you read this A (Black) Gat in the Hand post a few weeks ago!
When Shaw was relieved of duties in 1936, Raymond Chandler would quit Black Mask and write for Dime Detective.
Billing itself as "twice as good for half the price" (Black Mask cost twenty cents), Dime Detective lasted until August, 1953, by which time the paperback revolution had killed the pulps. Black Mask had packed it in after the March, 1950 issue.
The August, 1939 issue of Dime Detective screams out 'Quality!' It included Raymond Chandler's "Trouble is My Business," featuring his Philip Marlowe-ish John Dalmas. It effectively marked the end of his writing detective stories for the pulps. There would be one more mystery in Detective Story, but with The Big Sleep coming out in 1939, followed by Farwell My Lovely in 1940, he worked the detective novel going forward. In the lexicon of hardboiled, it's Hammett, Chandler and everyone else (Some are inclined to make it a threesome with Ross MacDonald, but I'm not in that camp). Chandler wanted to write literary hardboiled stories. He succeeded. Sometimes, his prose is beautiful. Other times, it is overly pretentious. His plotting is…complex. I used to dislike Chandler's works, but I'm warming up to him.
Carroll John Daly's Race Williams (present here in "Gangman's Gallows") was massively popular in the pages of Black Mask in the twenties and early thirties – even though editor Joseph Shaw did not like Daly's writing. Williams came to Dime Detective with Daly and appeared in 21 stories; three more the author's rather ridiculous Vee Brown  (I'm not a big fan of crusading employees of the District Attorney who write Brill Building-type smash hits in their off time, making them wealthy).
I happen to think that Daly's writing improved over time and that the later Williams stories are stronger than the early ones. I would recommend starting with the Dime Detective yarns, then working into the Black Mask stories. Mickey Spillane acknowledged Daly's influence on his own Mike Hammer.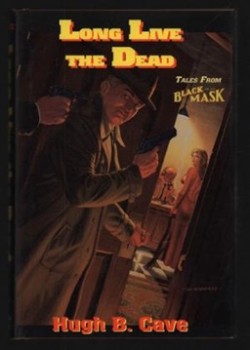 Altus Press has released three massive collections of Race Williams stories. Mysterious Press also issued a collection with some of the Dime Detective stories.
Hugh B. Cave was one of the masters of the weird menace genre. But he started out as a PI and mystery pulpster. "Deal From the Bottom" was one of his twenty stories that appeared in Dime Detective. His ten Black Mask tales were collected in a solid collection entitled Long Live the Dead. And Come into my Parlor includes several of his stories from Detective Fiction Weekly. I'm a fan of Cave's drunken Boston PI, Peter Kane, and a collection of all the Kane stories is coming from Altus Press later this month, with a foreword by me! "Deal From the Bottom" was in this issue.
Only four other writers appeared in Dime Detective more often than D.L. Champion. "Laughter in Hell" was not one of his Inspector Allhoff stories. Allhoff was an unpleasant, legless former cop who still worked with the police. Bill Pronzini wrote that Champion "took the Nero Wolfe formula and gave it a perverse twist." You can find collections of the Allhoff stories from Altus Press.
Champion was an Australian by birth, living in America, who fought for the British in World War I. There you go! He wrote many other series characters, including hypochondriac Mexican PI Mariano Mercado (another Altus collection) and penny-pinching detective Rex Sackler, who I'm SURE you read about here just last week!).
This issue included "Fire and Ice" by Oscar B. Meyers. He broke into the pulps around 1930 and was still writing for them in 1952, appearing in Dime Detective over two dozen times. He seems to be out of print today.
Edward Ronns contributed "Three Doors to Doom." He never appeared in Black Mask and I believe this was his only appearance in Dime Detective. However, he did have a long career in the mystery pulps and was frequently published in Thrilling Detective.
The third post in this series looked at some of the anthologies I'm using for this series. Here's a listing of stories in those anthologies from the writers in this issue of Dime Detective:
Raymond Chandler – Red Wind, Finger Man, Killer in the Rain (The Black Lizard Big Book of Pulps); Try the Girl (The Black Lizard Big Book of Black Mask Stories); Blackmailers Don't Shoot (Black Mask Boys); I'll be Waiting (Hard-Boiled); The King in Yellow (Tough Guys and Dangerous Dames); The Man Who Liked Dogs (Pulp Fictions)
Carroll John Daly – The Third Murderer (The Black Lizard Big Book of Pulps); Knights of the Open Palm (The Black Lizard Big Book of Black Mask Stories); Three Gun Terry (Black Mask Boys); The Crime Machine (Hard-Boiled Detectives); The Lady in the Lake (Hard-Boiled Detectives); Mister Sinister (Tough Guys and Dangerous Dames); The Egyptian Lure (Pulp Fictions)
Hugh B. Cave – Smoke Gets in Your Eyes (The Black Lizard Big Book of Black Mask Stories); Ding Dong Belle (Hard-Boiled Detectives); Brand of Kane (Tough Guys and Dangerous Dames)
D.L. Champion – Death Stops Payment (The Black Lizard Big Book of Black Mask Stories); Footprints on a Brain (Hard-Boiled Detectives)
Previous entries in the series:
With a (Black) Gat: George Harmon Coxe
With a (Black) Gat: Raoul Whitfield
With a (Black) Gat: Some Hard Boiled Anthologies
With a (Black) Gat: Frederick Nebel's Donahue
A (Black) Gat in the Hand: Thomas Walsh
A (Black) Gat in the Hand: Black Mask – January, 1935
A (Black) Gat in the hand: Norbert Davis' Ben Shaley
A (Black) Gat in the Hand: D.L. Champion's Rex Sackler
A (Black) Gat in the Hand: Back Deck Pulp #1 (next Monday)
Other hard-boiled related ramblings I've done at Black Gate:
A Century of John D. MacDonald
A Man Called Spade
Asimov's The Caves of Steel
Carroll John Daly & the Birth of Hard Boiled
Cool & Lam are Back!
Erle Stanley Gardner on Mysteries
Gideon Lowry – Key West Private Eye
Glen Cook's Garret – PI
Hard Boiled Holmes (my best pre-Black Gate work. Click on over!)
Hard Case Crime Q&A
John D. MacDonald – A Writer's Writer
Lester Dent's Master Plot Formula
The Maltese Falcon in Film
Michael Stone's Streeter
Richard Diamond – Private Eye
Robert E. Howard Goes Hard boiled (Steve Harrison)
Shovel's Painful Predicament
---
Bob Byrne's A (Black) Gat in the Hand appears weekly every Monday morning at Black Gate.
His 'The Public Life of Sherlock Holmes' column ran every Monday morning at Black Gate  from March 2014 through March 2017 (still making an occasional return appearance!). He also organized Black Gate's award-nominated 'Discovering Robert E. Howard' series.
He is a member of the Praed Street Irregulars, founded www.SolarPons.com (the only website dedicated to the 'Sherlock Holmes of Praed Street') and blogs about Holmes and other mystery matters at Almost Holmes.
He has contributed stories to The MX Book of New Sherlock Holmes Stories – Parts III, IV,  V and VI.
And coming this summer, look for another Robert E. Howard series with an all star cast!