A (Black) Gat in the Hand: Thomas Walsh
A (Black) Gat in the Hand: Thomas Walsh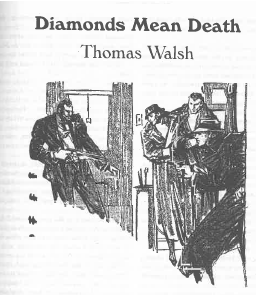 "You're the second guy I've met within hours who seems to think a gat in the hand means a world by the tail." – Phillip Marlowe in Raymond Chandlers' The Big Sleep
(Gat — Prohibition Era term for a gun. Shortened version of Gatling Gun)
Eighteen years after writing his first story, Thomas Walsh's 1951 debut novel, Nightmare in Manhattan, won an Edgar Award. Twenty-seven years later in 1978, he picked up another Edgar for the short story "Chance After Chance." That is impressive! Walsh wrote a half-dozen stories for Black Mask in the thirties and his "Best Man" was included by Joseph Shaw in his prestigious Hard-Boiled Omnibus.
"Double Check" appeared in the July, 1933 issue of Black Mask, which also included stories by Raoul Whitfield (Jo Gar), Erle Stanley Gardner (Ken Corning), Frederick Nebel (Tough Dick Donahue) and Carroll John Daly (Race Williams). How's that for less than a quarter?!
It's a buddy cop story – except the two men aren't buddies. Flaherty is well-dressed, small and the smart detective. Mike Martin is big, rough, not the quickest thinker and looks rumpled. It's brains and brawn.
A banker named Conrad Devine is being threatened, presumably with death, if he doesn't pay out.
Flaherty constantly pokes at Martin, annoying the bigger man. More than once, Martin's exasperation with his temporary partner is expressed as "I'm gonna lay you like a rug."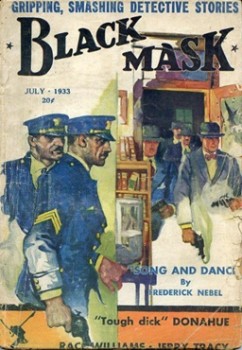 Flaherty leads and Martin follows. Frankly, I'm not really sure what Martin contributes to the case other than being a second body hanging around. He doesn't really do anything beyond intimidate a dweeby little guy and watch an exit. And to give Flaherty an outlet for sarcastic comments.
This is a Mike Martin story. He does 100% of the figuring and takes almost 100% of the action. In typical fashion, after taking charge of a dangerous situation (and killing a man), he loses the advantageous position and gets knocked unconscious. Then nearly gunned down in the street afterwards.
But he figures everything out, beards the villains in their lair, gets tied up, then manipulates the situation to a successful conclusion. It's the Mike Martin Show. He even finishes with a witty bon mot, leaving Flaherty to close things out with his 'rug' line.
I don't mind this story, but it didn't leave me with any great desire to re-read it. Nor disappointed that there weren't any more Martin/Flaherty stories (that I'm aware of). It wasn't a bad read, but I moved on to Charles G. Booth's "Stag Party" and left it behind me.
Walsh's "Diamonds Mean Death" was his last Black Mask story, appearing in the March, 1936 issue.    Readers also found "The Man Who Liked Dogs" from Raymond Chandler, Paul Cain's "Pineapple" and a story from George Harmon Coxe. Who you know all about because you read the first With a (Black) Gat post, right????
Major Russell, a British man of adventure, wishes to sell some diamonds to Ellen Bridges at the significantly discounted price of $35,000. Joe Keenan is a friend who is looking out for Ellen's interests. Someone from Russell's past gets the drop on the meeting ('When in doubt, have a man come through the door with a gun in his hand'). It appears he's about to reveal some useful information but Russell shoots him dead.
Keenan spends the rest of the story trying to figure out what Russell's up to; it has to be something. Captured by two gunmen, Keenan knocks out both men instants before the car careens into the concrete guardrail. It's a well-written action scene.
You'll have to read the story yourself for the rest of the details. As with "Double Check," it's an okay story, but didn't make much of an impression on me. I haven't sought out Walsh's other works, though I suspect that the Edgar winning novel, Nightmare in Manhattan, is probably worth a read. There's nothing wrong with these two stories, they just didn't make much of a mark on me.
After receiving a B.A. from Columbia, Walsh had briefly been a reporter for the Baltimore Sun before embarking on a fulltime career in the pulps, also working in the slicks. I don't know much else about him.
Nightmare in Manhattan was adapted into he hit film, Union Station, starring William Holden. Though the story was moved from New York City to Chicago, the source material was clearly recognizable.
"Double Check" can be found in The Black Lizard Big Book of Pulp Stories, while "Diamonds Mean Death" is included in The Black Lizard Big Book of Black Mask Stories.
Previous entries in the series:
With a (Black) Gat: George Harmon Coxe
With a (Black) Gat: Raoul Whitfield
With a (Black) Gat: Some Hard Boiled Anthologies
With a (Black) Gat: Frederick Nebel's Donahue
A (Black) Gat in the Hand: January, 1935 Black Mask (next week)
Other hard-boiled related ramblings I've done at Black Gate:
A Century of John D. MacDonald
A Man Called Spade
Asimov's The Caves of Steel
Carroll John Daly & the Birth of Hard Boiled
Cool & Lam are Back!
Erle Stanley Gardner on Mysteries
Gideon Lowry – Key West Private Eye
Glen Cook's Garret – PI
Hard Boiled Holmes (my best pre-Black Gate work. Click on over!)
Hard Case Crime Q&A
John D. MacDonald – A Writer's Writer
Lester Dent's Master Plot Formula
The Maltese Falcon in Film
Michael Stone's Streeter
Richard Diamond – Private Eye
Robert E. Howard Goes Hard boiled (Steve Harrison)
Shovel's Painful Predicament
---
Bob Byrne's A (Black) Gat in the Hand appears weekly every Monday morning at Black Gate.
Bob Byrne's 'The Public Life of Sherlock Holmes' column ran every Monday morning at Black Gate  from March 2014 through March 2017 (still making an occasional return appearance!). He also organized Black Gate's award-nominated 'Discovering Robert E. Howard' series.
He is a member of the Praed Street Irregulars, founded www.SolarPons.com (the only website dedicated to the 'Sherlock Holmes of Praed Street') and blogs about Holmes and other mystery matters at Almost Holmes.
He has contributed stories to The MX Book of New Sherlock Holmes Stories – Parts III, IV,  V and VI.
And coming this summer, look for another Robert E. Howard series with an all star cast!