A (Black) Gat in the Hand: D. L. Champion's Rex Sackler
A (Black) Gat in the Hand: D. L. Champion's Rex Sackler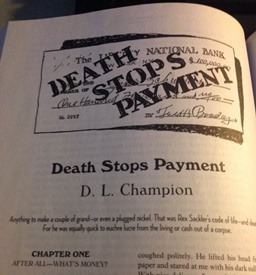 "You're the second guy I've met within hours who seems to think a gat in the hand means a world by the tail." – Phillip Marlowe in Raymond Chandler's The Big Sleep
(Gat — Prohibition Era term for a gun. Shortened version of Gatling Gun)
Only T.T. Flynn (80), Frederick C. Davis (73) and Carroll John Daly (53) appeared in Dime Detective more often than D'arcy Lyndon Champion, who was in 47 issues. Twenty-nine of those were Inspector Allhoff stories (behind only Frederick Nebel's Cardigan and John Lawrence's the Marquis of Broadway).
Allhoff was an unpleasant, kind of psychotic, legless former cop who still worked with the police. Bill Pronzini wrote that Champion "took the Nero Wolfe formula and gave it a perverse twist." You can find a collection with several of the Allhoff stories from Altus Press. A second volume will be released at PulpFest this summer.
The Phantom Detective was the second pulp hero magazine star, after The Shadow, appearing one month before Lester Dent's/Kenneth Robeson's Doc Savage. Champion was the primary writer of the early stories under the name Jack D'arcy. He had many other series characters, including hypochondriac Mexican PI Mariano Mercado (another Altus collection) and penny-pinching detective Rex Sackler.
I've only found one Rex Sackler tale, "Death Stops Payment," which is included in the Black Lizard Big Book of Black Mask Stories. Sackler appeared in three issues of Detective Fiction Weekly before moving to Black Mask for twenty-six more. There haven't been any Sackler collections at all; even in electronic format. Which is a SHAME! Sackler brings to mind the humorous stories of the vastly under-appreciated Norbert Davis (who, of course, you read about here…).
Sackler is so cheap he makes Scrooge look like philanthropist (the pre-ghosts Scrooge). He hates paying Joey Graham, his street-smart assistant, his hard-earned wages. And knowing Graham's weakness for gambling, he entices his employee into losing part of his pay right back to him. Graham knows what's happening, but he can't resist the lure.
Graham said of his boss:
"Despite the fact of his commanding enormous fees, he lived like an indigent immigrant. He bought a suit only after his bare knees came peeping through the threadbare material. His hat was a blob of shapeless felt that I'm certain some doting uncle had awarded him on the day of his grammar school graduation. His shoes were odd lot three-dollar bargains. But there was nothing shabby or cheap about his bank account.

Sackler was smoothing out a rumpled morning newspaper preparatory to reading it. I knew from the journal's condition and previous experience that he had snatched it up from the floor of the subway, a procedure that enabled him to stash away another three cents along with the rest of the Sackler fortune."
Sackler's senses were attuned to money, as he could "stare right through a man's coat and into his wallet," and he could "smell a nickel before it left the mint." He is referred to as 'The Parsimonious Prince of Penny-Pinchers' and he doesn't trust banks, putting all of his money into postal savings accounts.
In "Death Stops Payment" (the first Black Mask story), Sackler's greed costs him an easy $200 commission as the case of a dead man is solved while he is angling for more money. Shortly after, the partner of the deceased hires Sackler to prove that it was murder, not suicide, for $2,500.
Inspector Wolley of the police department makes Sherlock Holmes' Inspector Lestrade look to be on the ball. In this tale, Wolley does nothing except drink brandy, tell stories and come up with wrong theories. He doesn't even arrest anybody or provide any brawn.
There are more deaths along the way and Sackler earns his $2,500, but not in the way expected. Normally, when he solves a case, "he usually threw it in everyone's face abruptly and without waste of words." Sackler wanted to gloat about his brilliance and collect this money. Though in this instance, his talking in in circles surprised Graham.
The stories are told in the first person by Graham. Graham faithfully serves his boss, but he actually roots against him, enjoying the prospect of Sackler missing out on a dime and trying to find some way to cadge a raise out of the boss.
I would very much like to read more Rex Sackler stories. The character is certainly rife for a collection, as there's never been one.
Champion was an Australian by birth, living in America, who fought for the British in World War I. There you go! Ken White, who was editing both Dime Detective and Black Mask for Popular Publications, supported Champion. When White left the company in 1948, Champion was essentially done in both magazines – though the pulps were about dead anyways. He wrote a few paperback novels (which replaced the pulps) and true-crime articles but the bulk of his career was done. He died in New York in 1968.
Previous entries in the series:
With a (Black) Gat: George Harmon Coxe
With a (Black) Gat: Raoul Whitfield
With a (Black) Gat: Some Hard Boiled Anthologies
With a (Black) Gat: Frederick Nebel's Donahue
A (Black) Gat in the Hand: Thomas Walsh
A (Black) Gat in the Hand: Black Mask – January, 1935
A (Black) Gat in the Hand: Norbert Davis' Ben Shaley
A (Black) Gat in the Hand: Dime Detective – August, 1939 (next week)
Other hard-boiled related ramblings I've done at Black Gate:
A Century of John D. MacDonald
A Man Called Spade
Asimov's The Caves of Steel
Carroll John Daly & the Birth of Hard Boiled
Cool & Lam are Back!
Erle Stanley Gardner on Mysteries
Gideon Lowry – Key West Private Eye
Glen Cook's Garret – PI
Hard Boiled Holmes (my best pre-Black Gate work. Click on over!)
Hard Case Crime Q&A
John D. MacDonald – A Writer's Writer
Lester Dent's Master Plot Formula
The Maltese Falcon in Film
Michael Stone's Streeter
Richard Diamond – Private Eye
Robert E. Howard Goes Hard boiled (Steve Harrison)
Shovel's Painful Predicament
---
Bob Byrne's 'With a (Black) Gat' appears weekly every Monday morning at Black Gate.
His 'The Public Life of Sherlock Holmes' column ran every Monday morning at Black Gate  from March 2014 through March 2017 (still making an occasional return appearance!). He also organized Black Gate's award-nominated 'Discovering Robert E. Howard' series.
He is a member of the Praed Street Irregulars, founded www.SolarPons.com (the only website dedicated to the 'Sherlock Holmes of Praed Street') and blogs about Holmes and other mystery matters at Almost Holmes.
He has contributed stories to The MX Book of New Sherlock Holmes Stories – Parts III, IV,  V and VI.
And coming this summer, look for another Robert E. Howard series with an all star cast!