A (Black) Gat in the Hand: W.T. Ballard's Bill Lennox
A (Black) Gat in the Hand: W.T. Ballard's Bill Lennox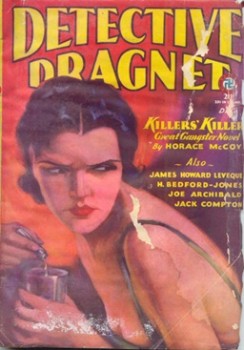 One of the authors that I've 'discovered' while working on A (Black) Gat in the Hand is W.T. Ballard. I had read a story here and there in various anthologies, but nothing stuck with me. I knew he was a Black Masker and had been successful as a writer of westerns. But I've just read a couple stories of his Hollywood 'fixer,' Bill Lennox and I was sold!
Ballard, who wandered out west when the Depression hit, had been trying to sell to the New York pulps with minimal success. He saw a Detective Dragnet Magazine with one of his stories in a store window (December, 1930). As he walked away, a man called out his name: it was Harry Warner, who he had known a little back in Cleveland, where the family had been making movie trailers for local organizations.  Warner asked what Ballard was doing in Hollywood. A bit embarrassed, the latter exaggerated a bit, bought that magazine and gave it to Warner, saying he was a freelance writer.
Warner and his brothers had just taken over First National Studios, and impressed with Ballard, Harry W. hired him as a screenwriter at a good salary. That gig lasted eight months until Ballard made a crack about Warner, not knowing the man was standing behind him. Fired!
Ballard was picked up by Columbia Pictures, who hired him to produce B-films for $10,000 each. To hit that target, Ballard had to write the script, direct and produce, and even move scenery for shoots. He endured this exhausting assignment for six months – but the two studio jobs gave him an invaluable inside knowledge of the industry.
In 1931, Ballard was trying struggling trying to write and sell to Detective Story Magazine, which favored Agatha Christie/Mary Roberts Rinehart types of mysteries. At his uncle's house (where he was living), he heard a radio ad for The Maltese Falcon, a movie starring Ricardo Cortez (Bogart hit gold in the third adaptation). He went to see the movie. As Ballard said in an excellent interview conducted by Stephen Mertz. "Hammett's ear for words sounded the way I thought criminals and detectives should talk. It rang true, the way I wanted mine to do."
The radio ad had mentioned Black Mask, which Ballard was unfamiliar with. After the movie he went around the corner, bought the latest issue and read it on the streetcar ride home. He was hooked.
Ballard didn't want to write about the typical newspaper reporter. His friend Jim Lawson worked at Universal Studios and was often called on to get stars out of trouble. Ballard liked the idea, knowing he had the studio experience to write realistically.  Using the phone book to help with names, that very night, around midnight, he started writing. About five in the morning, he had a 10,000-word story featuring Bill Lennox. He mailed the manuscript off and went to bed.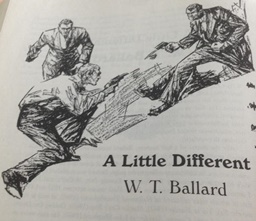 He was out of work, supporting some relatives and getting paid a quarter of a cent to one cent per word for the 'lesser' detective pulps. Within a week, Joe 'Cap' Shaw, famed editor of Black Mask, had asked for a few changes (including that Lennox not carry a gun), but also sent a check, buying the story. Bill Lennox, troubleshooter for General-Consolidated Studios, was born.
Ballard wrote and sold seven more Lennox stories in three weeks, with Shaw's boss, Phil Cody, finally telling the editor to take a break from them. "A Little Different" was that first Lennox story, appearing in the September, 1933 Black Mask and reprinted in The Black Lizard Big Book of Black Mask Stories.
An actor named Wayborn, starring in General-Consolidated Studio's current big shoot, Dangerous Love, has been kidnapped and studio head Sol Spurck is not inclined to the pay the $50,000 demanded for his return. He tells Bill Lennox, former reporter, ex-publicity man and ace fix-it guy, to go find his missing star. Lennox had helped take Elva Myers from nothing to star and she had cast him aside once she got to the top. But she's costarring in Dangerous Love and he has to deal with her. Their relationship keeps things…interesting.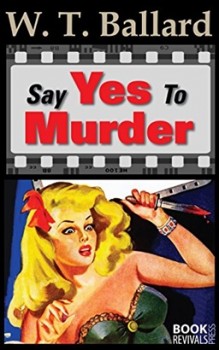 There are competing groups of interested parties and Lennox keeps digging away, constantly in peril. There's finally a high-octane finale with torture and gunplay.
Nancy Hobbs is a reporter and Lennox' truest friend in the series. She constantly urges him to leave Hollywood, go back east and write a novel. But while he's managed to avoid the moral corruption of Tinsel Town, he can't pull free of its allure, as the story's ending shows.
The series depicts the tawdry side of Hollywood. Lennox is on the outs as a murder suspect when he visits a gambling club:
'Lennox's lips thinned. "Just a friendly town," he thought. "When the knife falls, everyone helps you down into the gutter."'
Ballard drew heavily on this story for the first Lennox novel, Say Yes to Murder.
Lennox would appear in about two dozen short stories and five novels and along with Jo Gar, has become one of my favorite characters discovered through A (Black) Gat in the Hand. Except for a five-story collection put out in 1984, Lennox was largely ignored for decades. A few stories and several of the novels are available in ebook format, fortunately.
When I read a Lennox story, I think of Alan Ladd's Dan Holiday from the Box 13 radio show.
Ballard also had a long, successful career, writing western paperbacks long after the pulps had died out. He cowrote a novel, Murder Picks the Jury, with fellow pulpster Norbert Davis (who used the name Harrison Hunt). I'll likely do a A (Black) Gat in the Hand post on that. Well, after I actually read it!
I HIGHLY recommend checking out a Bill Lennox story and I look forward to a complete collection of the stories, in two or three volumes. I'm in!
Previous entries in the series:
With a (Black) Gat: George Harmon Coxe
With a (Black) Gat: Raoul Whitfield
With a (Black) Gat: Some Hard Boiled Anthologies
With a (Black) Gat: Frederick Nebel's Donahue
A (Black) Gat in the Hand: Thomas Walsh
A (Black) Gat in the Hand: Black Mask – January, 1935
A (Black) Gat in the hand: Norbert Davis' Ben Shaley
A (Black) Gat in the Hand: D.L. Champion's Rex Sackler
A (Black) Gat in the Hand: Dime Detective – August, 1939
A (Black) Gat in the Hand: Back Deck Pulp #1
A (Black) Gat in the Hand: Black Mask – May, 1934 (next week)
Other hard-boiled related ramblings I've done at Black Gate:
A Century of John D. MacDonald
A Man Called Spade
Asimov's The Caves of Steel
Carroll John Daly & the Birth of Hard Boiled
Cool & Lam are Back!
Erle Stanley Gardner on Mysteries
Gideon Lowry – Key West Private Eye
Glen Cook's Garret – PI
Hard Boiled Holmes (my best pre-Black Gate work. Click on over!)
Hard Case Crime Q&A
John D. MacDonald – A Writer's Writer
Lester Dent's Master Plot Formula
The Maltese Falcon in Film
Michael Stone's Streeter
Richard Diamond – Private Eye
Robert E. Howard Goes Hard boiled (Steve Harrison)
Shovel's Painful Predicament
---
Bob Byrne's A (Black) Gat in the Hand appears weekly every Monday morning at Black Gate.
His 'The Public Life of Sherlock Holmes' column ran every Monday morning at Black Gate  from March 2014 through March 2017 (still making an occasional return appearance!). He also organized Black Gate's award-nominated 'Discovering Robert E. Howard' series.
He is a member of the Praed Street Irregulars, founded www.SolarPons.com (the only website dedicated to the 'Sherlock Holmes of Praed Street') and blogs about Holmes and other mystery matters at Almost Holmes.
He has contributed stories to The MX Book of New Sherlock Holmes Stories – Parts III, IV,  V and VI.
And coming this summer, look for another Robert E. Howard series with an all star cast!