New Treasures: The Book of Hidden Things by Francesco Dimitri
New Treasures: The Book of Hidden Things by Francesco Dimitri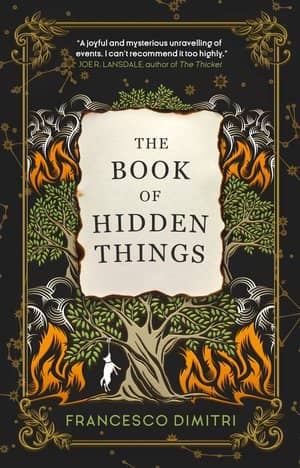 Francesco Dimitri has published multiple fantasy novels in Italian. His nonfiction includes To Read Aloud and the upcoming That Sense of Wonder, both written in English. The Book of Hidden Things is his debut English novel; it's described as "a story about the nature of mystery itself," which I admit I find a little intriguing. Kirkus Reviews raved in a starred review, saying,
In lesser hands, this blend of detective story, organized crime thriller, and supernatural investigation would feel like a grab bag of plot devices, but Dimitri has created a thrilling spectacle that also manages to point poignantly at the way the landscapes we grow up in shape us in ways even beyond our understanding. A deeply felt look at the idea of home, clothed as a popcornworthy page-turner.
Here's the description.
From "one of the most significant figures of the last generation of fantasy," comes Francesco Dimitri's debut novel in English, an enthralling and seductive fantasy following four old friends and the secrets they keep.

Four old school friends have a pact: to meet up every year in the small town in Puglia they grew up in. Art, the charismatic leader of the group and creator of the pact, insists that the agreement must remain unshakable and enduring. But this year, he never shows up.

A visit to his house increases the friends' worry; Art is farming marijuana. In Southern Italy doing that kind of thing can be very dangerous. They can't go to the Carabinieri so must make enquiries of their own. This is how they come across the rumours about Art; bizarre and unbelievable rumours that he miraculously cured the local mafia boss's daughter of terminal leukaemia. And among the chaos of his house, they find a document written by Art, The Book of Hidden Things, that promises to reveal dark secrets and wonders beyond anything previously known.

Francesco Dimitri's first novel written in English, following his career as one of the most significant fantasy writers in Italy, will entrance fans of Elena Ferrante, Neil Gaiman and Donna Tartt. Set in the beguiling and seductive landscape of Southern Italy, this story is about friendship and landscape, love and betrayal; above all it is about the nature of mystery itself.
The Book of Hidden Things was published by Titan Books on July 3, 2018. It is 384 pages, priced at $14.95 in trade paperback and $7.99 for the digital version. The cover was designed by Titan's talented Julia Lloyd. Read an excerpt at Tor.com.