Birthday Reviews: Barry N. Malzberg's "Tap-Dancing Down the Highways and Byways of Life"
Birthday Reviews: Barry N. Malzberg's "Tap-Dancing Down the Highways and Byways of Life"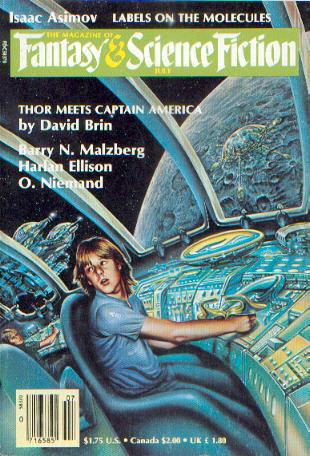 Barry N. Malzberg was born on July 24, 1939.
Malzberg received the inaugural John W. Campbell Memorial Award for his novel Beyond Apollo. His novel Herovit's War was nominated for the Jupiter Award and he's had nominations for the Theodore Sturgeon Memorial Award, the British SF Association Award, and the Philip K. Dick Award. He has been nominated for the Hugo Award five times and the Nebula Award six times.
"Tap-Dancing Down the Highways and Byways of Life" was originally published by Edward L. Ferman in the July 1986 issue of The Magazine of Fantasy and Science Fiction. Although it wasn't reprinted in English until appearing in The Very Best of Barry N. Malzberg in 2013, it was published in French, Italian, and German translations within seven months of its original publication.
It would appear that Cecil's big mistake in "Tap-Dancing Down the Highways and Byways of Life" was robbing someone who not only knew who he was, but also knew his parents. As his victim holds back money, calls him out, and points out how disappointed Cecil's parents will be to hear about his poor life choices, Cecil decides that the best way out of the situation is to shoot his victim in the head. Malzberg is not telling Cecil's story, however, he is telling the story of the intended robbery victim.
Cecil's victim is brought back to life, or possibly awoken from a virtual reality scenario, Malzberg is never really clear on the mechanism. What is clear is that the victim is supposed to react to the robbery in a specific way and is not doing what he is supposed to, notably, giving Cecil the money and following his instructions in order to live another day. His unnamed handlers give him multiple opportunities to correct the situation and he keeps finding himself facing an armed Cecil with a gun, eventually deciding that he can't live as a complacent victim in the world his handlers are trying to shoe-horn him into.
Malzberg's story takes on darker tones when the reader considers who the victim's handlers are and what their motives could be. They could simply be preparing people to live and survive in a more violent world, accepting what they can't change in order to live another day. On the other hand, they could be conditioning people to being victims, making it easier on the criminal and violent classes to prey on the innocents.
Reprint reviewed in the collection The Very Best of Barry N. Malzberg, by Barry N. Malzberg, Nonstop Press 2013.
---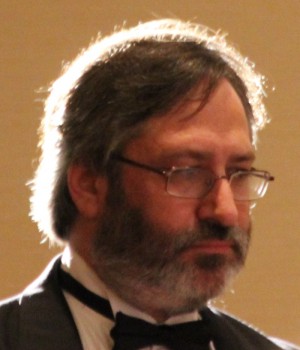 Steven H Silver is a sixteen-time Hugo Award nominee and was the publisher of the Hugo-nominated fanzine Argentus as well as the editor and publisher of ISFiC Press for 8 years. He has also edited books for DAW and NESFA Press. He began publishing short fiction in 2008 and his most recently published story is "Doing Business at Hodputt's Emporium" in Galaxy's Edge. Steven has chaired the first Midwest Construction, Windycon three times, and the SFWA Nebula Conference 6 times, as well as serving as the Event Coordinator for SFWA. He was programming chair for Chicon 2000 and Vice Chair of Chicon 7. He has been the news editor for SF Site since 2002.