A (Black) Gat in the Hand: Black Mask — October, 1933
A (Black) Gat in the Hand: Black Mask — October, 1933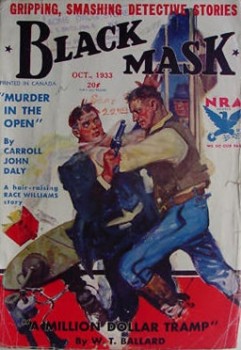 "You're the second guy I've met within hours who seems to think a gat in the hand means a world by the tail." – Phillip Marlowe in Raymond Chandler's The Big Sleep
(Gat — Prohibition Era term for a gun. Shortened version of Gatling Gun)
October of 1933 featured yet another solid issue of Black Mask under Joseph 'Cap' Shaw's direction. The cover art was by J.W. Schlaiker, who had about fifty covers from 1929 to 1934. I don't know why he abruptly stopped drawing for Black Mask. He served in France during World War I and was the War Department artist during World War II. He did portraits of Eisenhower, MacArthur and Patton.
With "Murder in the Open," Race Williams made his forty-second appearance in Black Mask, dating back to June 1, 1923. For several years, Williams on the cover had guaranteed increased sales, but Carroll John Daly would be gone from Black Mask in just over a year and he was already regularly appearing in Dime Detective.
Daly was the first author to write in what became the hardboiled style with "Three Gun Terry" (which, of course, you read about here…) in the May 15, 1923 issue of Black Mask. Williams would follow in "Knights of the Open Palm in June, with Dashiell Hammett introducing his famous Continental Op in "Arson Plus" in October of that year. Daly's writing style was far less polished and developed than Hammett's, though I feel that it did improve over the years.
W(illiam) T(odhunter) Ballard was Nero Wolfe creator Rex Stout's first cousin (which would explain why they shared such an unusual middle name). Ballard, who went on to become a very successful western author, wrote extensively for the detective pulps in the thirties and forties. He explained that he was struggling to sell to the lesser pulps when he saw The Maltese Falcon starring Ricardo Cortez. Hammett's terse prose spoke to him and he bought an issue of Black Mask. He stayed up all night, wrote a story and sold it to the magazine. He would go on to a long career in the pulps and as a novelist.
Bill Lennox was a Hollywood troubleshooter who worked for General Consolidated Pictures and "Million Dollar Tramp" was his third adventure. Often not carrying a gun, he was a de facto private eye. Lennox appeared in twenty-seven short stories in Black Mask, as well as in five novels. When I read the stories, I get the sense of Alan Ladd from his radio show. Box 13. I discovered Lennox through researching A (Black) Gat in the Hand and he's become a favorite character of mine.  He was the subject of the July 23rd post and I highly recommend these stories.
Erle Stanley Gardner will long be remembered as the creator of lawyer Perry Mason. And I'm a huge fan of his Cool and Lam detective series, but he was a prolific pulp fiction writer, cranking out a hundred thousand words a month for a decade! The Public Life of Sherlock Holmes will be returning to Black Gate in the Fall with a couple of Cool and Lam posts.
Ed Jenkins, the Phantom Crook and star of "The Murder Push," is not that well known today, but he appeared in Black Mask an amazing seventy-four times between 1925 and 1943 and made one final appearance 18 years later in Argosy.
He was one of the Mask's most popular characters for years. Jenkins worked against both the law and criminals and was out for his own gain. The stories are action-packed hard-boiled tales and might surprise those who only know the author through Mason. You can check out Jenkins with the August 6th A (Black) Gat in the Hand.
Next month, we've got a post looking at "The Shrieking Skeleton," his first Black Mask story – and only the third short story he wrote!
Black Mask star Raoul Whitfield was the subject of the very second With a (Black) Gat post. Dion Davies featured in the September and October 1933 issues of Black Mask and Whitfield never wrote about the character again. "Money Talk" was the second and last Davies story. Whitfield's Filipino detective, Jo Gar, has become another favorite of mine and I'll be doing a separate post on him.
Whitfield came from an upper crust family and lived in the Far East as a youth, lending authenticity to his Jo Gar stories. He wrote ninety stories for Black Mask and he was truly one of the authentic hardboilers. His first novel, Green Ice, was a serial in Black Mask and is classic hard boiled adventure. His second, Death in a Bowl (also a Black Mask serial) was the first of the Hollywood PI novels and set the tone for that sub-genre. Whitfield cranked out a lot of words, but when he was on, he was one of the hard boiled pulpsters of them all. Like many of his era, he lived a dissolute lifestyle, went through a couple fortunes and died broke, only 48 years old.
Roger Torrey broke into the pulps with the January, 1933 issue of Black Mask and quickly became a Shaw favorite, appearing eight times that year, with "Blackmail is an Ugly Word" being one of seven stories about policeman Dal Prentice. Even among pulpsters, Torrey was a heavy drinker and fell out of favor with editors around 1940. He spent his last several years writing for the 'lesser' detective pulps until he died of alcohol-related causes in 1946: He was only 45 years old. Torrey is largely forgotten today but he wrote fast-paced hardboiled yarns; often with Irish protagonists. In just over a dozen years of writing, he turned out nearly 300 stories and one novel – 42 Days for Murder.
The issue  featured "Black Mask Mystery #6: Dal Prentice Thinks it Out," also from Torrey. This series seemed to consist of one-page mysteries for readers to solve, with the answer coming in the next issue. "Detective Story Puzzle #1" replaced the line the following month.
Finally, "Manhattan Midnight" was from the typewriter of William Corcoran. He was editor of Adventure magazine and wrote westerns and also for adventure pulps like Argosy. His The Purple Eye is classic adventure fiction and preceded The Spider by several months, while is novel Trail Street became a film of the same name, starring Randolph Scott (a great cowboy film star) and Robert Ryan.
And there we have another Black Mask with some great reading for twenty cents. We've covered issues from 1933, 1934 and 1935. Maybe we'll peruse the news stands and snag an issue from the Sutton or Cody eras next.
Previous entries in the series:
With a (Black) Gat: George Harmon Coxe
With a (Black) Gat: Raoul Whitfield
With a (Black) Gat: Some Hard Boiled Anthologies
With a (Black) Gat: Frederick Nebel's Donahue
A (Black) Gat in the Hand: Thomas Walsh
A (Black) Gat in the Hand: Black Mask – January, 1935
A (Black) Gat in the hand: Norbert Davis' Ben Shaley
A (Black) Gat in the Hand: D.L. Champion's Rex Sackler
A (Black) Gat in the Hand: Dime Detective – August, 1939
A (Black) Gat in the Hand: Back Deck Pulp #1
A (Black) Gat in the Hand: W.T. Ballard's Bill Lennox
A (Black) Gat in the Hand: Day Keene
A (Black) Gat in the Hand: Back Deck Pulp #2 (next week)
Other hard-boiled related ramblings I've done at Black Gate:
A Century of John D. MacDonald
A Man Called Spade
Asimov's The Caves of Steel
Carroll John Daly & the Birth of Hard Boiled
Cool & Lam are Back!
Erle Stanley Gardner on Mysteries
Gideon Lowry – Key West Private Eye
Glen Cook's Garret – PI
Hard Boiled Holmes (my best pre-Black Gate work. Click on over!)
Hard Case Crime Q&A
John D. MacDonald – A Writer's Writer
Lester Dent's Master Plot Formula
The Maltese Falcon in Film
Michael Stone's Streeter
Richard Diamond – Private Eye
Robert E. Howard Goes Hard boiled (Steve Harrison)
Shovel's Painful Predicament
---
Bob Byrne's 'With a (Black) Gat' appears weekly every Monday morning at Black Gate.
His 'The Public Life of Sherlock Holmes' column ran every Monday morning at Black Gate  from March 2014 through March 2017 (still making an occasional return appearance!). He also organized Black Gate's award-nominated 'Discovering Robert E. Howard' series.
He is a member of the Praed Street Irregulars, founded www.SolarPons.com (the only website dedicated to the 'Sherlock Holmes of Praed Street') and blogs about Holmes and other mystery matters at Almost Holmes.
He has contributed stories to The MX Book of New Sherlock Holmes Stories – Parts III, IV,  V and VI.
And coming this summer, look for another Robert E. Howard series with an all star cast!