Bob's Books: "Fast, Loose Money" by John D. MacDonald
Bob's Books: "Fast, Loose Money" by John D. MacDonald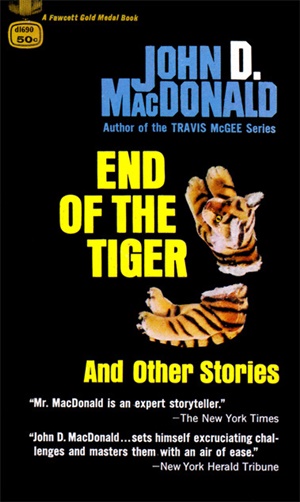 John D. MacDonald broke in near the end of the Pulp Era, writing for science fiction and mystery magazines. He appeared in Dime Detective his first year of writing, and made it into Black Mask the next. Joe 'Cap' Shaw became his agent after the legendary editor left the magazine. He quickly became a staple for Fawcett Gold Medal's paperback origscoinal novels, while still writing short stories, including for slicks like Redbook and Cosmopolitan. With seven stories in 1958 (the same as in 1957), Macdonald effectively ended his run as a short story writer and shifted almost completely to novelist.  He would only write that many short stories in a year twice more for the rest of his life.
The last story published in 1958 was "The Fast, Loose Money," in the July issue of Cosmopolitan. It was included in the 1966 collection, End of the Tiger and Other Stories. One of the fourteen other stories in that book is "The Trap of Solid Gold," which I think is one of his best; and which Steve Scott used to name his blog – the best John D. MacDonald site on the web. You can read Steve's two-part essay on MacDonald's Park Falkner, here.
At eleven pages of tightly spaced small print, it's a little longer than almost every other story in the book.
During World War II, MacDonald was an ordnance officer in the India-China-Burma Theater, working in procurement. He was initially assigned to New Delhi, and he did not like India, writing over forty years later, that it "was a sorry country, full of sorry people."
He was transferred to the Office of Strategic Services (OSS), which became the CIA. He worked out of Ceylon (Sri Lanka), Burma, and China. MacDonald would use his experiences and knowledge of his wartime service in the Far East, in several of his short stories. 1958's "Taint of the Tiger" was expanded into a Fawcett Gold Medal paperback, Soft Touch. Another 'war-roots' story from that year is "Fast, Loose Money."
Something has gone very wrong in Jerry Thompson's day. Jerry owns three parking lots in a nearby city. He and his wife Marie live well enough off of them, but as he says, "If you play by the rules, you're a sucker." So, Jerry had been using a duplicate ticket scheme to grab some off-the-book income, totaling about $26,000, which he kept at home in a wall safe, and spent low-key, to avoid the danger of getting caught.
His best friend and neighbor, was Arnie Sloan. Arnie had a similar approach to financial security. Arnie is part owner (and head waiter) at a restaurant in town. Between kickbacks on buying food and undeclared tips, he rakes in a healthy amount on the side, as well.
The two had met while stationed in India, near Calcutta, during World War II. They worked for a quarter master battalion, and they quickly began working together to make 'fast, loose, money.' Illicit money to supplement their army pay. MacDonald, who surely saw a lot of this behavior first hand, gives an example of how "enterprising" soldiers could make money during the war. Take three or four bottles out of a case of liquor for the officers, then 'accidentally' drop the case off the top of a stack, fifteen feet above a cement floor. "Who is going to fit the glass together and find out how many bottles were in there?"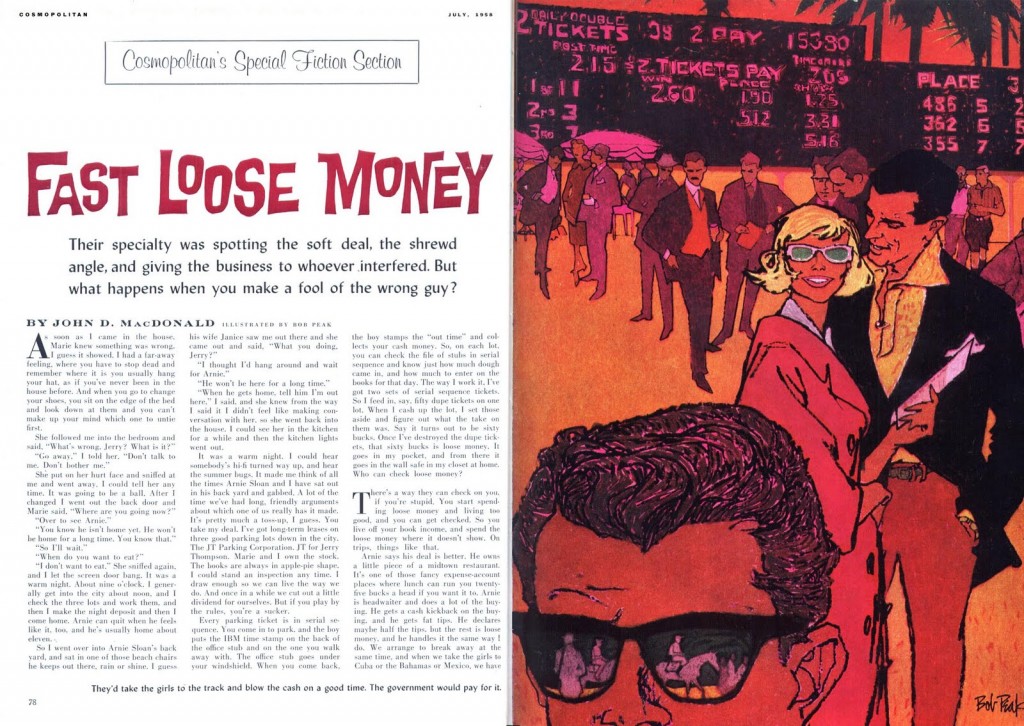 The men turn to a bond scam, enlisting Jerry's sister back in the States. Then smuggling gold. They were making quite a bit of money. Then, a new commanding officer took over the 'sad-sack' company. Captain Richard Driscoll cracked down on non by-the-book behavior and tried to whip the company into shape. Jerry and Arnie led a resistance movement that had everyone following every order to the letter. And as slowly as possible.
If someone was ordered to go down to the docks to pick something up, he stayed and waited for an order on where to bring it back. Even if it was supposed to be delivered to the base. If nobody ordered trucks to be gassed up, they weren't. Nobody directly did anything punishable, and the company simply stopped working. It was broken. Driscoll tried to handle everything himself, which was impossible. Seven weeks after he took over, he was relieved of command. The next guy was no trouble and Jerry and Arnie amassed a small fortune, which they smuggled back home.
Jerry and Arnie aren't evil. They're two guys after a fast buck. And they're not particular how they get it. At all. The way they operated in the military was the way they operated back in the States. They were in the game to make money.
The story opens with Jerry sitting in Arnie's backyard, waiting for him to get home from work. We learn that Jerry had a visitor at his biggest lot, during the day.  No longer Captain Driscoll, first name Richard, has come by. Turns out he's a Treasury Intelligence agent. And he's been sitting across the street in a rented room, counting how many customers came and went every day.
He hands Jerry a subpoena and tells him to be at the Federal building tomorrow at 2 PM, with all his records. And he suggests he bring an attorney, as well. He leaves the totally overwhelmed Jerry and tells him to give his regards to Arnie, and that he expects to see him soon.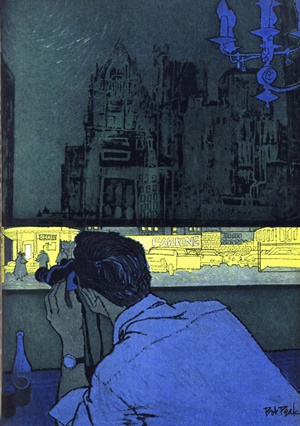 The story ends with Jerry, unable to get the words out to tell the story, handing Arnie Driscoll's card.
MacDonald opens the story, painting Jerry and Arnie's current world. They are living comfortably, stealing moderately from their businesses, getting along in life. And while we haven't even met Arnie yet, he moves them back a time a few years to World War II, and we see that their characters were the same. And they worked the system to their own advantage: whatever the system was.
But from the very beginning, without telling us how, MacDonald lets us know something has gone wrong. And, from the title, and the narrative, it involves this illicit, 'fast, loose, money.' By having their former foe, the company commander, Driscoll, represent the system, it's an O. Henry twist at the end."
It's been a little over sixteen years since their seven weeks together in India. And Driscoll has definitely ruminated on what Jerry and Arnie did to him. "I made the mistake of trying to take the company over and run it. I made the mistake of trying to take it away from you and Sergeant Sloane."
Jerry, a man who is always in control, who knows where he stands, is trying to find his footing in an avalanche. "I don't know as we were running it."
"You know, Thompson, I've never considered myself a vindictive man…You boys really took me over the jumps, didn't you?"
Driscoll didn't show up just to let Jerry know that he and Arnie outfoxed him back in the war. He's come to even the score.
"You know how those things are." You can feel Jerry's helplessness as he goes down the dark, twisty path, at night, hearing the wolves baying at the edge of the forest. Uncertain what the next step will bring. But he can't stop, or turn back.
"You taught me how they are."
Driscoll knows he has Jerry. "Cat and mouse isn't my game," he said. "I'm enjoying this, I suppose, but not as much as I thought I would. So I'll leave out the routine and cut it short."
And he hands Jerry the subpoena. But that's not the very end. The last paragraph has us back in Arnie's back yard, in the dark, with an annoyed Arnie telling Jerry to get to the point. And that's when, Jerry, a guy who always knew all the angles, still shell shocked, hands him Driscoll's card.
It's a tight little story with a lot packed in about 3,000 words. We see Jerry's life now, and how his character hasn't changed since he was a crook during the War. There's a reveal at the finish, with a 'sins of the past' motif. We aren't told how things end, but Jerry is a defeated man. With only hours before he has to face Driscoll and the machinery of justice. He might have won the battle, but it's fairly certain he lost the war.
While there isn't an official number, it's reasonable to state that MacDonald wrote at least around 400 short stories. Naturally, some are better than others. And I haven't been crazy about all of the ones he allowed to be included in his own anthologies (like End of the Tiger). But a JDM story is worth reading at least once. And I like this one. NOTE – He added 'The' to the title for inclusion in the book.
Other John D. MacDonald posts I've written here at Black Gate:
John D. MacDonald – A Writer's Writer
A Century of John D. MacDonald
Judge Me Not – The Selling of a Politician's Self
Birthday Review – Ring Around the Redhead
Steve Scott on Park Falkner
Spillane & John D. MacDonald
Bill Crider on The Brass Cupcake
---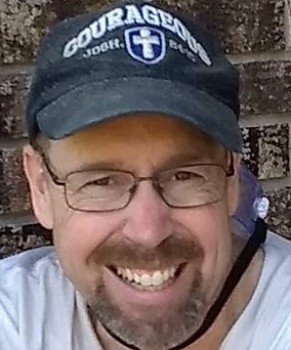 Bob Byrne's 'A (Black) Gat in the Hand' was a regular Monday morning hardboiled pulp column from May through December, 2018 and again from August through December, 2019. 
His 'The Public Life of Sherlock Holmes' column ran every Monday morning at Black Gate  from March, 2014 through March, 2017 (still making an occasional return appearance!).
He organized 'Hither Came Conan,' as well as Black Gate's award-nominated 'Discovering Robert E. Howard' series.
He is a member of the Praed Street Irregulars, founded www.SolarPons.com (the only website dedicated to the 'Sherlock Holmes of Praed Street') and blogs about Holmes and other mystery matters at Almost Holmes.
He has contributed stories to The MX Book of New Sherlock Holmes Stories – Parts III, IV,  V and VI.