A (Black) Gat in the Hand: Back Deck Pulp #3
A (Black) Gat in the Hand: Back Deck Pulp #3
"You're the second guy I've met within hours who seems to think a gat in the hand means a world by the tail." – Phillip Marlowe in Raymond Chandler's The Big Sleep
(Gat — Prohibition Era term for a gun. Shortened version of Gatling Gun)
Hopefully, discerning reader of this column…
What? No, there is no guest poster this week. I wrote the column. Really? Well, I'm SOOO sorry you're disappointed that I'm actually writing my own essay for my own column this week. The hardboiled genre is full of setbacks and kicks in the teeth. You just have to overcome.
Anywhoo…as I was saying: by now, you are aware that I put up posts on my Facebook page under the moniker, Back Deck Pulp. They usually relate some tidbit to something I'm reading for this column, and I include a picture – usually taken out on my back deck. Thus, the title. The first two Back Deck Pulp essays were 'as is.' I've added a little context this time, to help. I hope it does, anyways. So, read on!
RED SNEAKER WRITERS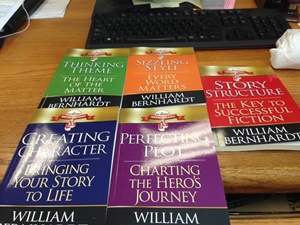 William Bernhardt is best known for his legal thrillers about Tulsa attorney Ben Kincaid. He has multiple activities to help writers, grouped under the Red Sneakers Writers banner. This includes eight excellent books on writing; all of which I read, and several of which I posted about on Back Deck Pulp.
The proprietor of Back Deck Pulp seeks some much-needed writing instruction…
I like William Bernhardt's Red Sneaker books.
Another Red Sneaker book, as Back Deck Pulp would like to get better at writing short stories! Back Deck Pulp went through this twice: taking notes the second time. Excellent book on story structure for novels with a sensible approach to outlining. I'm figuring out if I can apply much of it to short stories. Seems doable. I think it will eliminate a lot of plodding scenes I historically include in my Sherlock Holmes stories for atmosphere. And I'd like to tie his structure in with Lester Dent's Master Plot Formula (which I'm sure you know about from my BlackGate.com post on it...). Really good book. Reading William Bernhardt's book on Character now.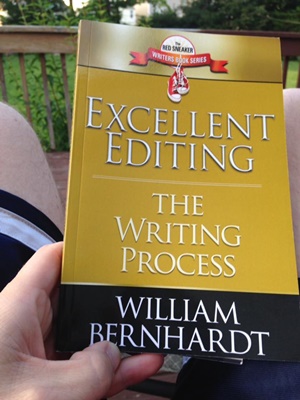 Back Deck Pulp is on book four of this eight volume Red Sneaker series from William Bernhardt. Every book has been quite good, and the first, on Story Structure, was outstanding.
Back Deck Pulp has moved on to book five in William Bernhardt's eight-volume Red Sneaker Writers Book Series. This one validates the Oxford Comma. Yes! I'll be doing a Black Gate post on the series and my approach to learning from it. Excellent stuff.
It's a beautiful evening here in Columbus, home of the Back Deck Pulp World Headquarters. Continuing to learn.
And the eighth and final read in The Red Sneaker Writers Book Series. Fantastic stuff. I learned a lot. Now, to put it to use.
Hope William Bernhardt writes more of these. The books on Story Structure and Excellent Editing (it's actually about the start- to-finish writing process) were my favorites
If you write (or pretend to, like I do), you should subscribe to William Bernhardt's 'Red Sneaker Writers' Newsletter. And not just because it's free! From my Back Deck Pulp posts, you know I think that his books on writing are really helpful. And swing by his website and check out his podcast. There's one with Will Thomas and his wife, Julia. Will writes one of my favorite Sherlock Holmes-inspired series, 'Barker and Lewellyn.'
Carroll John Daly created the hardboiled genre, followed closely, and surpassed by, Dashiell Hammett.
CARROLL JOHN DALY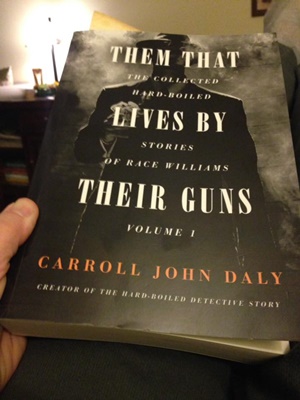 It's a damp Back Deck Pulp this morning. Carroll John Daly's "Three Gun Terry Mack" was the first Hardboiled private eye story, appearing in Black Mask in May of 1923. It was followed two weeks later by "Knights of the Open Palm."  When "Three Thousand to the Good" was published a month later, Daly had created the first series Hardboiled PI: Race Williams. Dashiell Hammett didn't join the Hardboiled party until October with his first Continental Op story.
Daly's unpolished writing style is often criticized and the author is frequently compared unfavorably to Hammett. But he laid the foundational blocks for the Hardboiled school and was a great influence on Mickey Spillane's massive-selling Mike Hammer. His role cannot be minimized. I think his writing did improve some over the years and I prefer the Race Williams stories that later appeared in Dime Detective.
Here's my Black Gate Magazine post on Daly and the birth of the hardboiled genre.
I like the Mysterious Press volume with several Dime Detective tales
Family Room Pulp? That doesn't quite do it. Anywhoo…Altus' Press' massive first volume of Race Williams stories. 17 Race tales, plus two other stories, and two Carroll John Daly essays.
What a collection!
KINDLE UNLIMITED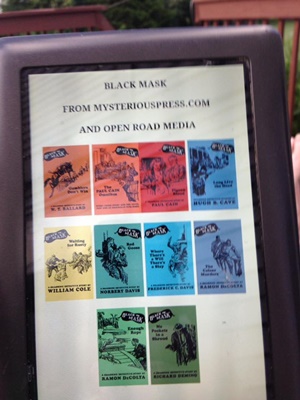 Back Deck Pulp tonight is gonna plug Kindle Unlimited. For $10 bucks a month, you can 'borrow' up to 10 books at a time. You return a book when you are done with it and can get another.
Books come and go in the program. Some months, I don't even look at it, though I have a couple I keep for reference. But I usually find something when I try. With my plunge into Pulp and hardboiled lately, I've gotten quite a few reads from the program. For example, several of these stories from the Mysterious Press reprints are available. And I read a couple Flash Casey novels.
It's definitely worth checking out.
As Back Deck Pulp approaches its final posts, I think that Raoul Whitfield's Jo Gar books have been my favorite discovery, narrowly edging out William Campbell Gault and W.T. Ballard.
JO GAR – THE ISLAND DETECTIVE
I have read a LOT of pulp over the past few months for 'A (Black) Gat in the Hand' and have done quite a few Back Deck Pulp posts. I've loved a lot of what I've read. For example, I'm hooked on W.T. Ballard's Hollywood troubleshooter, Bill Lennox. But the BEST thing I have discovered through it all is Jo Gar – the Filipino detective from Raoul Whitfield (writing as Ramon Decolta). To me, Gar is David Suchet's mannered Hercule Poroit, but also hardboiled, active and willing to use his Colt.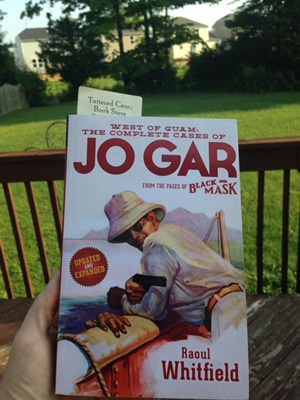 Whitfield doesn't 'play fair' most of the time: the reader can't reasonably solve the case on his own. But these aren't whodunits. They are hardboiled PI stories with an exotic flavor. And they are extremely readable. I HIGHLY recommend the West of Guam collection from Altus Press (itself an expanded reprint of the earlier Mysterious Press edition). I'm holding off on reading Green Ice (which is generally considered Whitfield's best work) until I can focus on that novel. But I have a hard time imagining it being better than the Gar collection. I wonder if anybody today could do Gar justice with new stories? I couldn't even try it.
It's a cool, early morning Back Deck Pulp. The second A (Black) Gat in the Hand was about Black Mask staple Raoul Whitfield. Since that post, I've been working my way through Altus Press' West of Guam: The Complete Cases of Jo Gar.
I've mentioned that Whitfield doesn't play fair: S.S. Van Dine would not approve. But they are enjoyable reads and the Manila detective's quiet, low key approach is almost soothing. But he knows how to use the big Colt pistol in his right-hand coat pocket.
I've said that Gar is like a Hardboiled Hercule Poirot. It's a good analogy. I'll be writing a Black Gat post on these stories and I HIGHLY recommend picking up this collection
Not considered a pulpster, John D. MacDonald caught the end of the era, appearing in Black Mask, Dime Detective and many other mags. My favorite author. Period.
JOHN D MACDONALD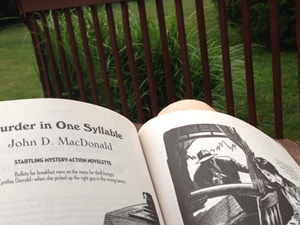 Back Deck Pulp takes a break as I research a guest post: at BlackGate.com!
I talk about a story by my favorite author: but from a genre he's not well-remembered for.
Back Deck Pulp squeezes in a little John D. MacDonald before church. My favorite author, his many short stories, stand-alone novels and Travis McGee books are all worth reading. Many more than once. He was a master of social commentary and an excellent writer. I think one of the greatest of the twentieth century: in any genre. John MacD provides decades of great reading. Check out a couple of his novels. You won't be disappointed.
Erle Stanley Gardner is well-remembered as the creator of attorney Perry Mason. But he also wrote a funny, clever series about a pair of mismatched PIs, Bertha Cool and Donald Lam. It's one of my favorite mystery series and I've written about it at Black Gate here, and here.
COOL & LAM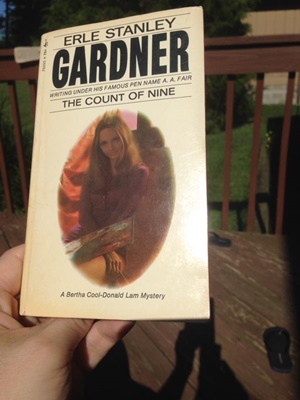 Hard Case Crime is reissuing this book later in the year. I think that the Cool and Lam series is Erle Stanley Gardner's best work. Back Deck Pulp is re-reading this for a BlackGate.com review.
Earlier today, Back Deck Pulp talked about Cool and Lam – the mismatched private eyes in a long running series of novels from Erle Stanley Gardner (using the name A.A. Fair). Now, one cannot argue with the MASSIVE success and enduring popularity of Gardner's Perry Mason, brought to life for years by Raymond Burr.
And Ed Jenkins, the Phantom Crook, was a Black Mask staple, appearing in over seventy stories.
But the Cool and Lam books are far and away my favorite tales from Gardner. Big Bertha Cool and pint-sized Donald Lam provide entertainment every volume – and Gardner was a top-flight writer, so you know it's good stuff.
Check out one of my two Black Gate posts on the series (there's a link to the other in this one) and grab one of the books.
Hard Case Crime, which published the lost Cool and Lam novel in 2016, had previously reissued Top of the Heap and is putting out another this October: The Count of Nine.
After Rex Stout's Nero Wolfe, this is probably my favorite detective series'.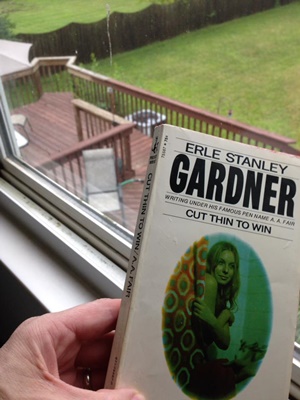 No rainouts at Back Deck Pulp. We just move indoors while things dry out. I enjoyed revisiting a Cool and Lam book for a previous BDP, so I grabbed one that I've not yet read from the shelf. Cut Thin to Win isn't one of my favorites, but it's still a fun read. Donald is solo for most of this one.
Since I'm going to be doing a Black Gate post on Hard Case Crime's reissue of the Cool and Lam novel, The Count of Nine, I decided to go ahead reread their first C&L reprint. Back Deck Pulp LOVES this series of almost three dozen books about a mismatched pair of private eyes. Erle Stanley Gardner wrote it under the pen name A.A. Fair.
Those pulpsters must be rubbing off on me. I finished a guest post (at BlackGate.com!) on the great John D. MacDonald. And immediately started another Black Gate post on Hard Case Crime's upcoming reissue of A.A. Fair's (that's Erle Stanley Gardner to you!) Cool and Lam novel, The Count of Nine. Pulpsters knew they had to crank out the product when you get paid by the word.
I had heard of Gault, but don't think I'd read him before starting the Black Gate column. He is the best writer I discovered. His prose is clean, sharp, polished and on the money. His Brock 'The Rock' Callahan is a little bland, but a Gault novel is an excellent read. Here's the post I wrote about Gault.
WILLIAM CAMPBELL GAULT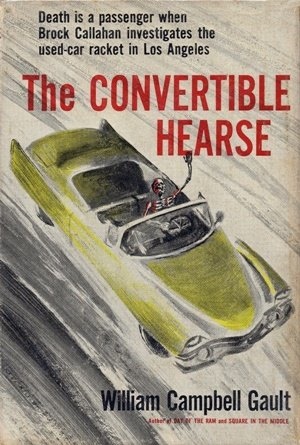 It's Office Desk Pulp again! I knew that pulpster William Campbell Gault had written several PI novels about a retired football player, but I'd not read any. Murder in the Raw is the first book about former all pro LA Rams guard Brock 'The Rock' Callahan. I like it so far. He's a nice guy who is more cooperative with the police than the usual PI. Which I believe makes him very different from another Gault PI, the ethically challenged Joe Puma. The two were both in one of Gault's last novels. I'm going to read more from him. I like WCG.
With a heat index of 94 degrees at 8:00 PM, Back Deck Pulp has moved into the family room tonight. I finished the first Brock Callahan novel (subject of the most recent BPD post), Murder in the Raw. The PI is too nice and too noble, but I quite liked it. William Campbell Gault is good! He took some of the elements for that book from his short story, "Hibiscus and Homicide." And I started Shakedown, the first Joe Puma novel from WCG. He is Nothing like the nice Callahan! Look for future posts about Gault in 'A (Black) Gat in the Hand' over at BlackGate.com.
So what if the heat index is crawling into the mid-nineties? Back Deck Pulp is going to enjoy that freshly mown lawn. At least, until I pass out…
It's the third consecutive post on William Campbell Gault. I mentioned that Brock 'The Rock' Callahan was a noble knight. Well, Private eye Joe Puma would need to get some ethics to qualify as ethically challenged. VERY different feel and tone to this series. We'll see how I feel about it a few books in. Callahan and Puma are both a part of one of Gault's later novels.
One of the things I've really enjoyed about A (Black) Gat in the Hand – my Monday morning column over at BlackGate.com – is writing about some pulpsters who aren't as high profile as Hammett, Chandler and some of the other bigger names.
I've already covered Black Mask mainstay Raoul Whitfield, W.T. Ballard's Hollywood trouble-shooter Bill Lennox and the massively under-appreciated Norbert Davis (more coming on him). And this week I addressed D.L. Champion's penny-pinching Rex Sackler.
I spent a big chunk of the past two weeks reading novels and short stories by William Campbell Gault (which you know from my Back Deck Pulp posts). I'm a big fan of his stuff – the guy was a top-flight hardboiled writer.
Tonight I finished an essay on three Gault short stories. That one will hit Black Gate some time in September. And there will be another Gault entry in the series, talking about his two very different private eyes: Brock 'The Rock' Callahan and Joe Puma.
There's a big, wide world of hardboiled and pulp out there!
In the last week-plus, Back Deck Pulp has read two novels and five short stories from William Campbell Gault. I'm a fan. I went to one of my favorite anthologies and grabbed another one for tonight's BDP. And the heat index is down almost 30 degrees from the weekend, so we're back outside.
Previous entries in the series:
With a (Black) Gat: George Harmon Coxe
With a (Black) Gat: Raoul Whitfield
With a (Black) Gat: Some Hard Boiled Anthologies
With a (Black) Gat: Frederick Nebel's Donahue
A (Black) Gat in the Hand: Thomas Walsh
A (Black) Gat in the Hand: Black Mask – January, 1935
A (Black) Gat in the hand: Norbert Davis' Ben Shaley
A (Black) Gat in the Hand: D.L. Champion's Rex Sackler
A (Black) Gat in the Hand: Dime Detective – August, 1939
A (Black) Gat in the Hand: Back Deck Pulp #1
A (Black) Gat in the Hand: W.T. Ballard's Bill Lennox
A (Black) Gat in the Hand: Day Keene
A (Black) Gat in the Hand: Black Mask – October, 1933
A (Black) Gat in the Hand: Back Deck Pulp #2
A (Black) Gat in the Hand: Black Mask – Spring, 2017
A (Black) Gat in the Hand: Frank Schildiner's 'Max Allen Collins & The Hard Boiled Hero'
A (Black) Gat in the Hand: William Campbell Gault
A (Black) Gat in the Hand: More Cool & Lam From Hard Case Crime
A (Black) Gat in the Hand: MORE Cool & Lam!!!!
A (Black) Gat in the Hand: Thomas Parker's 'They Shoot Horses, Don't They?'
A (Black) Gat in the Hand: Joe Bonadonna's 'Hardboiled Film Noir' (Part One)
A (Black) Gat in the Hand: Joe Bonadonna's 'Hardboiled Film Noir' (Part Two)
A (Black) Gat in the Hand: William Patrick Maynard's 'The Yellow Peril'
A (Black) Gat in the Hand: Andrew P Salmon's 'Frederick C. Davis'
A (Black) Gat in the Hand: Rory Gallagher's 'Continental Op'

A (Black) Gat in the Hand will run through Tuesday, January 1st. A new Robert E. Howard-centric column will take its spot on January 8th. Hey – we are a World Fantasy Award-winning website, you know!

---

Bob Byrne's A (Black) Gat in the Hand appears weekly every Monday morning at Black Gate.

His 'The Public Life of Sherlock Holmes' column ran every Monday morning at Black Gate  from March 2014 through March 2017 (still making an occasional return appearance!). He also organized Black Gate's award-nominated 'Discovering Robert E. Howard' series.

He is a member of the Praed Street Irregulars, founded www.SolarPons.com (the only website dedicated to the 'Sherlock Holmes of Praed Street') and blogs about Holmes and other mystery matters at Almost Holmes.

He has contributed stories to The MX Book of New Sherlock Holmes Stories – Parts III, IV,  V and VI.