A (Black) Gat in the Hand: More Cool & Lam From Hard Case Crime!
A (Black) Gat in the Hand: More Cool & Lam From Hard Case Crime!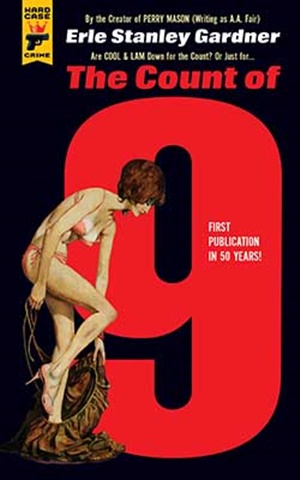 "You're the second guy I've met within hours who seems to think a gat in the hand means a world by the tail." – Phillip Marlowe in Raymond Chandler's The Big Sleep
In 1938, Erle Stanley Gardner was struggling with his Perry Mason series, though it was successful and he'd written about a dozen books. His agent had died and he clashed with the man's widow (she took over the business) to the damage of his reputation and ability to sell to other markets.
The prolific pulpster and novelist decided a new approach. He would write a book about a mismatched pair of private eyes and send it to his publisher under an assumed name. I like this guy!
Following his usual pattern, he churned out a novel in three months and send The Bigger They Come to William Morrow & Company. Nobody knew it was written by Gardner. After it was accepted, Gardner told the president, Thayer Hobson, that he was actually A.A. Fair. It remained a secret for some time.
Gardner wrote thirty Cool and Lam novels in thirty-one years (The second one was rejected by the publisher). He was already putting out four novels nearly every year when he started this series, along with much other writing: both fiction and non. I wrote about the series here.
Bertha Cool is a big, profane, money-centric, tough as nails woman. She brought the undersized but brainy Donald Lam into the agency she got from her husband when he died. Lam proves to be a money maker and indispensable to the business and forces his way into a partnership. It's a mismatched paring that works perfectly on the page, though I don't know how Lam puts up with her.
On October 23rd, Hard Case Crime is reprinting The Count of Nine, the eighteenth book and out of print for almost forty years. It had earlier reprinted the thirteenth book, Top of the Heap. And Hard Case published, for the first time ever, that rejected second novel, The Knife Slipped. 

The Count of Nine opens with Bertha Cool shooting some publicity photos in the office. World adventurer Dean Crockett II has hired Cool (and Lam) to guard the entrance of a party he's throwing at his penthouse. A valuable jade buddha had recently been stolen and he wants to make sure nothing like that happens again. Bertha is hogging the deal and Donald has nothing to do with it. But when a frantic Bertha calls at midnight, 'her voice blasting at (him) like a gust of wind hitting a pile of dry leaves,' the gig has gone south and once again, he has to take charge of the situation. Someone had stolen the matching jade buddha and a six-foot long blowgun. Right under Bertha's nose!
Throughout the series, Bertha consistently creates situations, grabbing all the credit and money on the front end, but dragging Donald in and throwing the responsibility for fixing things onto his shoulders. He keeps her in the dark to keep her out of the way and it's not uncommon for her to threaten to dissolve the partnership while he's actually solving the case. Lam is a saint for enduring her.
"You can't shove this off on my shoulders. It's a partnership business – I suppose you were out with some little tart while I was up here watching those god**** guests."

Donald reasonably replies, "You didn't ask me to come. You were the one that wanted to be in the pictures. You wanted to get the credit. You were the hardboiled babe who was going to grab the women by their heels and shake them until a six-foot blowgun fell out of their bosoms and – "|

"Shut up!"
That's not atypical. Donald then goes to work on things. He is most definitely the brains of the outfit. With zero help from Bertha, he actually recovers both items within a day or two. But there's more going on and when Donald Crocket II is found dead in his locked-down work room, apparently killed by a poisoned dart – fired by a blowgun: well, there's more work to do for Donald.
Unlike William Campbell Gault's PI, Brock 'The Rock' Rollins, Lam does not play along with the police. Homicide cop Frank Sellers, who seems to be a little sweet on Bertha (but not in the usual way; it's hard to explain) is often at loggerheads with him. And Lam just doesn't withhold info, he plays sneaky and skirts the law. I think he crosses over the line as well, though it's not certain. Sellers is a big guy who uses his size against Lam, though while he threatens him, I don't think he ever actually beats him up. He does know how smart Lam is and that makes him distrust him even more.
I can't even begin to explain the angles that Lam plays in this one. A Cool and Lam plot is always complex. Lam is usually working two or three things and you have to follow what he's doing with the cops, the bad guys, witnesses, and other characters. In this one, he's got Sellers and policeman Thad Giddings alternately threatening him, taking him around with them and then believing him – until they don't any more.
And at the same time, he's playing a chess game with a photographer, an uninhibited, beautiful nude model, the temptress widow and an apparent artifact thief. I'm probably missing something. It's a thing of beauty when he leads the two officers into his apartment to find it's been ransacked. Of course, Lam himself did it earlier to set up a frame for the two guys who are guilty but have never been in his apartment!
Lam takes a beating or at least gets smacked around in just about every story. He usually manages to assess the situation and jumps in first with a punch, but it's harmless and things go poorly for him. Two guys hide in the back of his car, beat him to a pulp and take his car. Nothing out of the ordinary.
One thing I'm not so crazy about is that Gardner uses a long, multi-page speech from Lam to put the wrap-up in place. It's usually pretty convoluted and feels like it drags on. It gets Lam out of trouble with the police and snares the bad guy in the net. But it's the only part of the series I wouldn't mind having been different.
After he has laid it all out for Sellers (in five pages), Lam has done it again. One area where Lam is smart is that he never claims credit. He lets the police have it all, even though they'd never solve any of these cases without him. Sellers comes to visit him, asking what Lam is going to tell the newspapers when the story breaks.
"Why, hell, I'm not going to tell them anything except that it was my privilege to work with Sergeant Sellers of Homicide last night while he was solving the theft of the jade Buddhas from the Crockett penthouse, that after he had solved that theft, Sellers went ahead on his own with cleaning up the Crockett murder case."
Sellers has always forgotten any past favors Lam did him in the next case and he usually wants to beat him up, arrest him or take away his PI license; often all three.
The Count of Nine is a good read. Bertha doesn't do much in this one and we see how smart and shifty Donald is. I recommend picking up a copy of this from Hard Case Crime.
Previous entries in the series:
With a (Black) Gat: George Harmon Coxe
With a (Black) Gat: Raoul Whitfield
With a (Black) Gat: Some Hard Boiled Anthologies
With a (Black) Gat: Frederick Nebel's Donahue
A (Black) Gat in the Hand: Thomas Walsh
A (Black) Gat in the Hand: Black Mask – January, 1935
A (Black) Gat in the hand: Norbert Davis' Ben Shaley
A (Black) Gat in the Hand: D.L. Champion's Rex Sackler
A (Black) Gat in the Hand: Dime Detective – August, 1939
A (Black) Gat in the Hand: Back Deck Pulp #1
A (Black) Gat in the Hand: W.T. Ballard's Bill Lennox
A (Black) Gat in the Hand: Day Keene
A (Black) Gat in the Hand: Black Mask – October, 1933
A (Black) Gat in the Hand: Back Deck Pulp #2
A (Black) Gat in the Hand: Black Mask – Spring, 2017
A (Black) Gat in the Hand: Frank Schildiner's 'Max Allen Collins & The Hard Boiled Hero'
A (Black) Gat in the Hand: William Campbell Gault
Other hard-boiled related ramblings I've done at Black Gate:
A Century of John D. MacDonald
A Man Called Spade
Asimov's The Caves of Steel
Carroll John Daly & the Birth of Hard Boiled
Cool & Lam are Back!
Erle Stanley Gardner on Mysteries
Gideon Lowry – Key West Private Eye
Glen Cook's Garret – PI
Hard Boiled Holmes (my best pre-Black Gate work. Click on over!)
Hard Case Crime Q&A
John D. MacDonald – A Writer's Writer
Lester Dent's Master Plot Formula
The Maltese Falcon in Film
Michael Stone's Streeter
Richard Diamond – Private Eye
Robert E. Howard Goes Hard boiled (Steve Harrison)
Shovel's Painful Predicament
---
Bob Byrne's A (Black) Gat in the Hand appears weekly every Monday morning at Black Gate.
His 'The Public Life of Sherlock Holmes' column ran every Monday morning at Black Gate  from March 2014 through March 2017 (still making an occasional return appearance!). He also organized Black Gate's award-nominated 'Discovering Robert E. Howard' series.
He is a member of the Praed Street Irregulars, founded www.SolarPons.com (the only website dedicated to the 'Sherlock Holmes of Praed Street') and blogs about Holmes and other mystery matters at Almost Holmes.
He has contributed stories to The MX Book of New Sherlock Holmes Stories – Parts III, IV,  V and VI.