Vintage Treasures: The Dreamhaven Box
Vintage Treasures: The Dreamhaven Box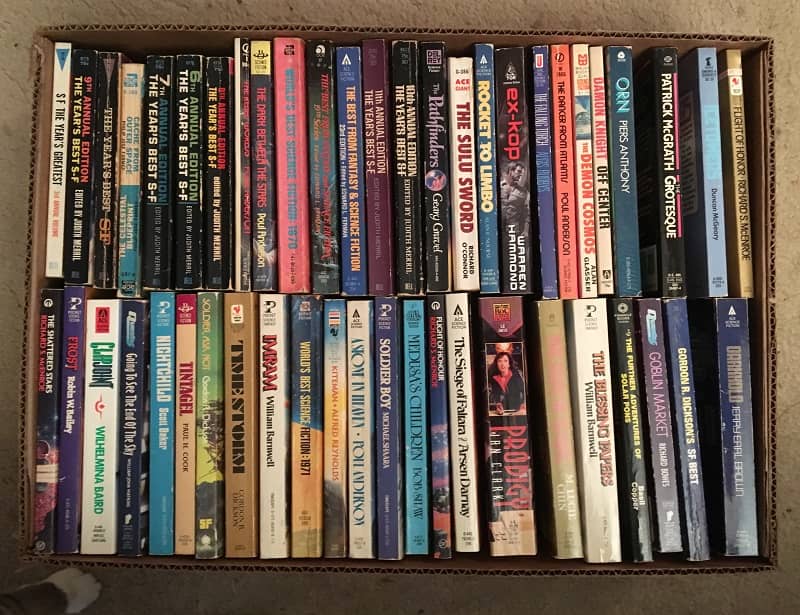 49 beautiful vintage paperbacks for $36, courtesy of Dreamhaven Books
On years I attend the World Fantasy Convention I don't usually do Windycon, the local convention here in Chicago, the very next week. I don't typically have the stamina for two back-to-back cons. But this year Richard Chwedyk, who runs the Saturday Writer's Workshop at Windycon, asked me to fill in as a judge, and I learned that my friend Rich Horton and his wife Mary Anne were making the long drive from Missouri. So I decided to register for the con.
I made it to the Dealer's Room only a few minutes before they closed Friday night. And who did I find in the back but the tireless Greg Ketter and his wife Lisa Freitag, manning the well-stocked Dreamhaven Books table. I'd seen both of them at World Fantasy, where they'd also had a table. They'd packed that up, driven from Baltimore to Minneapolis, and then here to Chicago — with brand new stock! Talk about stamina.
While we were chatting in front of their booth I discovered eight boxes at my feet, tightly crammed with paperbacks. "They're all a dollar," Lisa said, noticing my distracted gaze. "Less than that if you buy a bunch."
Gentle reader, I bought a bunch.
[Click the images for vintage paperback-sized versions.]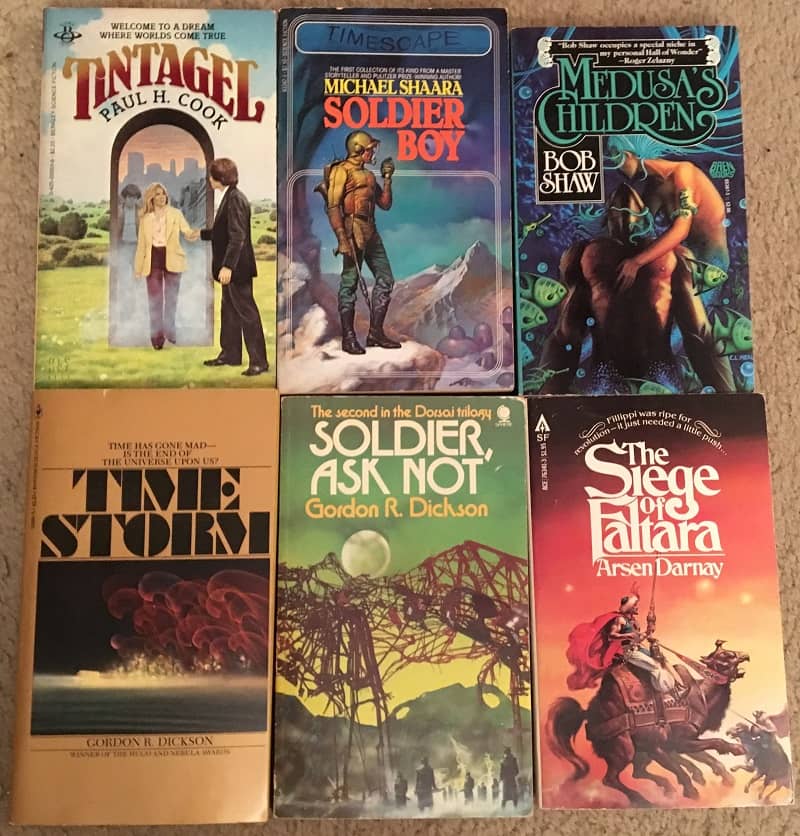 The books were all science fiction fiction paperbacks from the 50s to the 80s. Even a quick glance told me most of them were in fine, unread condition. This was a rare opportunity to pick up some very hard-to-find titles at a great price.
The books were so tightly packed that it seemed pretty obvious I was the first to touch them. By the time I'd make it back to the Dealer's Room Saturday after the Writer's Workshop, they'd have been picked over by numerous collectors, so I definitely wanted to browse through them now. However, I had no more than a minute or so for each box before the Dealer's Room closed for the night.
If there's one thing decades of collecting prepares you for, it's quick decisions. I started pulling books from the boxes, making stacks on the floor. By the time the Dealer's Room manager made a loud public announcement, asking everyone to make their final purchases and head for the exits, I was sorting through the sixth box. I handed Lisa and Greg several stacks, and while they totaled those up I stealthily browsed the last two boxes.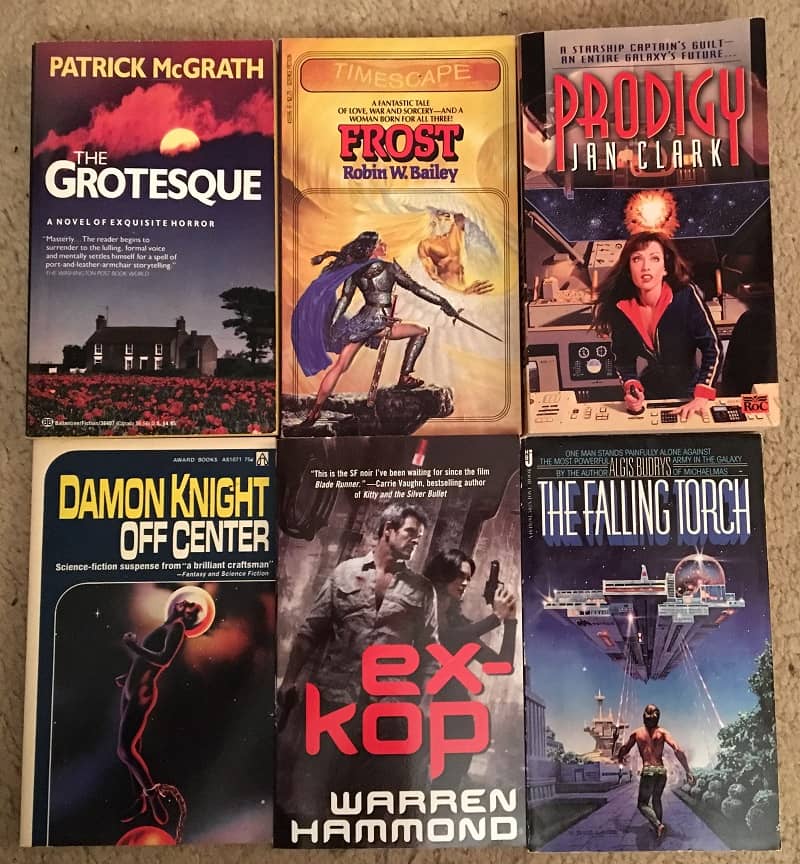 "Thirty dollars," Lisa said.
I handed her two more books. She added them to my stack with a shrug. "Still thirty dollars," said.
"That's some kind of bookselling magic right there," I said admiringly. I  handed her a few more selections from the last box, just to see what would happen. Come on, you would have done the same thing.
In the end, I bought 49 books for $36, about 75 cents per book. Substantially less than cover price, for 30- to 50-year old paperbacks in virtually brand new condition. To call me a satisfied customer would be an understatement.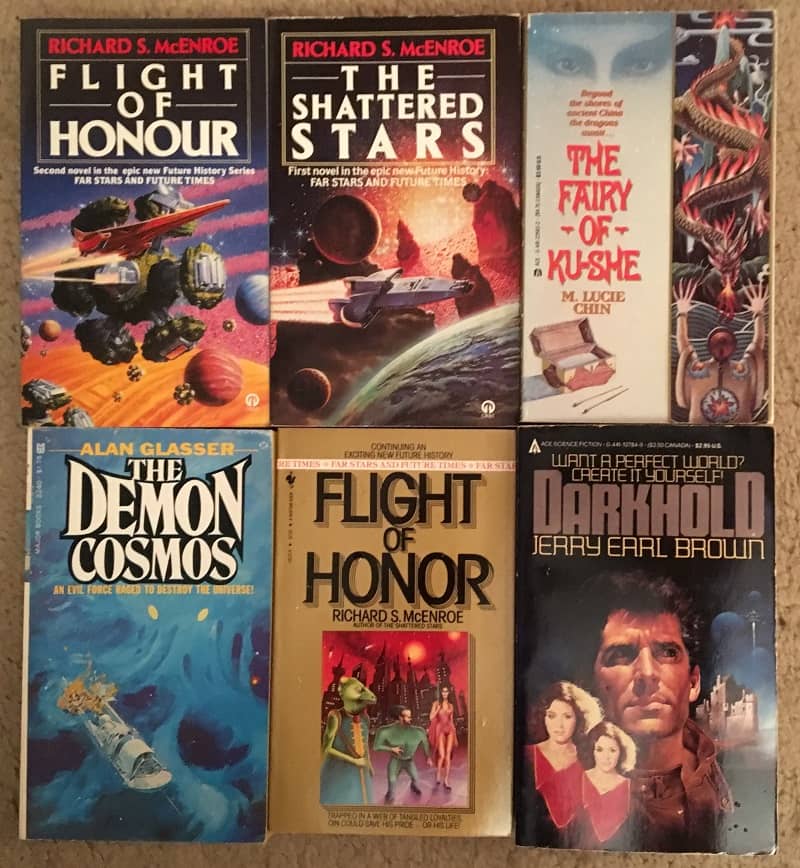 An unexpected consequence of my hurried transaction — and that fact that I already had a heavy stack of books from the World Fantasy Convention waiting at home — was that I didn't get to look at these paperbacks again until more than a week had passed. By that point I barely remembered what I'd grabbed, so sorting through them today was an exercise in discovery.
The 49 books I purchased from Greg and Lisa were a mix of classics, hard-to-find Year's Best volumes, pristine replacement copies for well-worn favorites, oddities, unknown titles from well loved authors, books for which I've been searching for years, books I'd never heard of, vintage editions, British editions, and more than a few impulse buys.
In any hurried purchase like this you can safely count on a few mistakes, but when I finished inventorying my treasures, there wasn't a single book I regretted buying. Of course, at 75 cents per copy, it's easy to forgive a few hasty purchases, but in the end I was thrilled with what I brought home. Let's take a closer look.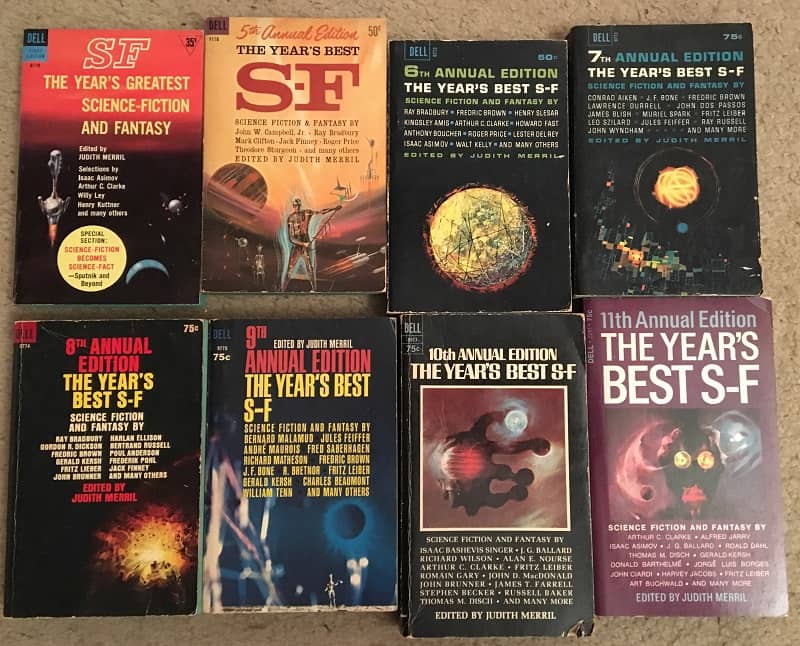 The first books I found, and the ones which first drew my eye, was a very attractive set of Judith Merril's Year's Best volumes. The first, a pristine copy of The Year's Greatest SF and Fantasy, a Dell paperback original from 1956, was — at 62 years old — easily the oldest title in the lot. It certainly didn't look it, and in fact was one of the most well-preserved books in the whole batch.
Merril had more literary taste than the Year's Best editors who followed in her footsteps, like Donald Wollheim, Terry Carr, and Gardner Dozois. It often seemed her selections were drawn just as frequently from Harper's Magazine or The Saturday Evening Post as Astounding and Galaxy, and authors like Jules Feiffer, Bernard Malamud, Isaac Bashevis Singer, Roald Dahl, Art Buchwald, Bertrand Russell, Jack Finney, and Gerald Kersh shared place of honor on the covers, alongside Fritz Leiber, Arthur C. Clarke, Thomas M. Disch, J.G. Ballard, Fredric Brown, Charles Beaumont, Richard Matheson, William Tenn, and more familiar genre names.
It certainly gave Merril's anthologies a unique flavor, anyway. I didn't really like it much when I first sampled them as a young teen, but I've grown to appreciate her more liberal definition of genre as I've grown older. I never made much of an effort to collect this series, and I was grateful for the opportunity to acquire so many at once.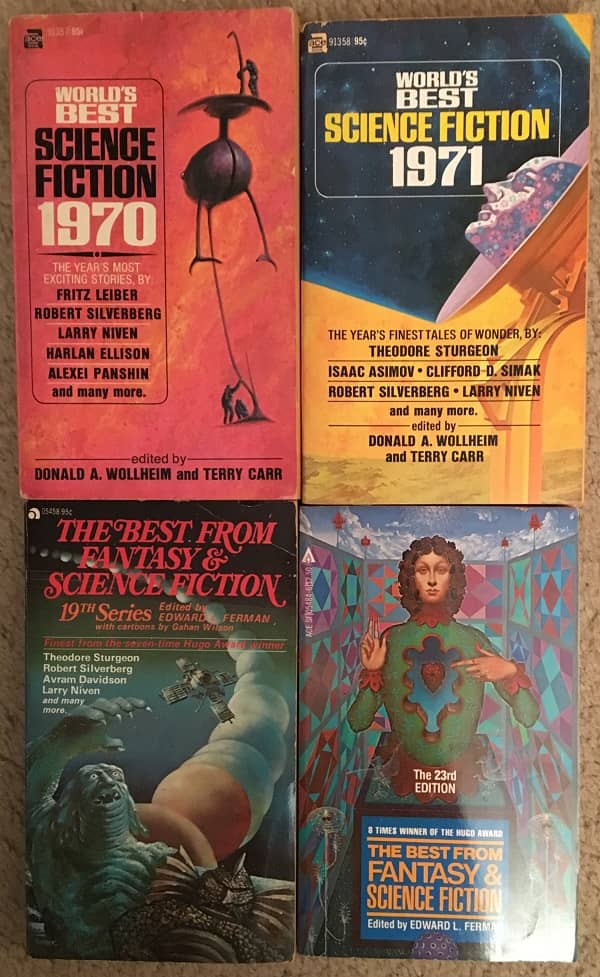 Looking through the Tables of Contents of the assorted Year's Best books though, it seems to me the clear winner was the 23rd Edition of The Best From Fantasy & Science Fiction (1980), edited by Ed Ferman, pictured above right. Just check out a few of the stories inside:
"I See You" by Damon Knight
"Stone" by Edward Bryant
"In the Hall of the Martian Kings" by John Varley
"The Man Who Had No Idea" by Thomas M. Disch
"Prismatica" by Samuel R. Delany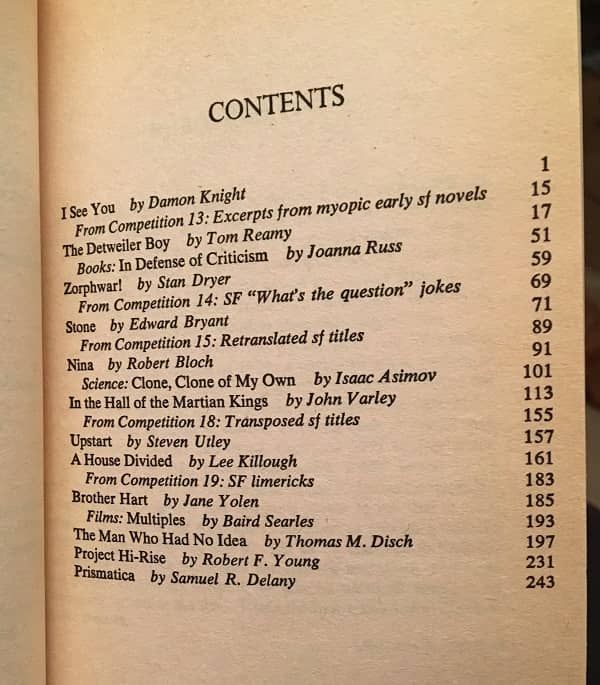 Coming in a close second has to be World's Best Science Fiction: 1970, edited by Terry Carr and Donald A. Wollheim which, among many other treasures, contained:
"Your Haploid Heart" by James Tiptree, Jr.
"A Boy and His Dog" by Harlan Ellison
"Ship of Shadows" by Fritz Leiber
"Nine Lives" by Ursula K. Le Guin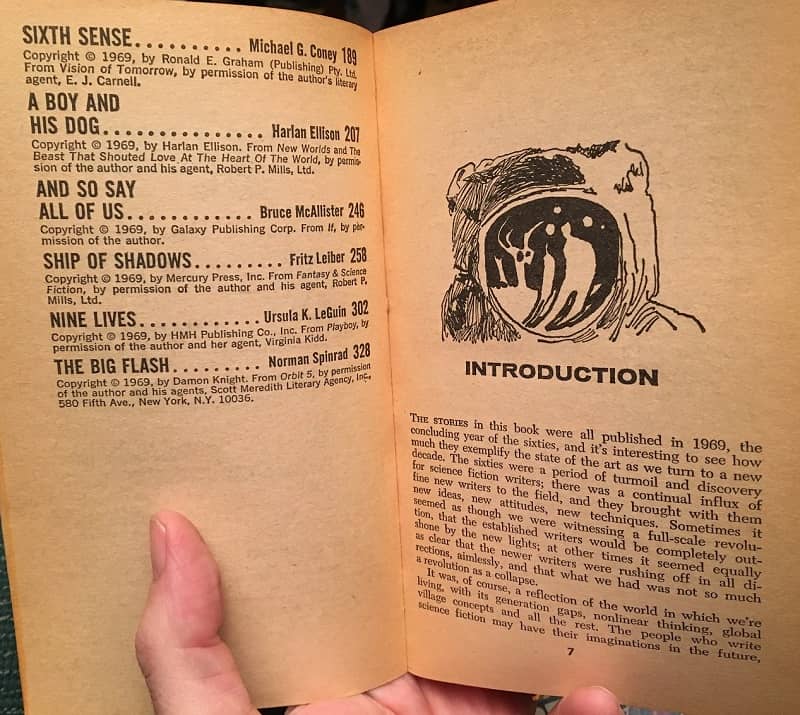 The most popular author among the 49 books turned out to be, somewhat to my surprise, Poul Anderson, with four titles.
I'm not sure why I pulled so many of his books, although I think condition had to be a factor. More than a few of my Andersons have been well-read. Recently I've also been trying to collect the early 80s Berkley paperback editions of his novels, which have magnificent covers. I found one in this batch, the 1981 SF/horror collection The Dark Between the Stars, which has never been reprinted. The David Egge cover is particularly creepy and effective for this one, I think.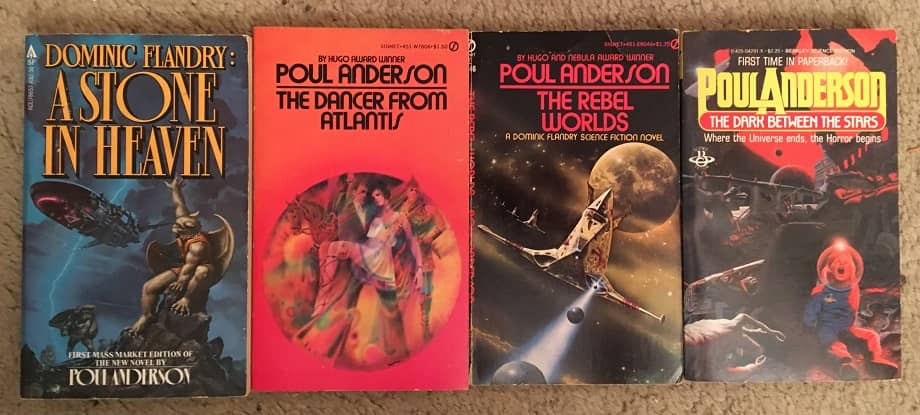 I'm always glad to find books by Black Gate contributors, and I found a pair in this batch:
Goblin Market (1988), by Rick Bowes, the sequel to Warchild (1986). Rick's story "Straight to My Lover's Heart," part of his Time Rangers series, appeared in the second issue of Black Gate in 2001
Going to See the End of the Sky (1986) by William John Watkins. His "Seijin's Enlightenment" appeared in Black Gate 9 in 2005
I also discovered three books of interest I've discussed here recently:
Soldier Boy (1982) by Michael Shaara, a science fiction collection by the Pulitzer Prize-winning of the Civil War novel The Killer Angels
The Blessing Papers (1980) and Imram (1981), two novels in The Blessing Trilogy by William Barnwell
There are probably a few others, but those are the ones that stuck out immediately.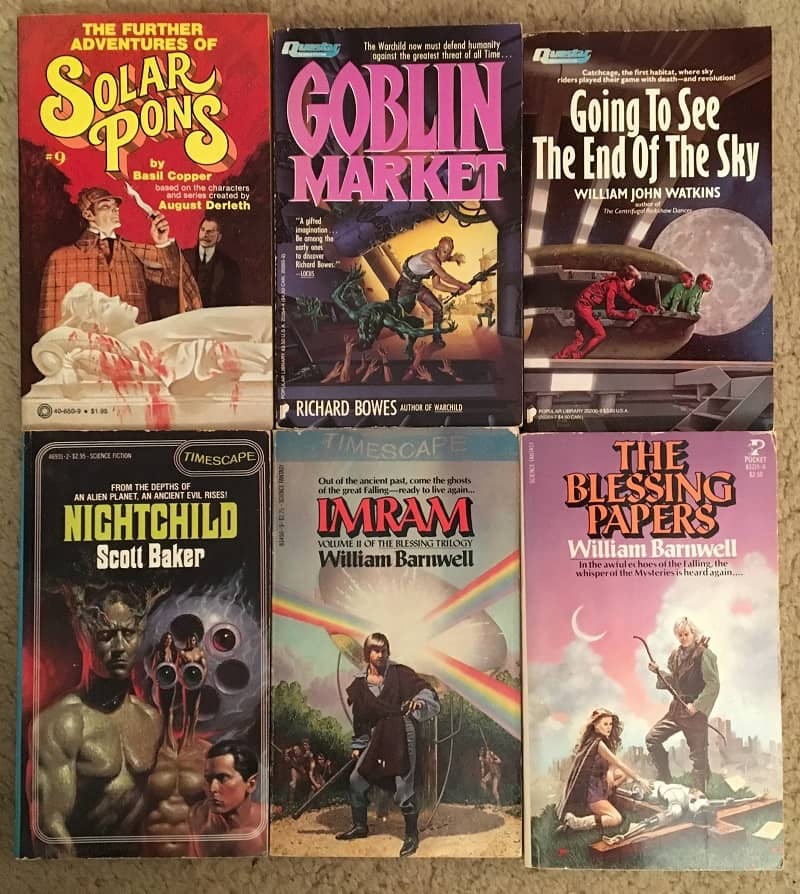 Among the others, there are several worthy of note:
The Further Adventures of Solar Pons, by Basil Copper, because Bob Byrne is always urging me to try Solar Pons
Two novels in the Far Stars and Future Times trilogy by Richard S. McEnroe, The Shattered Stars (1984) and Flight of Honor (1984), since I'd never seen the UK editions before
The 1973 Award Books edition of Damon Knight's classic collection Off Center, because I liked the cover
Gordon R. Dickson's 1997 Hugo Award-nominated novel Time Storm, just because it was in great shape and I've always wanted to read it
Patrick McGrath's debut horror novel The Grotesque (1989), because I remember how widely praised it was when it first appeared
Jan Clark's 1997 debut novel Prodigy, the opening novel in her two-book Rieka Degahv series
Warren Hammond's Ex-KOP (2008), the sequel to his hard-boiled SF novel KOP (2007), mostly for the cool Chris McGrath cover
And of course, the moment I put these books down on the floor to photograph them, the inevitable happened… my cat Jazz showed up within seconds to see what was going on. I swear, Jazz must be the most well-read cat in science fiction.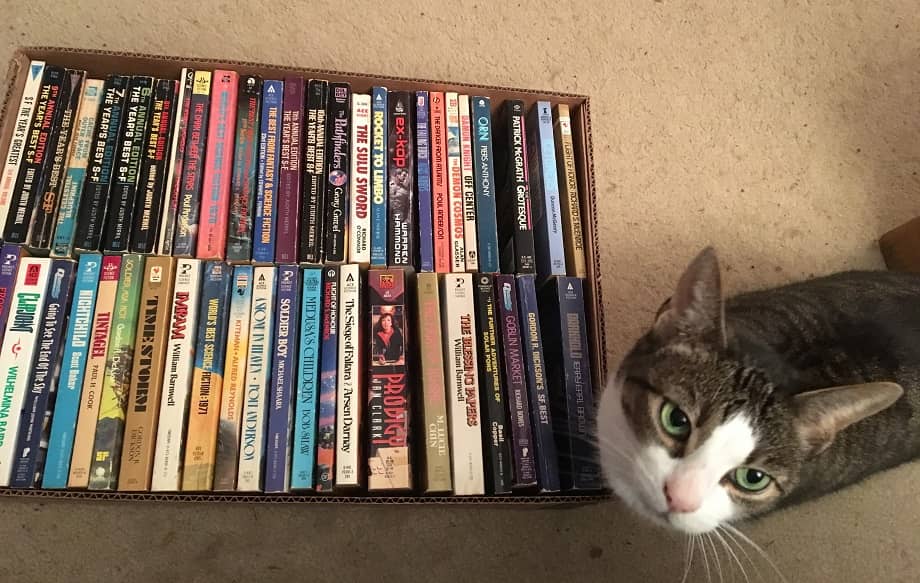 I love vintage paperbacks, but there are precious few booksellers left who put in the effort to sell them. In case it's not already obvious, I'm enormously grateful to Greg Ketter and Lisa Freitag at Dreamhaven Books. Not just for doing all the hard work to transport these books back and forth across the country and get them into eager hands, but for taking the big risks that come with buying and selling collections like this.
Those risks don't always pay off. As I was arranging everything for this article yesterday, Greg Ketter posted the following on Facebook.
I've been a bookseller for damn near 50 years. I've had a store for forty-two. It's not been easy. In fact, it's never been easy; I seem to have a knack for doing everything the most difficult way possible. Now, as I contemplate retiring some day, I find I may never be able to do so. The business has changed and continues to change more quickly than I can handle. E-books have taken their toll but seem to have leveled off in their impact on my own business. Amazon continues in its relentless pursuit of world domination. And one of the biggest changes has been the buying/collecting habits of older customers. People complain every day that they have too many books/comics/toys and would I like to buy them? I've bought many collections recently and I think I may have bought myself into a difficult situation.

What I'm trying to say in my very long-winded way is, I need your help. I've never been any good at asking for anyone's help but I have to do it now. I really need people to come in and buy one book, just one. (Of course, if you can buy more I won't complain). We have the largest inventory of new, used, rare, and interesting books we've ever had. Books in all price ranges. If you haven't been here in a while, now would be a great time for a visit. If you were going to order a book from Amazon, consider ordering it from us. We'll special order any sort of book and in most cases can get it to you within days. We're open Tuesday- Saturday from noon until 6:30; Sundays until Christmas from noon until 5:00. Our phone number is 612-823-6161 and our website is dreamhavenbooks.com.
Greg and Lisa are two of the pillars of the bookselling community in science fiction. If you've thinking about buying a special book recently, I hope you'll consider buying from them. Their store is in Minneapolis, but they do much of their selling online, and their prices are terrific.
Check them out here. And thank you for helping keep independent booksellers alive.