A (Black) Gat in the Hand: Back Porch Pulp #2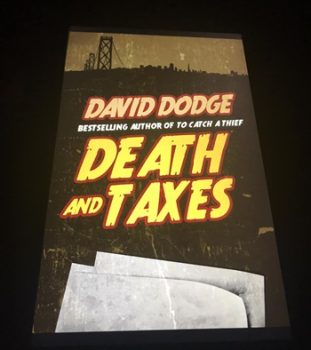 "You're the second guy I've met within hours who seems to think a gat in the hand means a world by the tail." – Phillip Marlowe in Raymond Chandler's The Big Sleep
(Gat — Prohibition Era term for a gun. Shortened version of Gatling Gun)
And we're wrapping up another summer run of A (Black) Gat in the Hand with Back Porch Pulp #2. So, here we go!
DAVID DODGE
Back Porch Pulp is reading the first novel by David Dodge. He is best known as author of the thriller novel, To Catch a Thief.
Which became a famous Cary Grant movie, directed by Alfred Hitchcock. I saw that on the big screen at The Ohio Theater. That was a treat.
I like his adventure novel, 'Plunder of the Sun.' Which became a not-famous movie, with Glenn Ford. Hard Case Crime reissued that book, introducing me to the author.
Dodge was an accountant. And his first couple novels were hardboiled ones starring San Francisco accountant Whit Whitney. I wrote an essay on Dodge and two of his novels, last month.