Noir, The Boulevard of Broken Dreams: Bang!, edited by Andrew Hook
Noir, The Boulevard of Broken Dreams: Bang!, edited by Andrew Hook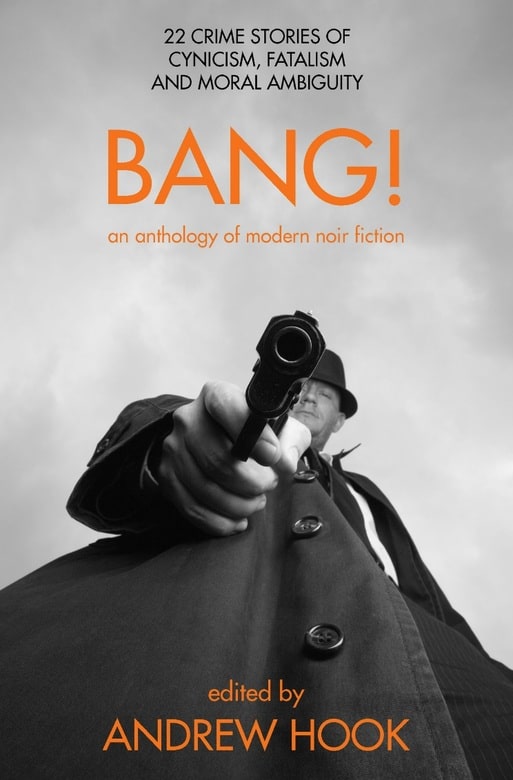 Bang!: An Anthology of Modern Noir Fiction (Head Shot Press, March 1, 2023)
For reasons I don't quite understand I love horror fiction but I hate horror movies.
By contrast, I love noir films but I don't particularly like noir fiction. 
Yet, this anthology of noir stories has made me change my mind.
I'm not saying that I liked all the stories (that would be statistically impossible, even with horror anthologies) but certainly I was pleasantly surprised by my own response to several of the dark tales featured here.
Some of the tales I most enjoyed were:
Rather expectedly, my own favorite is "Highway 29" by Mike O' Driscoll, an outstanding story which actually sounds like the script of a film noir, vividly describing the tragic outcome of an armed robbery involving a man and his new, final lover.
"Savor Life" by Jamey Gallagher is the excellent portrait of a loner trying to find a meaning in his life, and to unsuccessfully retrace his elusive girlfriend
"Avocado Noir" by Charles West is an offbeat, smart and entertaining story where, as the title suggests, avocados play a pivotal role.
In "The Last Best Thing" by Mia Dalia a beautiful woman is found dead in the pool of a luxury hotel. An apparently puzzling event, but the truth is unexpectedly simple.
"The Liao Women" by Song Gao Lei is a very entertaining noir with a distinctive Chinese flavor revolving around family private matters.
These are my own favorites, but you can take your pick among other fifteen tales. Enjoy.
Here's the full table of contents.
Introduction

BANG!

Out of Town – Tim Lees
Salamander – Douglas Thompson
Savour Life – Jamey Gallagher
Time To Say Goodbye – Roxanne Dent
Avocado Noir – Charles West
The Also-Rans – Benedict J Jones
A Stretch of Ground – Grant Tracey

BANG!
BANG!

Payday – Saira Viola
Slap Happy – Andrew Humphrey
The Last Best Thing – Mia Dalia
Reciprocity – Cate Moyle
Shall We Not Revenge – Gary Fry
Blow Jobs and the Meaning of Noir – Maxim Jakubowski
Going Clean – Gabriel Heller

BANG!
BANG!
BANG!

Film Noir – Yvette Viets Flaten
Neon Graveyard – Melissa Pleckham
Fifty Shades of Maigret – Rhys Hughes
Angel Wings – Jenean McBrearty
Slimeball – Leif Hanson
The First Suspect – Brian Howell
The Liao Women – Song Gao Lei
Highway 29 – Mike O'Driscoll
Learn more here, and order digital copies directly from Head Shot Press.
---
Mario Guslandi was born in Milan, Italy, where he currently lives. He became addicted to horror and supernatural fiction (too) many years ago, after accidentally reading a reprint anthology of stories by MR James, JS Le Fanu, Arthur Machen etc. Most likely the only Italian who regularly reads (and reviews) dark fiction in English, he has contributed over the years to various genre websites such as Horrorworld, Hellnotes, The British Fantasy Society, The Agony Column and many more. His last review for us was the Paul Finch anthology Terror Tales Of The West Country.