Horror Pervades the UK: Terror Tales Of The West Country, Edited by Paul Finch
Horror Pervades the UK: Terror Tales Of The West Country, Edited by Paul Finch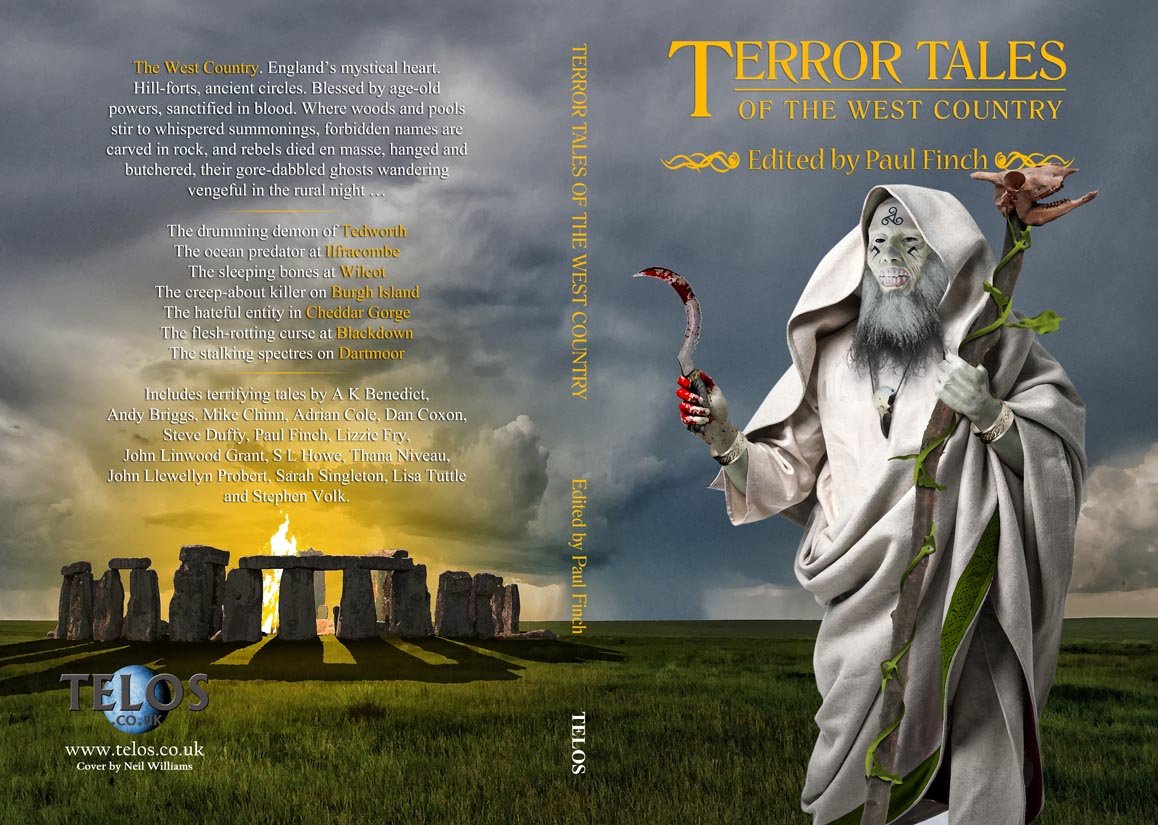 Terror Tales Of The West Country (Telos Publishing, October 31, 2022). Cover by Neil Williams
This is volume 14 in the successful ongoing series Terror Tales, a bunch of anthologies collecting horror short stories set every time in a different area of the United Kingdom. Which, all in all, appears to be a really spooky place where dark and supernatural events occur all the time.
For the present  book editor Paul Finch (an excellent horror writer himself) has chosen the West Country as a setting for fifteen tales of terror penned by as many dark fiction authors. Each story is preceded by an historical recalling of disturbing and sometimes violent horrific events which took place in the past in the various parts of the West Country. 
Truth be told the long, vivid introductions by Finch are sometimes even more interesting and engrossing than the subsequent pieces of fiction.
[Click the images for terrifying versions.]

A sampling of Terror Tales: The Ocean, Cornwall, and
The Scottish Lowlands (Telos Publishing, 2015, 2017, & 2021). Covers by Neil Williams
Among the various contributions some really stand out.
"The Darkness Below" by Dan Coxon is an extremely disquieting piece describing what happens to a boy visiting some deep caves with his family.

The excellent "Epiphyte" by Thana Niveau depicts the distressing, dangerous adventure of two walkers exploring a desert area plagued by strange flowers and aggressive moths.

"Objects in Dreams May Be Closer Than They Appear," a reprint penned by Lisa Tuttle, is a superb story revolving around an elusive house lost in space and time and not marked on maps.

Paul Finch's own "Bullbeggar Walk" is a tense, masterful tale about inhuman forces loose in a West Country village. 

Steve Duffy provides "Certain Deaths for a Known Person," yet another of his superb stories addressing the secret mysteries of life and death and the subtle but powerful role of the supernatural hidden below the surface of human existence.
Other contributors are: John Linwood Grant, Sarah Singleton, Adrian Cole, Stephen Volk, SL Howe, Mike Chinn, Andy Briggs, Lizzie Fry, AK Benedict and John Llewellyn Probert.
Once again, a great anthology, featuring some invaluable gems.
The anthology series includes:
Terror Tales of the Lake District (2011)
Terror Tales of the Cotswolds (2012)
Terror Tales of East Anglia (2012)
Terror Tales of London (2013)
Terror Tales of the Seaside (2013)
Terror Tales of Wales (2014)
Terror Tales of Yorkshire (2014)
Terror Tales of the Scottish Highlands (2015)
Terror Tales of the Ocean (2015)
Terror Tales of Cornwall (2017)
Terror Tales of Northwest England (2019)
Terror Tales of the Scottish Lowlands (2021)
Terror Tales of the Home Counties (2021)
See the whole set at Telos Publishing, and at the Terror Tales Facebook page hosted by Finch.
---
Mario Guslandi was born in Milan, Italy, where he currently lives. He became addicted to horror and supernatural fiction (too) many years ago, after accidentally reading a reprint anthology of stories by MR James, JS Le Fanu, Arthur Machen etc. Most likely the only Italian who regularly reads (and reviews) dark fiction in English, he has contributed over the years to various genre websites such as Horrorworld, Hellnotes, The British Fantasy Society, The Agony Column and many more. His last review for us was the Ellen Datlow anthology The Best Horror of the Year, Volume 14.