New Treasures: The Dawnhounds by Sascha Stronach
New Treasures: The Dawnhounds by Sascha Stronach

The Dawnhounds (Saga Press, June 14, 2022). Cover by Bo Moore
Between online sources like Amazon and my bi-weekly trips to Barnes & Noble in nearby Geneva, IL, my book needs are generally well met. But it's still nice to walk the aisles of a major Dealers Room, like the one at Worldcon here in Chicago last fall. I came away with a number of delightful finds (see the pic below for the bulk of my haul).
One of them was The Dawnhounds, an unusual (to say the least) debut novel by Sascha Stronach, a Māori-inspired fantasy about a murdered police officer brought back to life with a mysterious new power, and tasked with protecting her city from an insidious evil. Tamsyn Muir says it's "Part police procedural, part queer fever dream, and part love letter to a city that doesn't exist."
[Click the images to see even bigger books.]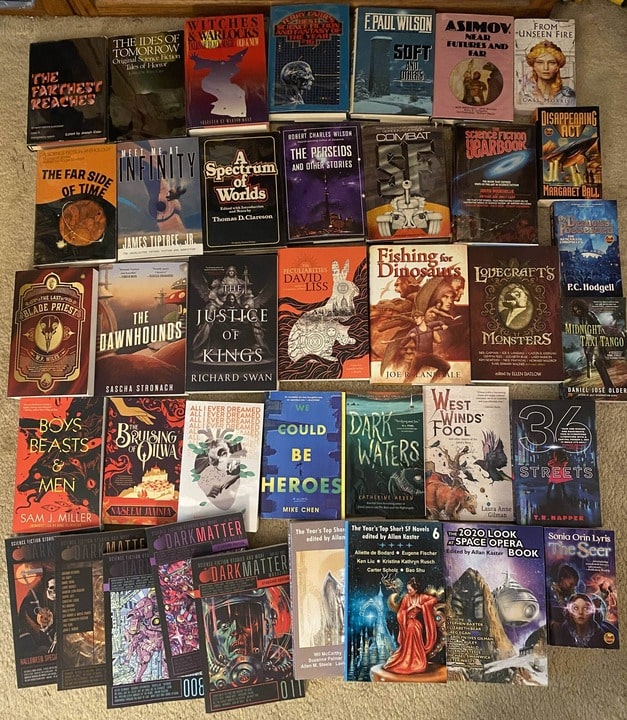 Some of my Worldcon 2022 haul (minus all the paperbacks 'cause they took up too much room)
The Dawnhounds has a fascinating history. It made a significant splash in a self-published edition that appeared in 2019. Octavia Cade said it was "Ankh-Morpork meets Ambergris… If you like spores, and you like the City Watch, you'll like this."
The book was picked up by Saga Press and published last year. At his blog The Understatesmen, Stronach discusses the changes made for the new edition, including expanding it by 30,000 words.
After almost a decade of writing short fiction (some of which you can find on this very site) in secret underground full-contact tournaments, in late 2017 I sat down with an old scrapped novel draft and decided to see whether I could make something of it. I self-published my debut The Dawnhounds in November 2019. It went on to win Best Novel at the 2020 Sir Julius Vogel Awards at Worldcon 78, and got picked up by Saga Press for a June 2022 trad pub re-launch. Tamsyn Muir said things so nice about it that I most definitely did not cry a little bit and then cry a whole lot. You can find them on the back cover, and I won't spoil them for you here.

It's about 30,000 words longer than the 2019 edition. I worried the US wouldn't let it be itself, would demand I water it down until I barely recognised it. Instead, they let me get really weird. Joyously weird. There's a lot of stuff in the second edition that I self-consciously cut because I thought it wouldn't cross the Pacific intact, but after a grueling editing process I came away with something not just better, but more itself.
The Dawnhounds is the opening novel in The Endsong sequence. No word on when the next one is due.
The Dawnhounds was published by Saga Press on June 14, 2022. It is 342 pages, priced at $17.99 in trade paperback and $13.99 in digital formats. The cover is by Bo Moore.
See all our recent coverage of the best new SF & fantasy here.