Future Treasures: The Best Horror of the Year, Volume 14, edited by Ellen Datlow
Future Treasures: The Best Horror of the Year, Volume 14, edited by Ellen Datlow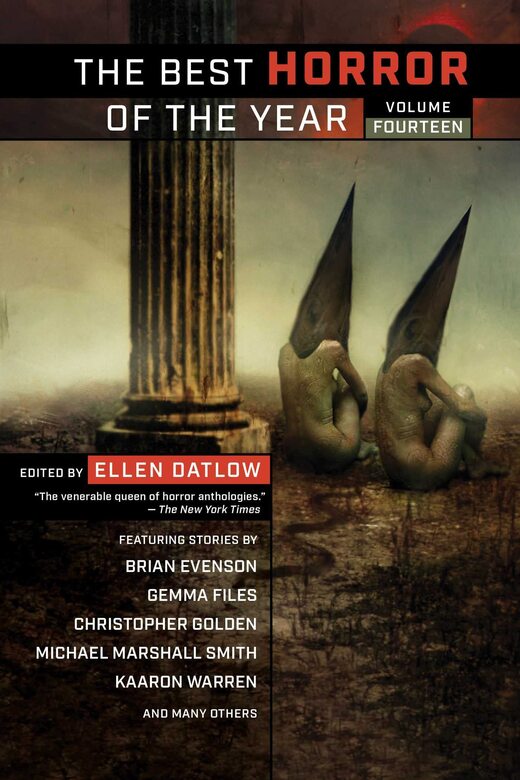 The Best Horror of the Year, Volume Fourteen (Night Shade, December 20, 2022)
Here we are again. Ellen Datlow — arguably the most famous editor of horror short fiction in the world — has released her latest Best Horror anthology featuring her annual selection of tales, plus an invaluable overview of what happened last year in horror (books, magazines, awards etc.)
The present volume collects twenty-four stories and, once again, is a juicy treat for any lover of the genre.
I will focus on my own favorites, most of which were already among my own personal selection from the year 2021, while others had escaped my attention as a simple reader.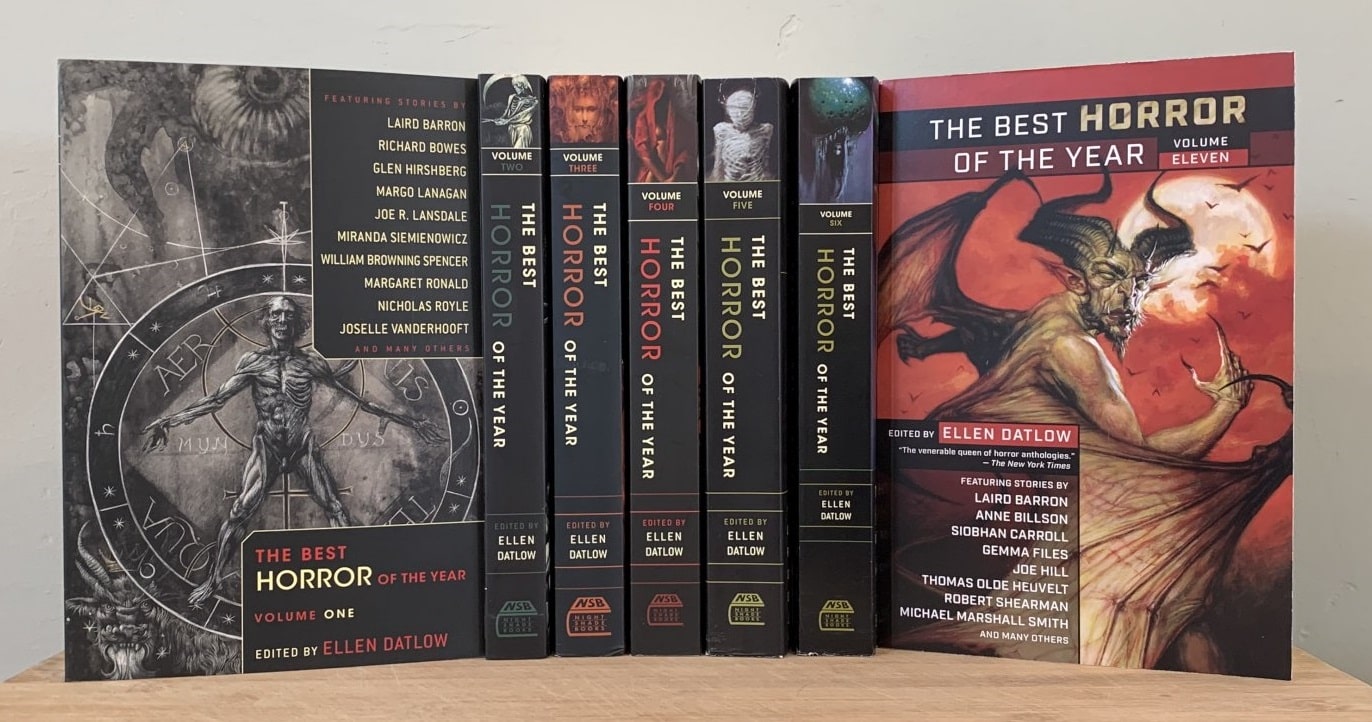 Some of the prior volumes of The Best Horror of the Year
Here they are.
"The Offering" by Michael Marshall Smith is a very disturbing story taking place in Copenhagen during an unlucky family trip.
"The King of Stones" by Simon Strantzas is a terrifying story set in a rural village inhabited by dangerous, murderous women.
"Caker's Man" by Matthew Holness portrays a nasty man whose cakes are indigestible and whose malign influence persists after his death.
In the outstanding

 

"The God Bag," Christopher Golden investigates the terrible angles of the human soul, our selfishness and our hunger for life, even at the expense of our loved ones.
Steve Duffy pens "The Strathantine Imps," a great story graced by a terrific storytelling, probing the secrets of an ancient, secluded family bound to meet a tragic destiny.
Brian Evenson provides the deeply disquieting "All Those Lost Days" describing how a ride inside the tunnel of an amusement park forever changes the life of a young man.
"I'll Be Gone by Then" by Eric La Rocca is a cruel, heartbreaking tale featuring a woman trying to get rid of her elderly mother for good. Psychological horror at its best.
Robin Furth contributes "Jack-in-the-Box," an offbeat, vivid story in which a young reporter discovers the very dark secrets hidden in the house of a British family.
Great stuff.
The Best Horror of the Year, Volume 14 will be published by Night Shade in December 20, 2022.
---
Mario Guslandi was born in Milan, Italy, where he currently lives. He became addicted to horror and supernatural fiction (too) many years ago, after accidentally reading a reprint anthology of stories by MR James, JS Le Fanu, Arthur Machen etc. Most likely the only Italian who regularly reads (and reviews) dark fiction in English, he has contributed over the years to various genre websites such as Horrorworld, Hellnotes, The British Fantasy Society, The Agony Column and many more. His last review for us was the Ellen Datlow anthology Screams From the Dark.