Datlow's Scary Monsters: SCREAMS FROM THE DARK
Datlow's Scary Monsters: SCREAMS FROM THE DARK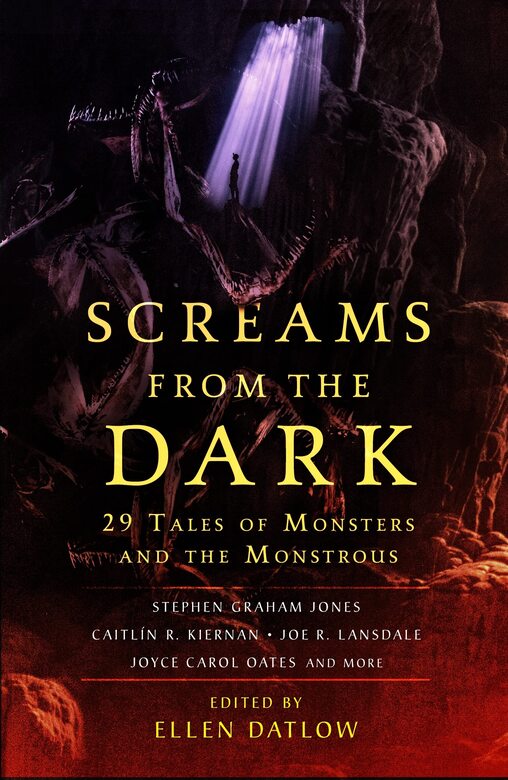 Screams from the Dark (Tor Nightfire, June 7, 2022)
Monsters are among the most common, classic characters in horror, so it's not surprising that the latest from famed horror anthologist Ellen Datlow is devoted to them. Datlow's call for contributions generated a massive response from some of today's most acclaimed horror writers, and the result is a mega-anthology with twenty-nine original stories.
The average quality is obviously high although, due to the theme, there is a certain, inevitable tendency to repetitiveness. With such a huge anthology it is quite impossible to comment upon each story (see table of contents, below). However, taking advantage of a reviewer's privileges, I will simply focus on my "Magnificent Seven" among the contributions.
"The Father of Modern Gynecology: J Marion Sims, M.D.( 1813-1883)" by Joyce Carol Oates is a vivid, masterful story portraying a surgeon practicing for both white and colored people on a big plantation. 
Indrapramit Das provides "Here Comes Your Man," a tense piece of psychological horror in which a woman with a traumatic sexual experience in her past relives her fear and pain during an endless night of anxiety.
"What Is Love But the Quiet Moments After Dinner?" by Richard Kadrey is a mightily entertaining, surrealistic piece featuring a couple of freaks endowed with unusual abilities.
In the extremely enjoyable but subtly disturbing "Flaming Teeth" by Garry Kilworth we are told of the discovery of a dangerous giant on an unknown little island.
"The Last Drop" by Carole Johnstone is a superb tale describing the sad fate of a Scottish woman unjustly sentenced to death for murdering another girl.
The eclectic Joe R Lansdale contributes "Sweet Potato" an offbeat story in which a lonesome retiree finds the body of a deceased lady neighbor to be useful and entertaining in more than one way. But pleasant things never come for free…
"Bloedzuiger" by John Langan is a powerful novelette revolving around ice fishing and the supernatural horrific experiences linked to it in a woman's memories. Great stuff.
I'm sure other reviewers will find other stories equally or even more interesting. The only way to judge is to get a copy for yourself. It's worthwhile.
Table of Contents
"You Have What I Need" by Ian Rogers
"The Midway" by Fran Wilde
"Wet Red Grin" by Gemma Files
"The Virgin Jimmy Peck" by Daryl Gregory
"The Ghost of a Flea" by Priya Sharma
"The Atrocity Exhibitionists" by Brian Hodge
""The Father of Modern Gynecology": J. Marion Syms, M.D. (1813-1883)" by Joyce Carol Oates
"Here Comes Your Man" by Indrapramit Das
"Siolaigh" by Siobhan Carroll
"What Is Love But the Quiet Moments After Dinner?" by Richard Kadrey
"The Island" by Norman Partridge
"Flaming Teeth" by Garry Kilworth
"Strandling" by Caitlín R. Kiernan
"The Special One" by Chịkọdịlị Emelụmadụ
"Devil" by Glen Hirshberg
"Crick Crack Rattle Tap" by A. C. Wise
"Children of the Night" by Stephen Graham Jones
"The Smell of Waiting" by Kaaron Warren
"Now Voyager" by Livia Llewellyn
"The Last Drop" by Carole Johnstone
"Three Mothers Mountain" by Nathan Ballingrud
"Widow-Light" by Margo Lanagan
"Sweet Potato" by Joe R. Lansdale
"Knock, Knock" by Brian Evenson
"What is Meat with No God?" by Cassandra Khaw
"Bitten by Himself" by Laird Barron
"Burial" by Kristi DeMeester
"Beautiful Dreamer" by Jeffrey Ford
"Bloedzuiger" by John Langan
---
Mario Guslandi was born in Milan, Italy, where he currently lives. He became addicted to horror and supernatural fiction (too) many years ago, after accidentally reading a reprint anthology of stories by MR James, JS Le Fanu, Arthur Machen etc. Most likely the only Italian who regularly reads (and reviews) dark fiction in English, he has contributed over the years to various genre websites such as Horrorworld, Hellnotes, The British Fantasy Society, The Agony Column and many more. His last review for us was Lies of Tenderness by Stephen Volk.