Exploring the Darkness That Surrounds Us: Lies of Tenderness by Stephen Volk
Exploring the Darkness That Surrounds Us: Lies of Tenderness by Stephen Volk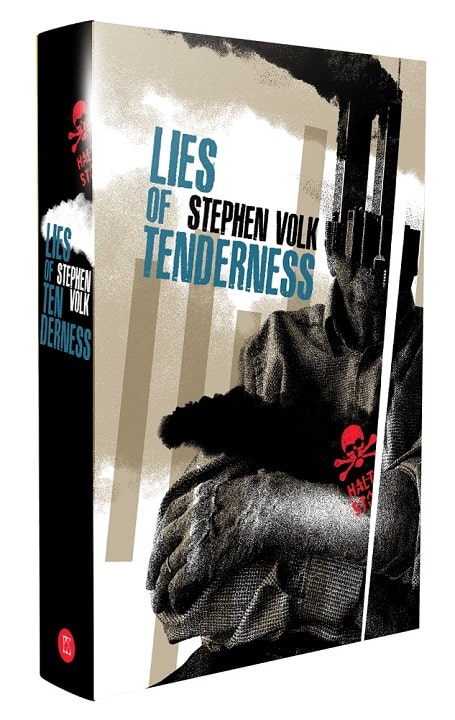 Lies of Tenderness (PS Publishing, May 2022). Cover by Pedro Marques
Lies of Tenderness
Stephen Volk
PS Publishing (482 pages, £25.00 in hardcover, May 1, 2022)
Cover art by Pedro Marques
Horror fiction comes in many shades. There's graphic horror; splatterpunk (or whatever it's called nowadays) full of gore, blood and other amenities; and there is a type of quiet horror, of higher literary quality, exploring with a more elegant touch the darkness that surrounds us.
Charles L. Grant, Robert Aickman, and more recently Reggie Oliver and Steve Duffy are just a few examples of that latter sub-genre. And Stephen Volk. Author of a couple of collections, playwright and TV author, Volk returns with a new collection featuring seventeen pieces, both stories and novellas, some previously unpublished, some reprinted from anthologies or magazines.
The atmospheres here are dark and sinister, but the narrative style is consistently elegant, sensitive and totally captivating, so much so than even readers exclusively devoted to mainstream fiction would fully enjoy Lies of Tenderness.
Here's a personal selection from the collection's TOC.
"The Holocaust Crasher" is a very enjoyable tale in which an elderly hoaxer meets a formidable deceiver equally expert in fabrications, while "The House That Moved Next Door" is a gentle, delightful story exploring the mysteries of the human mind and the fickle strength of our memories.
In "Outside of Truth and Consequences" a murderer on the run ends up in a gas station (which doesn't sell gas) and meets a crazy scientist resisting any attempt to take advantage of his inventions. So much for suspension of disbelief, but it's a lot of fun.
"The Little Gift" is a very perceptive, masterfully crafted story about an extraordinary love affair suddenly terminated by unexpected, dark events.
"Beat the Card Home" is yet another insightful, outstanding piece, in which the untimely loss of an adored son is followed by an unusual chain of events in a kind of Twilight Zone fashion. Quite a moving tale which almost led me to tears.
In the superb "Sicko" an unfaithful secretary stealing a big sum from the safe in her employer's office becomes the victim of blackmail and personal disappointment.
The excellent "The Flickering Light" revolves around a couple having friends at dinner. The flickering of a light bulb elicits memories and produces paranormal feelings.
In the enticing "Bad Language" a man distressed by his mother's death takes revenge on a loser who had been disrespectful to her. But things are never how they're supposed to be…
A highly recommended collection by a truly great writer.
Here's the complete Table of Contents.
Introduction by Priya Sharma
"The Holocaust Crasher"
"The Airport Gorilla"
"The House That Moved Next Door"
"Unchain the Beast"
"Outside of Truth or Consequences"
"The Little Gift"
"The Black Cat"
"Beat the Card Home"
"Vardøger"
"A Meeting at Knossos"
"Sicko"
"The Naughty Step"
"Adventurous"
"The Flickering Light"
"Bad Language"
"Agog"
"Orr"
Story Notes & Acknowledgements
---
Mario Guslandi was born in Milan, Italy, where he currently lives. He became addicted to horror and supernatural fiction (too) many years ago, after accidentally reading a reprint anthology of stories by MR James, JS Le Fanu, Arthur Machen etc. Most likely the only Italian who regularly reads (and reviews) dark fiction in English, he has contributed over the years to various genre websites such as Horrorworld, Hellnotes, The British Fantasy Society, The Agony Column and many more. His last review for us was Robert Aickman: An Attempted Biography.