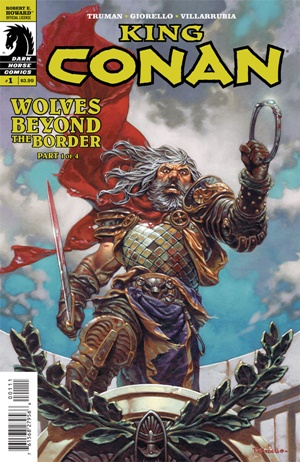 And with only four stories remaining, Hither Came Conan is winding down. Of course, this series has featured a different leading Robert E. Howard expert each week, examining one of the original Conan stories each week, highlighting what's best in it. Author Woelf Dietrich looks at the 'most complete, incomplete' Conan tale from Howards, "Wolves Beyond the Border." Read on!
I am to provide proof that "Wolves Beyond the Border" is the greatest Conan story ever told by Robert E. Howard. Except that Conan never appears in the story apart from a mention or two and Howard never completed the story nor was it published in his lifetime. L. Sprague de Camp finished the fragment relying on a one-page outline discovered with the unfinished manuscript that Howard had written in the 1930s. Lancer Books published it in 1967 along with three other stories in Conan the Usurper.
So, as you can see, I find myself in a peculiar situation. A potential dilemma given the awesome essays published so far in this series. The competition for the best Conan story is a fierce one. How, then, do I convince you that this story is the best despite the absence of Conan?
Let us start with the plot, shall we?
Plot
We are introduced to "Wolves Beyond the Border" with a mini-prologue:
"The revolution progresses with hurricane speed. While knights and sergeants in gleaming mail clash in charge and counter-charge on the Aquilonian plains, civil war rages along the Pictish frontier between the partisans of Conan and those of Numedides. The Picts, naturally, see their opportunity. Here is a tale of some of the events of that strife-torn land, as told by one of the survivors of the conflict; for the Hyborian Age was a time of stirring events in many times and places, not merely those in which Conan was present.'
---