Convention Report: Robert E. Howard Days 2019
Convention Report: Robert E. Howard Days 2019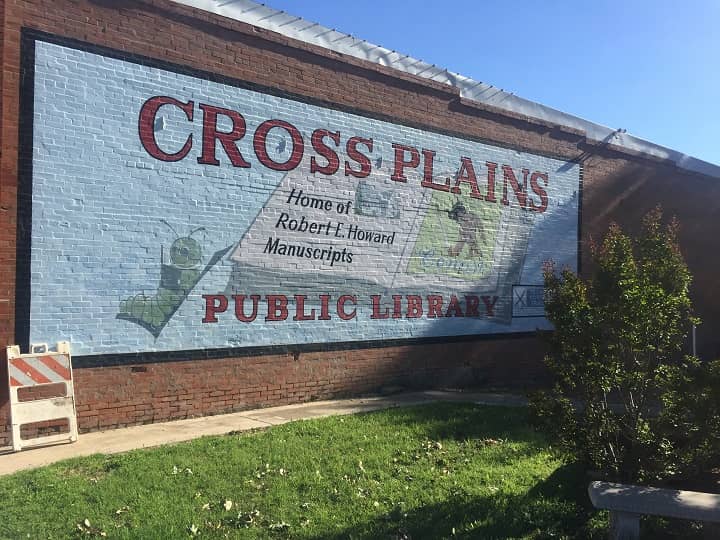 Robert E. Howard (1906–1936) is most famously known as the creator of Conan the Barbarian. But he was a very prolific pulp writer of various genres who created several other memorable characters including Solomon Kane and Kull, gracing the pages of Weird Tales and various other pulp magazines of the 1920s and 30s.
To celebrate the importance of this writer, Robert E. Howard Days exists as an annual event (first weekend of every June) that brings together Robert E. Howard (REH) fans and scholars to celebrate the life of this great pulp writer. This event takes place every year in the small town of Cross Plains, Texas, the hometown of REH. The primary locus of events takes place at the Robert E. Howard Museum, which was actually the home of REH and his parents, and the place where most of his greatest stories were written.
After years of planning to attend Howard Days, I finally bit the bullet and made the road trip to Cross Plains (from Minnesota!) After arriving in Abilene late Wednesday, I got up early Thursday morning in order to drive to Brownwood (30 minutes or so south of Cross Plains) to go to Greenleaf Cemetery where REH's grave resides.
[Click the images for Conan-sized versions.]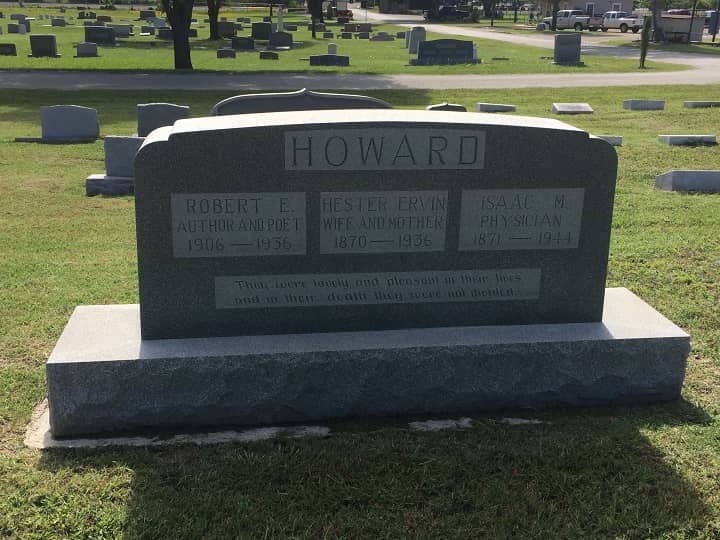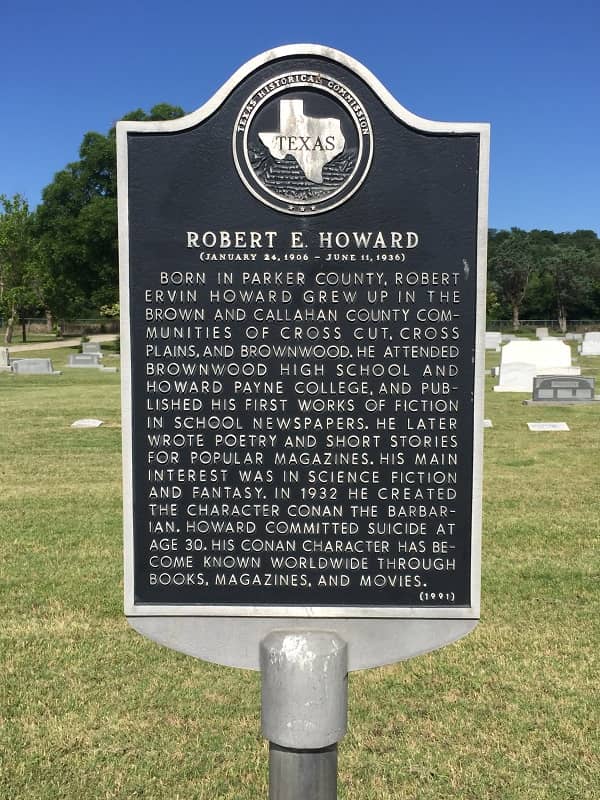 After paying my respects, I then drove up to Cross Plains. The REH house/museum is a small affair. But it was exciting to be on the same grounds where the characters of Conan, Solomon Kane, and others were created and to see his room and typewriter (or at least the same old model). The grounds also include a big pavilion where many of the REH-Days' events take place.
I quickly made friends with several people at the pavilion, other REH-fans who had made the pilgrimage. And I had the pleasure of meeting in person a few people that I'd only known through Black Gate: Keith West and Jason M. Waltz! I ended up having lunch in Cross Plains that day at a delicious Mexican restaurant with Keith West and the author James Reasoner.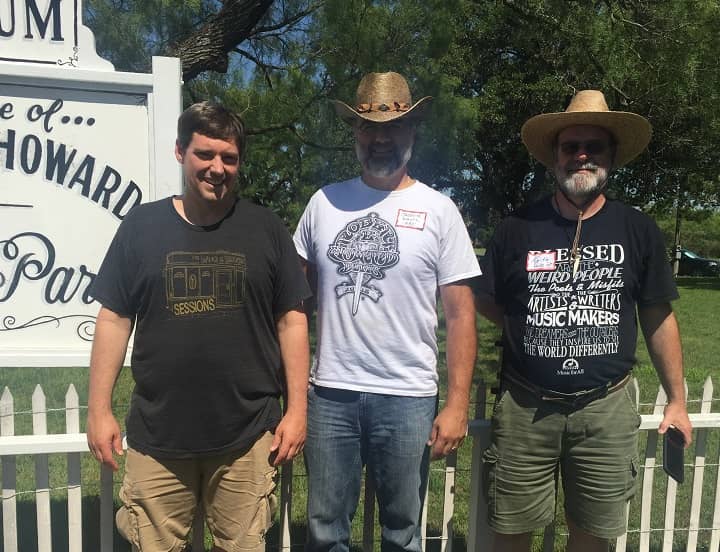 The author, Jason M. Waltz, and Keith West
We returned to the REH house and were able to go in. This is "Mecca" for REH fans. All kinds of REH memorabilia was within, including many of REH's own personal items. I spent the rest of Thursday evening on the pavilion listening to long-time REH-aficionados Paul Herman, Bill Cavalier and Rob Roehm regale us about all things REH, including acquiring the REH collection of Glenn Lord (the famous but deceased REH-enthusiast).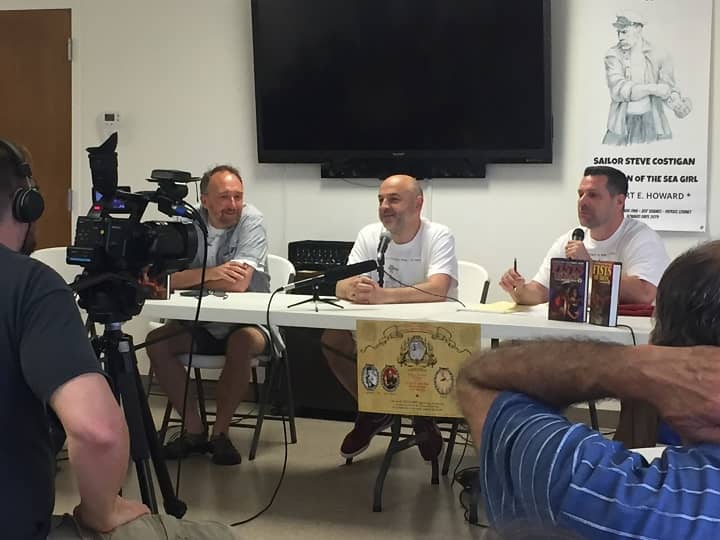 Jeffrey Shanks, Patrice Louinet, and Chris Gruber
Friday, the first "official" day of REH Days, many more people were there. (My guess is that the total number of people over the course of the weekend was 150–200.) Many arrived early to be part of the REH bus tour of Cross Plains and the surrounding area.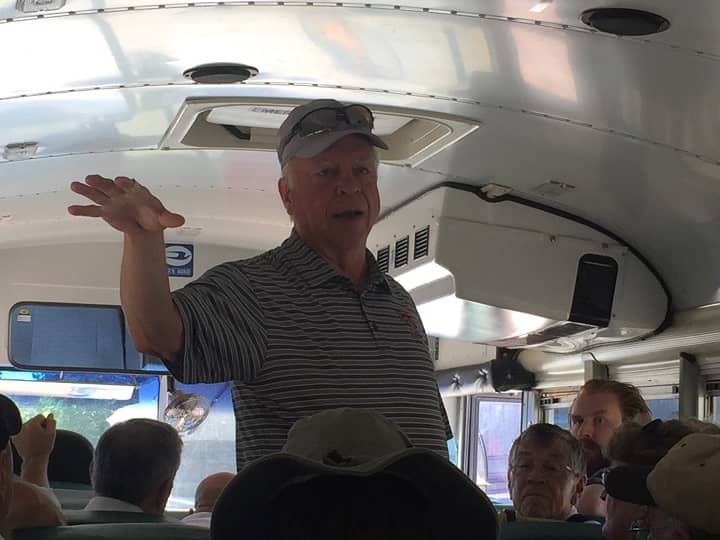 Jack Baum conducts the REH bus tour of Cross Plains
Our tour was conducted by Jack Baum, who is distantly related to the Howard family, and he told us various interesting and historical details about Cross Plains, especially points of interest related to REH. We had a great hot dog lunch sponsored by Project Pride (the Cross Plains organization that has done so much to promote Howard) and enjoyed the rest of the afternoon talking with more fans.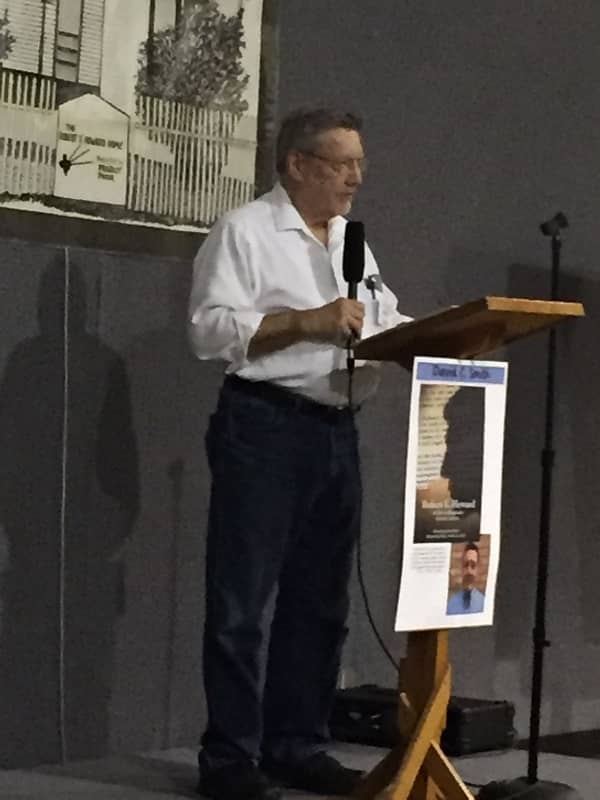 Guest of Honor David C. Smith
In the afternoon I attended two panels, one featuring guest of honor author David C. Smith, as well as other Howard scholars such as Patrice Louinet. In the evening I attended the REH Celebration, where we enjoyed the local chicken-fried steak. Delicious! David C. Smith was the guest speaker, a long-time, prolific author of all things pulp and SF&F, and he gave a great speech on the merits of REH as an author. I was also able to score a few hard-to-get REH items at the silent auction afterwards.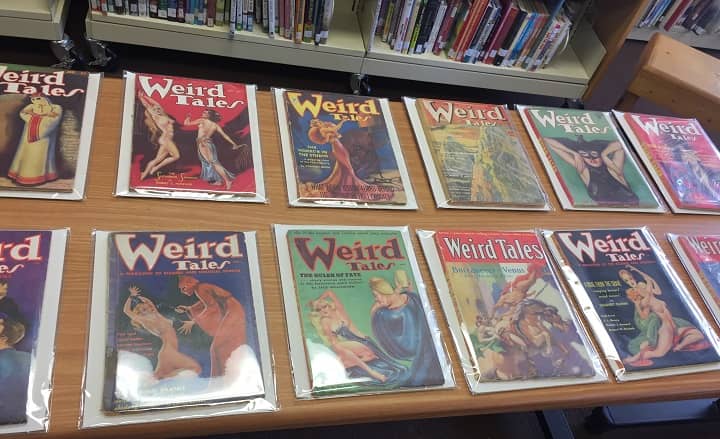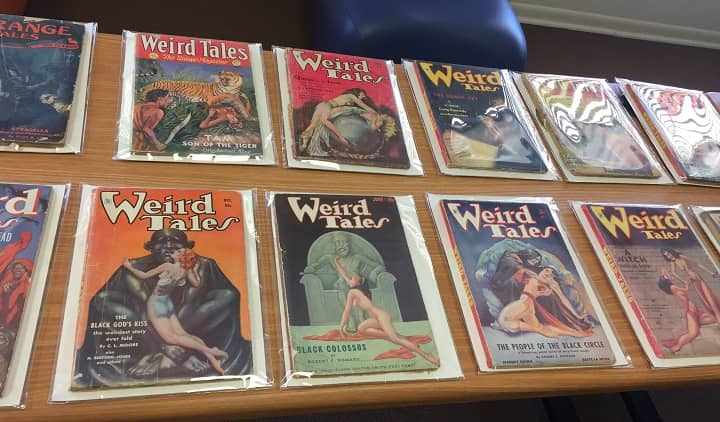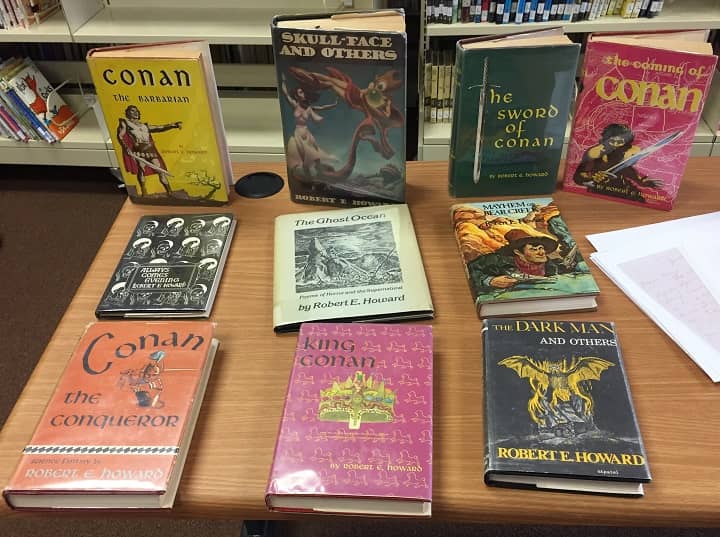 Saturday morning I went to the Cross Plains public library. Though small, it probably contains one of the most amazing collections of REH original manuscripts and original old pulp magazines (many early Weird Tales) where some of Howard's stories originally appeared. I doubt the major public library in my big town of Minneapolis has such resources!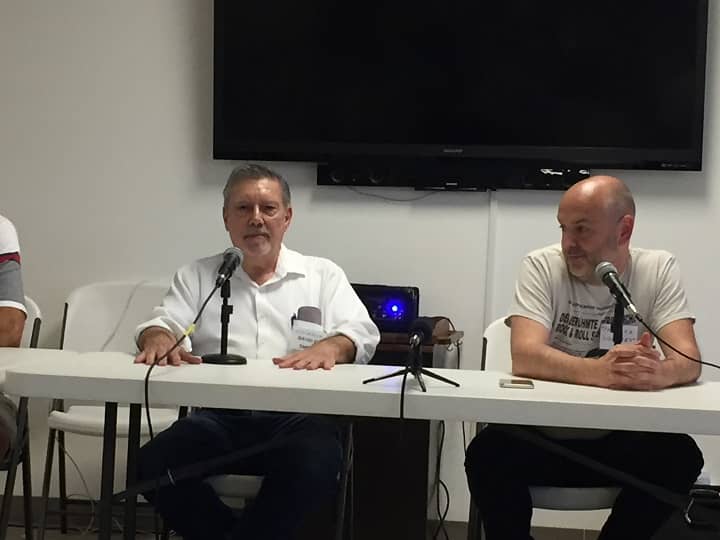 David C. Smith and Patrice Louinet
Chris Gruber, showing the Steve Costigan belt he had made to donate to the REH museum
The rest of the day was spent attending panels, and also the 2019 REH Foundation Awards. One of Black Gate's own, Bob Byrne, took away one of the awards: The Venarium, for emerging REH scholar. Way to go Bob! Too bad he wasn't there, though I assume they'll mail his award to him.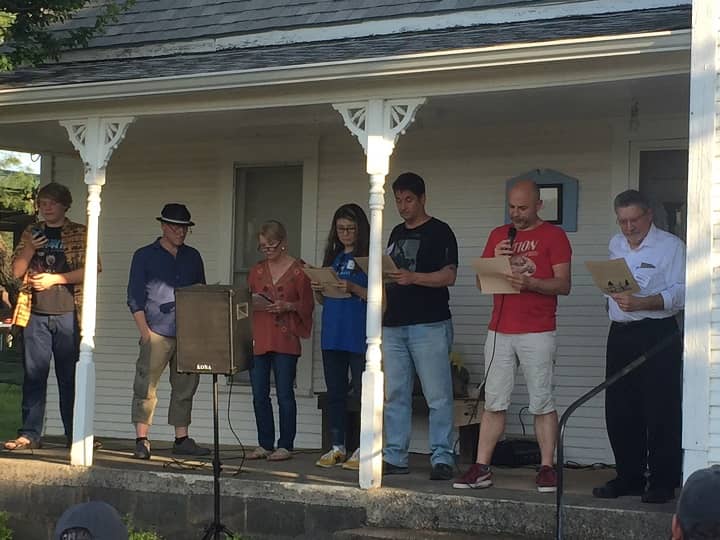 The reading of "Cimmeria"
The evening was topped off with a barbeque at the pavilion followed by readings of REH's poem "Cimmeria" on the porch of the Howard house. Evidently one of the traditions of Howard Days is to read the poem in multiple languages, whatever languages and willing volunteers are present. We heard the poem in not only English, but in German, Japanese, Italian, Spanish, Gaelic, and Latin.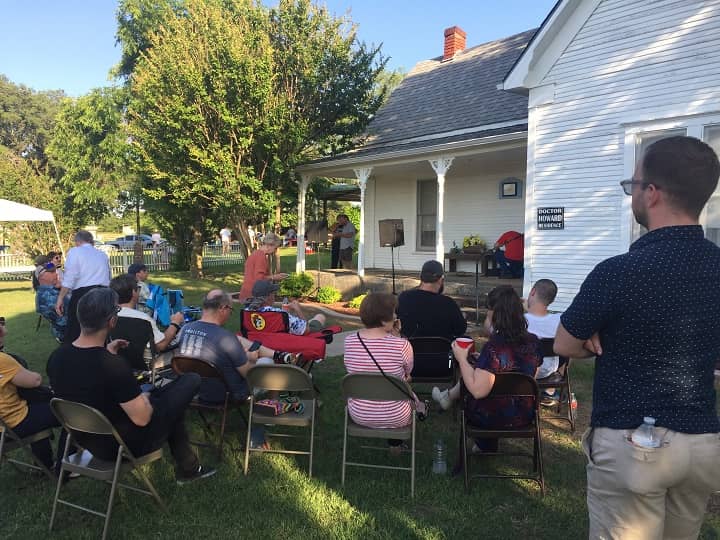 I drove back to my Air-BnB in Abilene that night drinking in the beautiful Texas sunset and landscape and reminiscing not only on the joys of the past weekend but also trying to see my surroundings in the way that Robert E. Howard had. Howard Days is a unique "con." Many people comment that Howard Days often feels more like a family reunion that an actual convention. Though this was my first time at Howard Days, I'd have to concur with that assessment.
Below are some additional photos. Enjoy!