The Ballantine Adult Fantasy Series: The Young Magicians edited by Lin Carter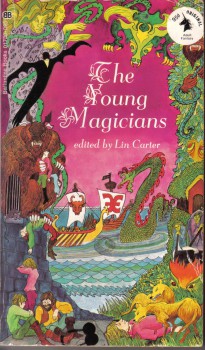 The Young Magicians
Lin Carter, ed.
Ballantine Books
October 1969, 280p. $0.95
Cover art by Sheryl Slavitt
I apologize for having taken so long to get this post done. I've been on the road for over half the weekends since the end of April, mostly family trips for graduations or dive meets my son was competing in. I thought I would have a little more time when the second summer session started since I would be teaching, but that hasn't exactly been the case. (No, I have no idea why I would have thought that.)
But I'm back, and I would like to thank John for his patience. I'm tanned; I'm rested; I'm ready. Well, I'm tanned at any rate. And I've got a pretty darned good anthology to tell you about.
A number of people, myself included, have said that Lin Carter's legacy will ultimately not be his writing or his Conan pastiches, but the work he did on the Ballantine Adult Fantasy series. It's hard in this day and age of ebooks and specialty presses to remember how hard fantasy was to find on bookstore shelves in the late 1960s. The commercial fantasy boom wasn't far off, but it hadn't gotten there. It was possible to read just about all of the titles that were easily available at the time.
The Young Magicians was a companion volume to Dragons, Elves, and Heroes with both of them being published in October 1969. That volume contained examples of imaginary world fantasy beginning with folktales and sagas and ending with William Morris. In The Young Magicians, Carter starts with Morris and provides samples of fantasy from more contemporary writers, ending with Lin Carter himself.