The Ballantine Adult Fantasy Series: The Wood Beyond the World by William Morris
The Ballantine Adult Fantasy Series: The Wood Beyond the World by William Morris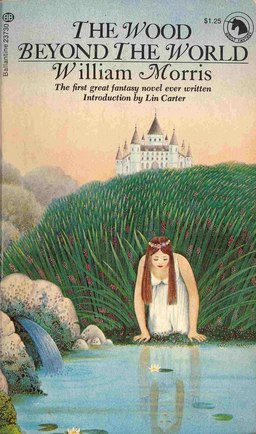 The Wood Beyond the World
William Morris
Ballantine Books (237 pages, June 1969, $0.95)
Cover art by Gervasio Gallardo
With this installment in my reviews of the Ballantine Adult Fantasy series, we come to the first volume by a man who has one of the worst reputations for prose in the series.
I'm talking of course about William Morris. Lin Carter published four of Morris's works in five volumes; The Well at the World's End came in at two volumes. Carter appears to have had plans for another four volumes.
In his introduction, Carter makes the claim that Morris invented the modern quest fantasy. Personally, I think that may be stretching things a bit. Morris did invent a number of things, including the Morris chair, but I'm not sure he should get sole credit for modern fantasy.
I must admit I came to this book with some trepidation. After the Adult Fantasy line was canceled, the Newcastle Forgotten Fantasy Library published 24 volumes, with five by Morris. I attempted to read one, the collection Golden Wings and Other Stories, about ten or twelve years ago. I didn't get very far.
Fortunately, The Wood Beyond the World isn't a long book. Furthermore, it's broken up into short chapters, with a line break and a heading before every paragraph or two. Of course with Morris, paragraphs can be more than a page long.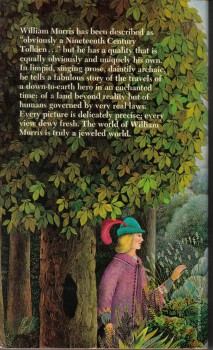 The Wood Beyond the World tells the story of Golden Walter, son of a prominent merchant who has made an unfortunate marriage. His wife isn't exactly a prize catch. After being cuckolded, he escapes his troubles (and potential trouble with her family) by sailing away on one of his father's ships to visit a foreign port and enjoy life there for a while.
Before he leaves, he sees a cold-visaged but beautiful woman accompanied by a hideous Dwarf and a young maiden who is clearly in the power of the other two. It's these three, Lady, Monster, and Maiden, who will become the central figures in Walter's life.
While away, Walter receives word that his father has died in a conflict with his wife's family and he needs to return home. But the ship is blown off course by a terrible storm. He and the crew find themselves on an unknown shore. While the crew repairs the damage, Walter strikes up a friendship with an old man who lives on the shore. During their conversations, Walter inquires of a pass he sees through a nearby cliff. He's warned to stay away from it. Convinced the old man knows more than he's telling, Walter slips off and explores the pass.
After a couple of days, he encounters the Dwarf, who gives him some food. Later he comes to a valley where he sees the Maid. She tells him she's a prisoner of the Lady, and that the Lady's magic has brought Walter there. The Lady had previously ensorcelled a king's son, but she's growing tired of him and wants Walter for his replacement. It's not long before Walter and the Maid are professing their undying love for each other. The Maid also refuses to let Walter touch her because the Lady will know and punish her.
Walter continues on until he comes to the Lady's castle. At first, she treats Walter with disdain, although she allows him to lodge there. But shortly, she begins to show more interest in him and less interest in the king's son.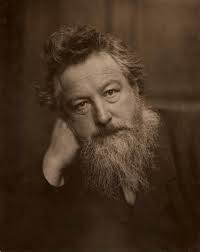 Much of the book from this point on involves the intrigues and manipulations of the Lady and how Walter and the Maid escape. After they escape, the Maid becomes a goddess to a tribe of vicious hillmen. Walter ends up as king of a small city and naturally makes the Maid his queen.
Morris's wife was unfaithful to him and eventually left him. I have to wonder how much the unfaithfulness of Walter's wife towards him, and at one point Walter's unfaithfulness to the Maid, were Morris using his writing as therapy. I'll leave that for scholars more knowledgeable about Morris than me.
There were times, mostly early on, that I wished I had a Cliff's Notes version of the book, but then I realized that this book actually is a Cliff's Notes version of what would be a longer book if it were written today. Morris's style, while often overly descriptive, can also be pretty thin at times.
Here's a sample, in which Walter and the Lady are hunting in the forest and come upon a threatening creature:
He had gone but a little way ere he saw the Lady standing there in a narrow clearing, her face pale as death, her knees cleaving together, her body swaying and tottering, her hands hanging down, and the bow and arrow fallen to the ground; and ten yards before her a great -headed yellow creature crouching flat to the earth and slowly drawing nigher. He stopped short; one arrow was already notched to the string, and another hung loose in the lesser fingers of his string-hand. He raised his right hand, and drew and loosed in a twinkling; the shaft flew close to the Lady's side, and straightway all the wood rung with a huge roar, as the yellow lion turned about to bite at the shaft which had sunk deep into him behind the shoulder, as if a bolt out of the heavens had smitten him.
Whew. That was only three sentences. A more contemporary writer would have used more sentences, only a contemporary writer would have broken them up and put in more sensory detail, probably in several small paragraphs.
After a while, I found that the prose wasn't as bad as I thought it would be. There is a rhythm to the way Morris wrote, but it takes a while to get into it. I'm not sure I want to make the effort.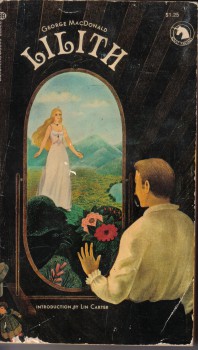 Everything in this book, and from what I understand the rest of his writing, is full of a sense of sweetness and light. L. Sprague de Camp certainly argues that point in his chapter on Morris in Literary Swordsmen and Sorcerers. This tendency makes things hard to swallow at times. For example, Walter and the Lady have sex at one point, at least I think they do, but the prose is so saccharine-y and euphemistic, it's hard to be completely certain.
I stated when I started this series that I would read at least one book by the authors who had multiple volumes in the Adult Fantasy line. If I liked their work, I would read others; if not, I would limit myself to that book. Morris is probably going to be a one book author. The only other one that sounds interesting, and possibly worth the effort, is The Well at the World's End.
The other thing I said was that while I would start reading the books in order of their publication, I might from time to time jump around. At this point, I'm going to switch the order of the next two books. The next volume in the Adult Fantasy line is The Silver Stallion by James Branch Cabell. I'm going to skip to Lilith by George MacDonald.
I have a full set and a number of reading copies. I don't have a reading copy of The Silver Stallion and the copy I have isn't in the best of shape. The reading copy I ordered turned out not to be the Adult Fantasy edition. That matters because the Adult Fantasy edition has illustrations, and the reading copy I ordered doesn't. So I'll be looking at Lilith until I get a second Adult Fantasy edition of The Silver Stallion.
The previous installments in this series are:
Lin Carter and the Ballantine Adult Fantasy Series
The Ballantine Adult Fantasy Series: The Blue Star by Fletcher Pratt
The Ballantine Adult Fantasy Series: The King of Elfland's Daughter by Lord Dunsany