The Ballantine Adult Fantasy Series: The Wood Beyond the World by William Morris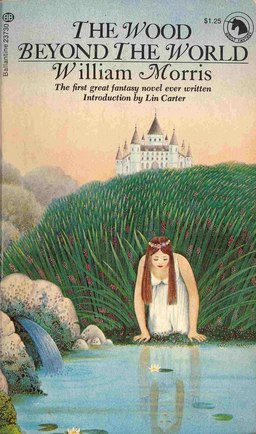 The Wood Beyond the World
William Morris
Ballantine Books (237 pages, June 1969, $0.95)
Cover art by Gervasio Gallardo
With this installment in my reviews of the Ballantine Adult Fantasy series, we come to the first volume by a man who has one of the worst reputations for prose in the series.
I'm talking of course about William Morris. Lin Carter published four of Morris's works in five volumes; The Well at the World's End came in at two volumes. Carter appears to have had plans for another four volumes.
In his introduction, Carter makes the claim that Morris invented the modern quest fantasy. Personally, I think that may be stretching things a bit. Morris did invent a number of things, including the Morris chair, but I'm not sure he should get sole credit for modern fantasy.
I must admit I came to this book with some trepidation. After the Adult Fantasy line was canceled, the Newcastle Forgotten Fantasy Library published 24 volumes, with five by Morris. I attempted to read one, the collection Golden Wings and Other Stories, about ten or twelve years ago. I didn't get very far.
Fortunately, The Wood Beyond the World isn't a long book. Furthermore, it's broken up into short chapters, with a line break and a heading before every paragraph or two. Of course with Morris, paragraphs can be more than a page long.