Lin Carter and the Ballantine Adult Fantasy Series
Lin Carter and the Ballantine Adult Fantasy Series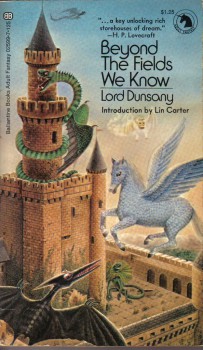 Many fantasy fans don't realize how good they have it these days. Fantasy stories dominate the best seller lists, set box office records, and are some of the highest rated programs on television.
This hasn't always been the case. In the years following the Second World War, fantasy in popular culture went into a decline. The reasons for this are beyond the scope of this post, primarily because I don't want to write a doctoral thesis. Once was enough.
What I'd like to address in this and following posts is the resurgence of fantasy in the 1960s and 1970s, specifically fantasy published by Ballantine Books in what became known as the Adult Fantasy Series.
The catalyst that led to the current fantasy boom was J. R. R. Tolkien's Lord of the Rings, of course. Although initially published by Ace in editions not authorized by Tolkien, Ballantine Books ended up as the publisher of the authorized editions. The books were a tremendous success. Readers began clamoring for more fantasy.
Ian and Betty Ballantine followed up The Lord of the Rings with, in addition to some other work by Tolkien, the Gormenghast trilogy by Mervyn Peake, four novels by E. R. Eddison (The Worm Ouroboros, Mistress of Mistresses, A Fish Dinner in Memison, and The Mezentian Gate), A Voyage to Arcturus by David Lindsay, and The Last Unicorn and A Fine and Private Place, the latter two by Peter S. Beagle. Considered precursors to the actual Adult Fantasy series itself, many of these books were later reprinted as part of the series with the unicorn head colophon.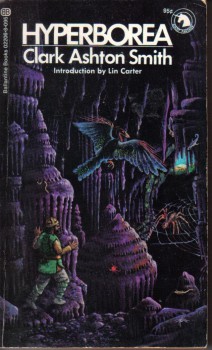 The success of these volumes prompted the Ballantines to start a line dedicated solely to fantasy, the Ballantine Adult Fantasy imprint. Titles were identified by a colophon consisting of a unicorn's head.
There were actually two colophons used. The first consisted of a unicorn's head in which the unicorn has a long, flowing mane. This was used on the first eight books. The second was a silhouette of a unicorn head enclosed in a circle, used for the remainder of the series.
From May 1969 until April 1974, Ballantine published 65 titles in the Adult Fantasy line. Two additional books which were intended as part of the series were published in June and November of 1974: Merlin's Ring by H. Warner Munn and Prince of Annwen by Evangeline Walton. The former had an introduction Carter; the latter completed a set begun under the Adult Fantasy line.
The line was discontinued when the Ballantines sold the company they had founded to Random House. As is often the case in a merger, lines that aren't sure money makers tend to be phased out or dropped.
These days, if you try typing the words "Adult Fantasy" into a search engine, you'll set off all sorts of bells and whistles. (Don't try this at work. I'm just saying.)
As Carter states in the opening paragraphs of the first volume in the series (Fletcher Pratt's The Blue Star, the subject of my next post), the intent of the series was to publish "fantastic romances of adventure and ideas; books which few, if any, children would be capable of appreciating." Today the term "adult" is often used to denote graphic content, usually of a sexual nature. While Carter didn't shy away from novels with sexual content, his goal was to bring back into print and/or make known to a wider audience sophisticated works of fantasy.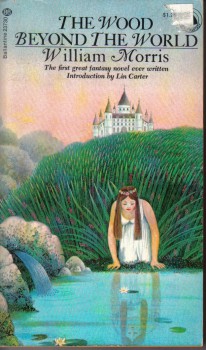 A high number of the works he selected were out of print, especially in the early years of the series. As time went on he published some original works as well as reprints. Many of the titles he selected had never had a US publication.
Carter provided an introduction to each volume, giving a bit of history about the work and the author. A quick perusal of the titles indicated that he was especially fond of William Morris, Lord Dunsany, and James Branch Cabell.
One of the things the series was noted for was cover art. The books today are sought after by many collectors because of the covers. A variety of artists contributed, but the most prolific (in terms of the series, at least) was Gervasio Gallardo, who contributed 25.
Bob Pepper was second with 9, followed by Ray Cruz, David McCall Johnston, and Robert LoGrippo with 4 each.  You can see all of the covers in order of publication here.
The books weren't a major financial success. Although some went through multiple printings, with a few being republished with new cover art under the later Del Rey imprint, the series as a whole wasn't really commercial fiction. Many of the titles were written in archaic or baroque styles. Too many of them require the reader to work harder than the average person is willing to do to be entertained.
The high-art style of the covers probably didn't help, either. They weren't the sort of thing that would appeal to a broad cross-sections of readers looking for light entertainment.
What these books did accomplish was to introduce readers with a strong interest in fantasy to other works and to bring obscure titles and authors to a wider audience, even if that audience wasn't large or mainstream. In a way they were the publishing equivalent of preaching to the choir. Today we would consider their audience a niche market.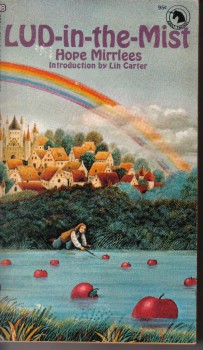 This is not to say the series didn't have a major impact on the field. It did. If not for the Adult Fantasy Series, how many readers today would have heard of Hope Mirrlees' Lud-in-the-Mist? Kathryn Kurtz's first Deryni novels were published in the Adult Fantasy series. Clark Ashton Smith was largely out of print at the time, at least in inexpensive editions, as was James Branch Cabell.
One can argue the Adult Fantasy Series had an impact that is still being felt today. Mirrlees was the subject of a recent biography. Kurtz went on to write 31 books in the Deryni universe, along with a number of other novels. Smith is more popular than ever today. Just to name a few.
It was in his work as editor of the Adult Fantasy Series that Lin Carter made his greatest contribution to the fantasy field.
What I want to do is look at titles in the series one at a time. As a general guideline, I'm going to take them in more or less chronological order. If you look at the order in which the books were published, you'll note that Morris, Dunsany, and Cabell have multiple volumes in the first two years. I'm going to restrict myself to one title per author for the foreseeable future. (Great phrase, that: "the foreseeable future." Allows me all sorts of wiggle room.)
I also reserve the right to skip ahead. Some of the titles I find most interesting are later ones. And I reserve the right to skip any titles if I find there's an author I just can't read for whatever reason. Also, James McGlothlin recently wrote an excellent post on Carter's Imaginary Worlds. You should check it out if you haven't already.
I'll announce the next title at the end of each post, so if any of you would like to read along and join me in the discussion, that would be great. Right now there's no set schedule as to when I'll post, although I hope to have a post a month at a minimum.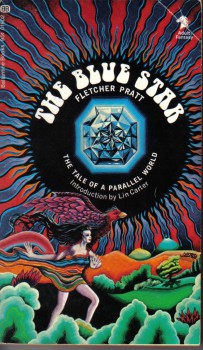 John O'Neill was kind enough to allow me this opportunity, and understanding enough of my other commitments that he was agreeable to not locking me into a tight schedule. I'd like to thank him for both the opportunity and his consideration.
Next time, I'll take a look at Fletcher Pratt's The Blue Star. Copies are available from a number of book dealers if you're interested.
Finally, a quick personal digression. I first became aware of the Adult Fantasy Series when I came across a copy of Hyperborea by Clark Ashton Smith in a second hand bookstore while I was in high school.
Up until that time, the only Smith I had read was "The City of the Singing Flame." Hyperborea introduced me to a strange and exotic world. It was soon followed by Over the Hills and Far Away by Lord Dunsany.
I eventually collected the entire series. I could have had them sooner if I had taken advantage of the opportunity to pick up most of the series in college at half off cover price. If I had known that used bookstore was going to go out of business, I would have.
But I've got them all now. I'm looking forward to exploring them with you.