Traveller Journeys into Deep Space with a New Kickstarter: An Interview with Martin Dougherty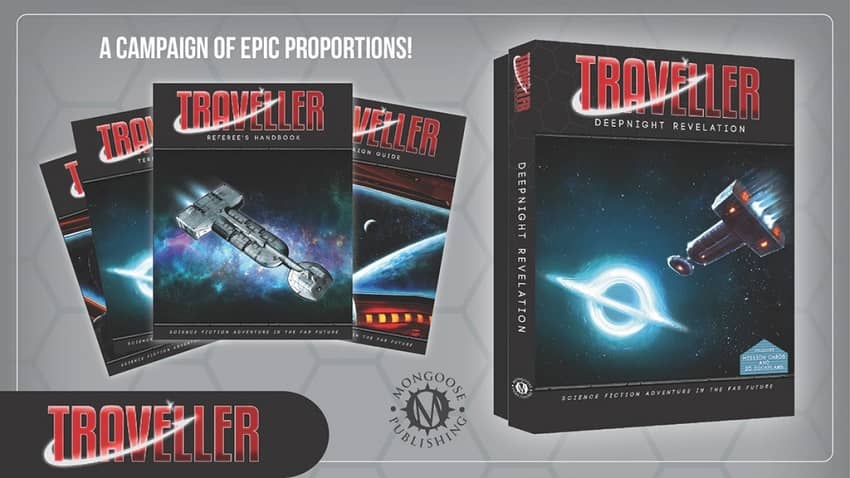 Traveller RPG: The Deepnight Revelation Campaign Box Set
I'm a long time Traveller fan. It's not just the simple but effective game system that's been pretty much the same since its design, but the appeal of the sweeping hard science/space opera of the default setting, lovingly added to through the decades.
Of course you don't have to use the Imperium as your setting, but a lot of people do, or use part of it, or use it with modifications. A new Kickstarter launched last week focused upon the exploration side of the Traveller universe. Many of the adventures and campaigns that have appeared for Traveller over the years have been focused upon small spaceship crews and their potential exploits, rather a lot like Firefly. This Kickstarter, though, is going to take a naval ship into areas unexplored by the Imperium, deep into the unknown. It looks splendid.
The man writing it is one of my very favorite adventure writers, Martin Dougherty, who never fails to entertain with clever and inventive scenarios that favor role-playing over rolls, and reward ingenuity. He was kind enough to take time away from writing the new campaign and answer some questions.
Howard: Before we really get started, what do you think is behind the appeal of Traveller, and the Imperium itself?
Martin: That's a difficult question. I suspect it's different for everyone. For me, I like the grounding in hard-ish science. I've never really got on with fantasy-in-space with swords the size of ironing boards and little actual science. The scale is attractive, too. For the most part it's a bunch of resourceful people doing the best they can rather than superheroes. I know it's fun to play someone incredibly far above the human norm sometimes, but I suspect a lot of us identify with the talented-but-ordinary protagonists of the typical Traveller game.