The Ballantine Adult Fantasy Series: Lilith by George MacDonald
The Ballantine Adult Fantasy Series: Lilith by George MacDonald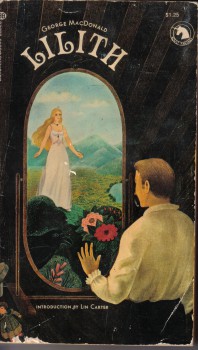 Lilith
George MacDonald
Ballantine Books (274 pages, September 1969, $1.25)
Cover art by Gervasio Gallardo
Lilith was the fifth volume in the Ballantine Adult Fantasy series. The cover is one of the darkest in the series to date. The back cover shows the inside of an attic. I normally post an image of the back cover, but I won't here. It's almost a monochrome and it's dark.
In many ways, Lilith was different from the few that came before it. For starters, it was written from a decidedly Christian worldview and there were passages in it that seemed allegorical to me. Lilith was certainly the most metaphysical of the books I've read in the series so far. There were several conversations about identity and how a person can know who they are.
A favorite practice of literature majors everywhere is to try to determine symbolism in works and to dissect them for hidden meanings. The structure of Lilith certainly lends itself to this type of thing and, not being an English major, I'm not going to attempt much of that here.
George MacDonald (1824-1905) was a Scottish pastor who retired early to devote himself to literature, although he continued to preach in a lay capacity at times. Much of his output consisted of novels that were set in what for MacDonald was contemporary times, but also contained poetry, collections of sermons, and fairy stories. There are two other volumes by MacDonald in the BAF series: the novel Phantastes and Evenor, a collection of three novellas.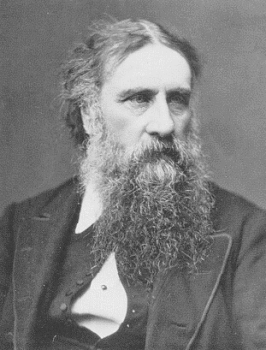 By all accounts, MacDonald's life was a successful and happy one. He and his wife had eleven children. His books sold well during his lifetime and he was friends with a number of literary figures of his day.
Lilith was his final fantasy, published in 1895. It is very much from the Victorian era.
The story is narrated by a Mr. Vane (the name is no coincidence), whose parents died a number of years earlier. He has just come into his majority and inherited a mansion with an extensive library. The library spills all over the house, taking up most of the ground floor. (I want to live in this house!)
There is one place in the library where the shelves are built against a door leading into another room full of books. The door is opened by pulling on a book that sticks out and can't be removed. The library is also supposed to be haunted by a former librarian. One night, Vane sees the librarian at the shelf and later notices the book is missing. The next morning, it's back.
A few days later, he sees the librarian again and follows him through the house to the attic. There is no sign of the librarian in the attic, but Vane sees a mirror which appears to show a scene in another world. Leaning towards the mirror to get a better look, Vane finds himself transported elsewhere.
There's a raven at his feet which turns out to be the librarian. Only in this world, the librarian is a sexton. The sexton takes him to his home and shows him a vast underground cavern in which the dead are sleeping, waiting to awaken to a new life. He invites Vane to lie down. Terrified, Vane flees.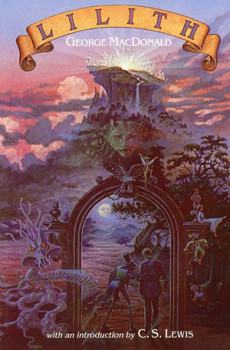 Vane returns home and finds a manuscript written by his father. It tells of his adventures in this land. Vane decides to return.
Once there, Vane is told he must earn his chance to return to the underground chamber and the rewards to be found there.
Vane wanders the world, finding a group of children who live in a forest and are threatened by giants. Wanting to help them, he leaves them, only to put them in more danger. He finds a woman near death and restores her to life. She turns out to be Lilith, first wife of Adam. He hates children and wants to destroy them. By trying to help the children, Vane actually puts them in greater danger.
This portion of the book follows the formula of a foolish young man learning wisdom, although it's a rough lesson for Vane. He willfully disregards the advice the librarian gives him and brings trouble on himself and the children. His headstrong actions result in the death of the oldest of  the children, a girl on the verge of womanhood he's falling in love with. She's Adam and Lilith's daughter and Lilith kills her.
The final chapters of the book are filled with Christian symbolism and there are places where the dialogue is almost direct quotes from the Bible.
I realize I'm making Lilith sound like a dry, dull tome, but it's not. There are some imaginative and genuinely weird scenes, such as the one in which Vance sees a woman, whom he later learns is Lilith, fall to the ground and her limbs turn to serpents and slither away.
But I think my favorite scene was the one in which Vane watched a pair of skeletons, formerly husband and wife in life, come to terms with their situation and the new dynamic between them. It was full of black humor. The scene went on for about three pages.
Here's a sample.
"We are in the other world, I presume!"
"Granted! – But in which or what sort of other world? This can't be hell?
"It must! There's marriage in it. You and I are damned in each other."
"Then I'm not like Othello, damned in a fair wife. Oh, I remember my Shakespeare, madam!"
I really enjoyed the first half of the book, but I got interrupted in the middle. After that, it was a slog to get through. I think the reason for this was that for a couple of weeks, I could only find time to read just before going to bed. My fatigue level was such that I didn't make it far before giving up and turning in for the night. The result was that I felt I wasn't getting anywhere. I also felt the ending drug on longer than it should have.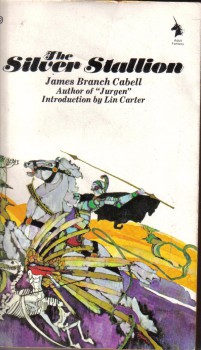 Still, I'll give the other two MacDonald volumes in the BAF series a try. If you're interested in taking a more in-depth look at Lilith or MacDonald in general, the MacDonald Society would be a great place to start. Here's some of their information on Lilith. Thanks to Major Wootton for making me aware of this site.
James Branch Cabell was another author with multiple volumes. I've never read Cabell, but I know enough about him that I suspect I may not be his intended audience. We'll see. I've gotten a reading copy, so next time I'll backtrack and read The Silver Stallion. Join me, won't you?
The previous installments in this series are:
Lin Carter and the Ballantine Adult Fantasy Series
The Blue Star by Fletcher Pratt
The King of Elfland's Daughter by Lord Dunsany
The Wood Beyond the World by William Morris
---
Keith West blogs way more than any sane person should. His main blog is Adventures Fantastic, which focuses on fantasy and historic fiction.