Birthday Reviews: Fletcher Pratt's "Hormones"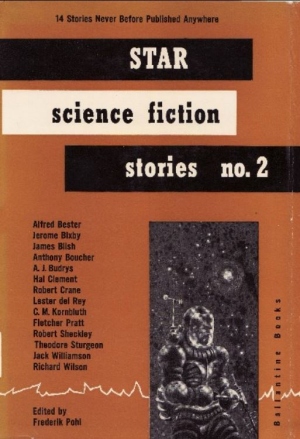 Fletcher Pratt was born on April 25, 1897 and died on June 11, 1956.
Pratt was nominated for an International Fantasy Award in 1952 for his nonfiction book Rockets, Jets, Guided Missiles and Space Ships co-written with Jack Coggins. In 2016, Pratt was nominated for two Retro Hugo Awards for the novellas "The Roaring Trumpet" and "The Mathematics of Magic," both co-written with L. Sprague de Camp and part of their Harold Shea series.
"Hormones" was published in the second volume of Frederik Pohl's Star Science Fiction series in 1953. Although that book has been issued in multiple editions, the story has never appeared elsewhere.
Reading science fiction published over the span of the twentieth century, much of it can be seen to be representative of its time, culturally, technologically, and literarily. In "Hormones," Pratt attempts to update the disappearing shop story and the love potion story, with limited success. His shop doesn't actually disappear, but the individual Herbert Schofield needs to deal with does vanish before Schofield can return.
Schofield's character is stuck in a lower position at work than he would like, which not only impacts his career, but also his chances of marrying the girl he is dating. When a clerk at an all-night pharmacy offers him hormonal potions that can resolve both of his issues, he jumps at the chance. Pratt's decision to update the magic potion with a veneer of chemistry is a nice change of pace.
Naturally, things don't turn out the way Schofield expected and while the use of a love potion can be seen as akin to a date rape drug, Schofield has the tables turned on him. "Hormones" is an example of a story which was very much of its time, but doesn't stand up well to the changing societal mores, which make it more creepy than was intended by the author or tone.