Lin Carter and the Ballantine Adult Fantasy Series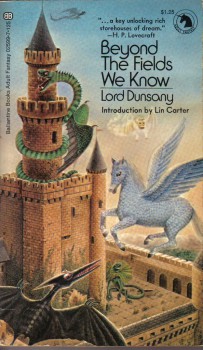 Many fantasy fans don't realize how good they have it these days. Fantasy stories dominate the best seller lists, set box office records, and are some of the highest rated programs on television.
This hasn't always been the case. In the years following the Second World War, fantasy in popular culture went into a decline. The reasons for this are beyond the scope of this post, primarily because I don't want to write a doctoral thesis. Once was enough.
What I'd like to address in this and following posts is the resurgence of fantasy in the 1960s and 1970s, specifically fantasy published by Ballantine Books in what became known as the Adult Fantasy Series.
The catalyst that led to the current fantasy boom was J. R. R. Tolkien's Lord of the Rings, of course. Although initially published by Ace in editions not authorized by Tolkien, Ballantine Books ended up as the publisher of the authorized editions. The books were a tremendous success. Readers began clamoring for more fantasy.
Ian and Betty Ballantine followed up The Lord of the Rings with, in addition to some other work by Tolkien, the Gormenghast trilogy by Mervyn Peake, four novels by E. R. Eddison (The Worm Ouroboros, Mistress of Mistresses, A Fish Dinner in Memison, and The Mezentian Gate), A Voyage to Arcturus by David Lindsay, and The Last Unicorn and A Fine and Private Place, the latter two by Peter S. Beagle. Considered precursors to the actual Adult Fantasy series itself, many of these books were later reprinted as part of the series with the unicorn head colophon.