A Contagious Love of Fantasy: Lin Carter's Imaginary Worlds
A Contagious Love of Fantasy: Lin Carter's Imaginary Worlds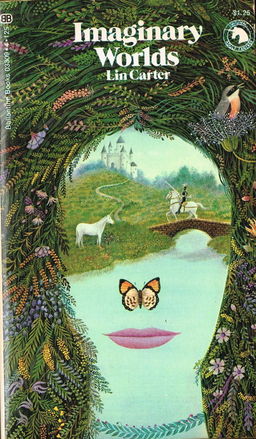 I recently did a review here at Black Gate of L. Sprague de Camp's 1976 Literary Swordsmen and Sorcerers: The Makers of Heroic Fantasy. De Camp's book is one of the few histories of the genre of fantasy around, and it is a great and enjoyable book. But it's not the only one, nor probably the most favored. I get the sense from others' comments that the Best History of Fantasy title probably goes to Lin Carter's 1973 Imaginary Worlds.
Each of the chapters in de Camp's book is dedicated to a separate writer. But most of the chapters in Carter's book are centered around themes; in each chapter he examines fantasy writers that explore that theme well. In addition, Carter's concluding chapters contain advice to authors on how to write fantasy. I found this latter part less interesting.
One of the plusses I pointed out for de Camp's history was that you could tell he loved the genre. The same must be said in spades for Lin Carter. Carter wrote the introduction for Literary Swordsmen, and I was very excited to read de Camp's book just on the strength of Carter's intro. Imagine how enthusiastic I was to get Carter's own book on the subject! (I've also heard that Carter's intros to the Ballantine Adult Fantasy are fantastic as well.)
Carter's love of fantasy is contagious. He writes with a real verve for his favorite fantasy authors, books, and tropes. Carter is unapologetic about his love for fantasy and seems completely unaffected by criticisms of childishness or escapism. Given his thoughtful interactions with the genre, he does not come off as a slavish fanboy. Instead, Carter strikes me as an intelligent and committed fantasist. Quite refreshing! I wish he were still alive.
Often when I read or hear other people talk about their favorite authors or books, I make notes for possible future purchases. If you're setting out for yourself the task of trying to catch up on the great works of fantasy, the many references that Carter gives can leave you feeling exhausted.
But Carter is also good at pointing out what you probably shouldn't bother with or if you're only going to read one book by author X, make sure you read just Y. These suggestions are incredibly helpful and lessen your anxiety if you are indeed trying to catch up on the great works. (Speaking of which, I definitely want to get a copy of The Worm Ouroboros by E. R. Eddison. De Camp and Carter both raved about it.)
Though he doesnt go anywhere near as in depth as de Camp concerning fantasy authors, the strength of Carter's book is that he covers a wider range of authors and makes a good case for their influence on the genre. For instance, one author he addresses is Lloyd Alexander and his Chronicles of Prydain series. I absolutely loved these books as a middle schooler and had completely forgotten about them! Carter reminded me of a couple more lesser-knowns that had slipped my mind. In addition, he also suggested books that were unfamiliar to me and I would guess would be unfamiliar to most who weren't reading a lot of fantasy in the late 60s or early 70s.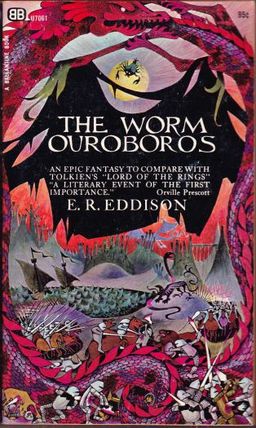 If there's one thing that I didn't like about Imaginary Worlds, it was that some of Carter's criticisms seemed overly sharp or idiosyncratic. For instance, he seemed overly harsh with Karl Edward Wagner – who, I take it, hadn't written very much at the time – for using an anachronistic word. I think Wagner used the word "dollar" in a fantasy setting. Carter's reaction is that the use of non-fantasy or untraditional trope terms completely takes one out of the setting – it breaks the spell, so to speak.
This brings up a subject that evidently vexed Carter greatly. In his section on writing advice, he spends (it seems to me) an inordinate amount of time talking about not only words that he takes to be fitting for fantasy stories, but he also talks about what counts as good make-up names in fantasy. I'll quote Carter on his position here:
The kind of names they are, their weight and color and taste and music, are of enormous importance, too. I admit to being a fanatic on this topic; I have always been hypersensitive to the ring and shape and savor of made-up names. Some people have a superlative ear for it . . .  Others are less competent, some lacking the skill altogether . . . (p. 193).
In his defense, he makes a plausible case when he gives some examples of pretty lousy names or descriptors. However, I think he also shows an egocentric bias when he gives some (fairly recent in his time) examples that seem quite fine to me. For instance, he really takes Michael Moorcock to task for coining a city R'lin K'ren A'a. "If names were meant to be eaten, that one would give you indigestion" (p. 200). What's the big deal here? It works for me.
On the flip side, Carter holds up Lord Dunsany's made-up names as pinnacles of the genre; however, if you're familiar with Dunsany, some of his names seem fairly silly. I think Carter only thinks of them as good because they're more familiar to long time fans of fantasy.
Putting such idiosyncrasies aside, Carter's Imaginary Worlds is the best history of the fantasy genre (at least the section that is history) that I have read to date. However, as with de Camp's book, I wish there was a history that went farther than the mid-70s.