His Name is Vengeance: Kellory the Warlock by Lin Carter
His Name is Vengeance: Kellory the Warlock by Lin Carter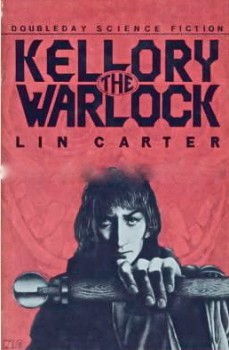 Poor Lin Carter: perhaps the greatest champion heroic fantasy ever had, an editor with few equals, one of the most knowledgeable fan boys in the world, but a poor writer. I think he would have liked his stories and novels to be remembered more fondly than they are. I believe Kellory the Warlock proves he had the potential to have been a better writer.
Carter remains despised among the Robert E. Howard scholars for his involvement in Sprague de Camp's Conan projects. As recently as 2008, Morgan Holmes over at the Robert E. Howard United Press Association was giving him grief for his sins against good prose in general and REH in particular.
It's easy to be rough on Lin Carter's writing. For my very first review on Swords & Sorcery: A Blog, I really lit into Carter's debut novel, Thongor and the Wizard of Lemuria. It's derived entirely from Robert E. Howard and Edgar Rice Burroughs, which should mean good, pulpy fun, but instead it's awful with no redeeming qualities. The plot isn't built well enough to merit being called ramshackle, the characters are thin and bloodless because they're cut out of cardboard, and the writing is lumpy and turgid. Even the cover stinks.
But his bad prose is overshadowed by the importance of his editing. His most prestigious work was the creation of the Ballantine Adult Fantasy Series (being reviewed one volume at a time here on Black Gate by Keith West). It resurrected many of the forebears of genre fantasy fiction (e.g. James Branch Cabell, H. Rider Hagard) and introduced several new authors to the public (Katherine Kurtz, Joy Chant).
The series also included several books, one being Imaginary Worlds, about the history and evolution of fantasy (though it's been pointed out by no less a literary figure than Peter Beagle that Carter's research was poor and his attributions incorrect). Nevertheless, these works represent one of the earliest efforts to provide a critical study of the genre.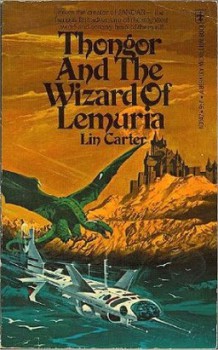 From my perspective as one of the keepers of the flame of old-time S&S here at Black Gate, Carter's greatest achievement was his popularization of the genre. In the 1960s, he wrote Conan pastiches with Sprague de Camp along with his own Thongor novels, helping set the stage for an explosion of S&S through the early 80s. The 70s brought his Flashing Swords! anthologies of original stories by some of the most important writers in S&S (such as Jack Vance, Fritz Leiber, and Michael Moorcock) and the founding of Swordsmen and Sorcerers Guild of America (SAGA), a loose association of genre writers which for several years handed out the Gandalf Award to some of the field's greatest authors.
He wrote and edited until the decline of his health in the early 80s. Since his death in 1988, his reputation seems to have taken a major hit. Most of his fiction, rarely more than pastiches of his favorite authors (Howard, Burroughs, Lovecraft, and Dent), never garnered enough attention to be republished. The growth of serious REH studies had the effect of magnifying the poor quality of Carter's Conan stories. Sadly, his non-fiction books were never reprinted either. By now, I doubt most younger fantasy fans know or care about Carter.
No reassessment of Lin Carter's fantasy will reveal him to be some unfairly forgotten genius. But I do think there might be gems out there. He wrote dozens of books and stories. It would be an annoying job to have to read them all, so I'm thankful to Adrian Cole for getting me started with Young Thongor last year, when he edited together a collection of Carter's short stories with the character. It got some nice reviews and was cheap so I bought it. It proved surprisingly good. I reviewed it on my site and decided to give Carter another go. In a comment, Charles R. Rutledge suggested Kellory the Warlock (1984) was a good read.
I just finished Kellory Saturday night and, with one major caveat, I recommend it. It's not an especially original story and the characters are pretty thin, but there are moments of good writing and storytelling throughout. Unlike his Thongor=Conan or Zarkon=Doc Savage characters, Kellory is an original creation. While the book doesn't feel quite fleshed out at 180 pages, it doesn't feel rushed, either. The book is a fix-up of mostly unpublished stories from the 70s. It would have benefited from more attention to the transitions between stories, but each individual section reads as if Carter took his time and, for the most part, thought about the words he was writing, something it's hard to believe when reading much of his fiction.
Kellory the Warlock is one of three books, each set on a different planet of the magical sun Kylix. Kellory is set on the world of Zephrondus. The other novels are The Quest of Kadji and The Wizard of Zao.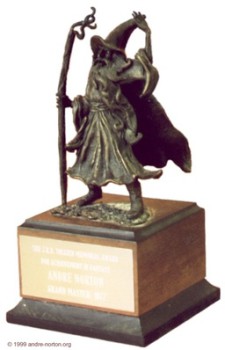 Kellory is introduced as the sole survivor of the Black Wolf Tribe, recently destroyed by the vicious Thungoda Horde. In a moment of black humor, the Horde's ruler allows Kellory to live so he can spread word of their power, but not before mutilating his right hand in the flames consuming his father alive, in order to prevent him from ever picking up a sword against the Thungoda.
Of course, Kellory is determined to destroy the Horde. He seeks to convince the Green Enchanter to make him his pupil. His determination and brazenness do the trick.
When we next meet Kellory, he is robed in black and carries a great staff in his good hand. His face has become harsh and grim. When he confronts a party of Thungoda warriors, his appearance disturbs them.
He loomed like an apparition against the dark flame of the sky. One lone man, unarmed; yet there was something about him that held the Thungoda back. They chittered uneasily amongst themselves, casting half-freightened, half-challenging glances at him from their squinting eyes. Any other man who stood in their path, they would have ridden down, whooping and slashing with curved steel. This man…they did not like to face. It was all very curious. It was even a little frightening.
The book goes on to chronicle Kellory's adventures as he tries to recover the Book of Shadows. It's purported to contain a terrible spell used to destroy another barbarian incursion long ago. Accompanied by a princess he rescued from the Thungoda war party, Kellory follows one lead after another, confronting all sorts of monsters and magical barriers. Each of the book's first six chapters is a self-contained tale of magic and mayhem that leads right up to the following one, moving the warlock one step closer to his vengeance. The final, very short, chapter is an epilogue that brings Kellory's journey to its conclusion.
While the plot and characters don't benefit from the book's brevity, the pacing does. Kellory the Warlock flies by. It never lags and no chapter overstays its welcome. There's just enough description and world building to give a solid impression of people and their surroundings, but not enough to make you want to skip to the bottom of the page. The action scenes are decently choreographed and I never had to struggle to figure out who was doing what to whom and where. There are a lot of contemporary writers who can't get those things right.
Carter's inventiveness could go overboard at times as he tried to check off every item on his fan boy wishlist. His Lovecraftian stories are a perfect example of him failing utterly. In this novel, he's more restrained and it pays off. He actually creates some atmosphere and dread at places in this book. Kellory describes the previous use of the Book of Shadow's powers to the princess:
Yaohim worked a mighty feat of magic. No one knows what he did nor what followed upon his calling, but with dawn a sight of horror met the eyes of Prince Amric and his men.

Six thousand corsairs had swilled and sung within the walls of Gorovod with sunset. With dawn, six thousand madmen mewled and tittered in the ravaged walls.
I did mention a caveat. Taking his time and pushing himself to be original only made Carter tell a better story; it didn't make him a better writer. Time and time again, he messes with syntax in order to create some sort of faux-archaic style that in reality just sounds bad. When Kellory finds Yaohim's tower it's described like this:
Strange it was, builded by magic; no hand of man had taken part in its raising. It was all of one piece… The organic curves of the soaring pylon were uncanny: no structure on earth that Kellory had ever seen was so shapen.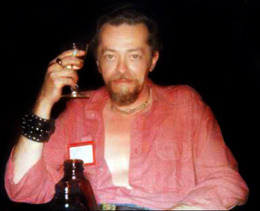 So, be warned. There are plenty of sentences likes those.
He's also sloppy with naming. One of the characters in the backstory is the prophet Pnomphet. Did he ever read those two words out loud? The guardian spirits he calls on in one battle are named PHOUL LUMNIVUUR, IOGNUGGONG and ZOAR. How does Kellory pronounce all those capitals? I admit, naming's a pet peeve of mine in fantasy writing. Your mileage may vary, but for every good name, Carter hits you with a poor one. Oh, and in what I can only consider an act of laziness, the land where the various barbarians come from in Kellory the Warlock is called Barbaria.
Carter was no master stylist and it can get a little irritating. Most of the time, he was trying to create fun, quick reads that were recreations of his favorite writers. In a way, he was writing fan fiction; it's just that he got his published. A side effect of this was that while he worked to mimic the styles of the various people he copied, he never seems to have really developed one of his own.
But as I said at the start, Kellory the Warlock's not a bad read. It probably couldn't get published today. The characters are weak and it's too short. Still, it's inventive and has a fair amount of excitement. It stands as a bit of a testimony to one of the most important figures in the history of fantasy and as a proof that he had the potential to be a much better writer than he too often was.