The Ballantine Adult Fantasy Series: The Young Magicians edited by Lin Carter
The Ballantine Adult Fantasy Series: The Young Magicians edited by Lin Carter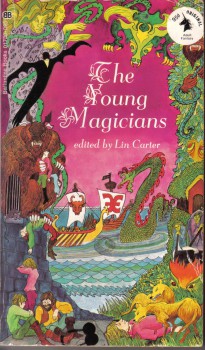 The Young Magicians
Lin Carter, ed.
Ballantine Books
October 1969, 280p. $0.95
Cover art by Sheryl Slavitt
I apologize for having taken so long to get this post done. I've been on the road for over half the weekends since the end of April, mostly family trips for graduations or dive meets my son was competing in. I thought I would have a little more time when the second summer session started since I would be teaching, but that hasn't exactly been the case. (No, I have no idea why I would have thought that.)
But I'm back, and I would like to thank John for his patience. I'm tanned; I'm rested; I'm ready. Well, I'm tanned at any rate. And I've got a pretty darned good anthology to tell you about.
A number of people, myself included, have said that Lin Carter's legacy will ultimately not be his writing or his Conan pastiches, but the work he did on the Ballantine Adult Fantasy series. It's hard in this day and age of ebooks and specialty presses to remember how hard fantasy was to find on bookstore shelves in the late 1960s. The commercial fantasy boom wasn't far off, but it hadn't gotten there. It was possible to read just about all of the titles that were easily available at the time.
The Young Magicians was a companion volume to Dragons, Elves, and Heroes with both of them being published in October 1969. That volume contained examples of imaginary world fantasy beginning with folktales and sagas and ending with William Morris. In The Young Magicians, Carter starts with Morris and provides samples of fantasy from more contemporary writers, ending with Lin Carter himself.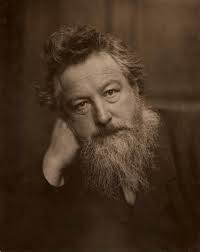 The Morris selection here is a poetic version of "Rapunzel". This isn't a prose poem, rather it's broken into stanzas, with the Prince, the Witch, and Rapunzel each having multiple speaking parts. Reading this reminded me that there is a rhythm and a cadence to Morris's prose, and if you can find the cadence, then he can be quite enjoyable.
Lord Dunsany is represented with "The Sword of Welleran" It's the story of a city beset by barbarians. The only thing keeping them from attacking is a ruse pulled by the inhabitants. The heroes who once protected the city, led by Welleran, have all died, but the citizens have an elaborate system of statues which give the appearance of live men riding horses about the walls at night. Then the barbarians really do attack. One young man takes up the titular sword of Welleran and tries to save the city.
E. R. Eddison is represented by a brief excerpt from his Viking novel Styrbiorn the Strong. "In Valhalla" is brief and concerns a Valkyrie asking Odin why he chose to take her favored champion. Eddison had been published by Ballantine before the BAF series started with four novels: The Worm Ouroboros, Mistress of Mistresses, A Fish Dinner in Memison, and The Mezentian Gate. These were later reprinted under the BAF imprint with the unicorn Colophon. These novels were discussed not too long ago here and here.
Of course Carter couldn't resist including some James Branch Cabell. "The Way of Ecben", excerpted from The Witch Woman, was a slog. It concerned a king who, after fighting a major war for the hand of a woman, walks away from her and his throne because he was warned about her in a dream. This is the longest story in the book. I found it lacking in the wit and innuendo that the two Cabell volumes I've read so far in this series.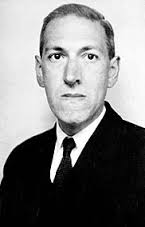 Next are a pair of brief tales by Lovecraft, "The Quest of Iranon" and "The Cats of Uthar". These would later be included in a later BAF volume of Lovecraft's fiction, The Doom That Came to Sarnath. Neither are what I would consider heroic fantasy, but they certainly qualify as imaginary world fantasy.
As does "The Maze of Maal Dweb" by Clark Ashton Smith, being part of his Xiccarph sequence. This is a downer of a tale a warrior who attempts to rescue his beloved from the clutches of an evil sorcerer.
Carter includes the first of two of his own works, a Dunsany-esque little piece about what happens when a people decide to create their own god in "The Whelming of Oom".
One of the most popular fantasy authors of the 1920s and 1930s was Abraham Merritt, who wrote under the byline of A. Merritt. (For more on Merritt, see this post.) Merritt specialized in the lost world story, much like H. Rider Haggard did in the previous century. "The Dragon Glass", though, is one of the few imaginary world stories he wrote. Reading it, I could see why Merritt was so popular in his day. His lush prose painted some beautiful images about a land accessed through the mirror of the title. I am definitely going to try to fit some Merritt into my reading. I could also see why he's fallen into obscurity. His prose is lush (like I said), and his style old fashioned. Most modern readers probably wouldn't have the patience for him.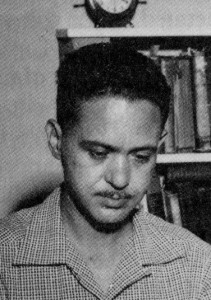 Robert E. Howard had more series characters that most people realize. In addition to the better known Conan, Kull, Solomon Kane, and Bran Mak Morn, there was also James Allison. Allison is crippled, but he remembers past lives when he was a hero in time before recorded history began in a handful of stories. In "The Valley of the Worm" a member of a ferocious tribe slays a monster that can best be described as a huge worm.
After a brief poem by L. Sprague de Camp ("Heldendammerung"), we come to my favorite writer in the field, Henry Kuttner. A protégé of Ray Bradbury, Kuttner penned a handful of sword and sorcery tales to fill the void left by Howard's death. There were four stories about Elak, a prince of Atlantis, and two concerning Prince Raynor of Sardopolis, a forgotten city in Asia. While not up to the level of Howard's work, these were entertaining tales. I thought the Prince Raynor stories showed a greater maturity on the part of Kuttner as a writer and wish he had written more. This one concerns the god Pan and curse on a city. (I discuss this one at length here.)
L. Sprague de Camp returns with a story from his Pusadian stories, a world in which Atlantis hasn't sunk. "Ka the Appalling" is another story about some rogues who get tired of robbing temples and decide to create their own religion. It's great fun. I enjoyed this story enough to order a second hand copy of what I think is a collection of these stories online.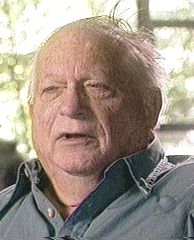 Jack Vance takes us to his Dying Earth in "Turjan of Miir". A sorcerer is trying to create artificial people in his lab without success, so he seeks help from an older sorcerer. Of course this help comes with a price and some unforeseen consequences.
C. S. Lewis and J. R. R. Tolkien are represented by poems. Lewis's concern Narnia. Tolkien was still alive with The Young Magicians was published. He and Carter knew each other, and Tolkien sent him two poems especially for the book, where they appeared for the first time in America.
Before he ended the anthology with a list of recommended reading, he included one of his own works. "Azlon" is an excerpt from a longer work that was unfinished at the time, Khymyrium. I'd not read any of Carter's original fiction until I read this book, but I'd heard mixed opinions on its quality, with the general consensus being less than positive.. I found, somewhat to my surprise, that I quite enjoyed both selections.
So how does The Young Magicians stack up nearly 46 years after it first appeared? Quite well, the Cabell selection notwithstanding. Most of the stories are written in a modern enough style that most contemporary readers shouldn't have to work too hard to enjoy them.  Carter chose his selections well.  Each tale highlights the author's strengths and gives a potential reader a good idea of what each author's longer works will be like.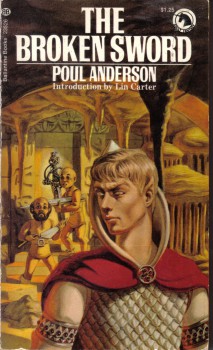 Obviously I liked the Howard and Kuttner stories, both authors being in my top five favorite authors. But the others were all entertaining, with the one aforementioned exception. This is one you should read if you get a chance. It's the type of book you would dip into from time to time when you want something different from most of the contemporary offerings on the shelf or online.  The Young Magicians isn't one of the most collectible titles in the BAF line, so second hand copies can be found for less than a new paperback.
I'm going to skip ahead for my next selection and read Poul Anderson's The Broken Sword. I've got a project in mind that I'll explain more about in my next post.
Join me, won't you?
Recent posts in this series are:
Lin Carter and the Ballantine Adult Fantasy Series
Lilith by George MacDonald
The Silver Stallion by James Branch Cabell
The Sorcerer's Ship by Hannes Bok
Deryni Rising by Katherine Kurtz
Land of Unreason by Fletcher Pratt and L. Sprague de Camp
The Doom that Came to Sarnath by H. P. Lovecraft
The Spawn of Cthulhu edited by Lin Carter
Lud-in-the-Mist by Hope Mirrlees
Figures of Earth by James Branch Cabell
Dragons, Elve and Heroes, ed. by Lin Carter
---
Keith West blogs way more than any sane person should. His main blog is Adventures Fantastic, which focuses on fantasy and historic fiction.