Discover the Prototype for Lord of the Rings: The Zimiamvia Trilogy by E. R. Eddison
Discover the Prototype for Lord of the Rings: The Zimiamvia Trilogy by E. R. Eddison
Many decades ago, I discovered four volumes of fantasy by the British author E. R. Eddison: The Worm Ouroboros, and its sequel, The Zimiamvia Trilogy (Mistress of Mistresses, A Fish Dinner in Memison, and the uncompleted The Mezentian Gate.) They were a handsome set of Ballantine paperbacks from 1967, all with gorgeous covers by Barbara Remington.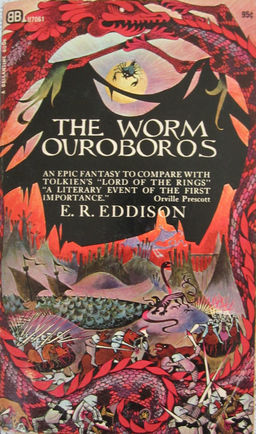 Eddison was a nearly forgotten writer, returned to print by the runaway success of J.R.R. Tolkien's Lord of The Rings. There are many parallels between Tolkien's masterpiece and Eddison's fantasy epic, and in fact his work was admired by Tolkien — and some consider it the prototype for The Lord of the Rings, and indeed most modern fantasy.
But Eddison's novels never caught on the way Tolkien's did. Ballantine tried one more time to introduce Eddison to American audiences with a paperback resissue under their Del Rey imprint in 1978 (this time with a matching set of covers by Murray Tinkelman, who had covered nearly a dozen Ballantine Lovecraft volumes), but after that they gave up. Dell issued a one-volume trade paperback of The Zimiamvia Trilogy in 1992, but it vanished without a trace.
In recent years, readers have begun to appreciate Eddison's work. In the 1987 Locus poll for All-Time Best Fantasy Novel, The Worm Ouroboros placed 29th. A decade later, in the 1998 Locus poll for All-Time Best Fantasy Novel before 1990, it reached 23rd.
Still, despite its importance to fantasy, Eddison's seminal series has been out of print in North America for over two decades.
Now comes word that Harper will be returning the books to print in a handsome four-volume set of trade paperbacks (click the images above for bigger versions). The cover art for each is quite striking, but together all four books form a beautiful mosaic, linked by the images of the worm Ouroboros.
Keep your eye out for the books this October.
See all of our recent Vintage Treasures here.