Collecting Lovecraft, Part I
Collecting Lovecraft, Part I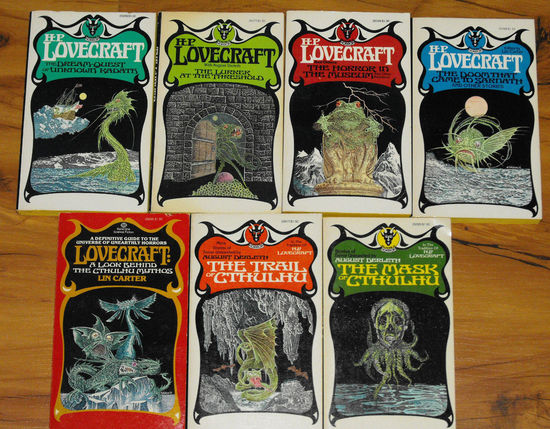 Last month I wrote about the first Arkham House books I ever bought, the beautiful 3-volume 1964 edition of the complete stories of H.P. Lovecraft. It was a splendid purchase, and a great introduction to the master. But, as I mentioned last month, collecting Lovecraft can be a lot of fun, and that initial purchase robbed me of the joy of tracking down his fiction in paperback. Until I finally decided to do it anyway.
Now, if you're going to start collecting Lovecraft in paperback (and why wouldn't you?) I recommend starting with the 1958 Avon paperback Cry Horror!, originally released as The Lurking Fear. That's a terrific little book.
Of course, it's just one book, and one that's pretty easy to find, really. Amazon has copies starting at $7.95, and eBay has around a dozen copies, starting at $6.99. You want more of a challenge than that, don't you?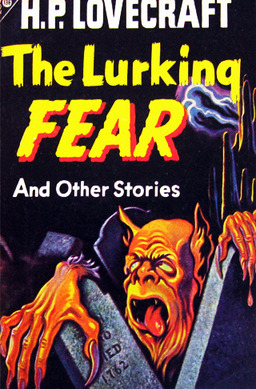 Of course you do. So let's look at our other options.
Jove books published a handsome two-volume paperback set of Lovecraft's finest stories in 1978: The Colour Out of Space and The Dunwich Horror and Others, with great covers by Rowena. Also pretty easy to find (I bought copies of both for about five bucks each),
But if you're looking for a more comprehensive library of Lovecraft in paperback, I highly recommend the Ballantine paperbacks edited by August Derleth and published by arrangement with Arkham House in the early 70s.
There were a dozen volumes, including two books of Lovecraft pastiches by Derleth himself and a Lovecraft bio by Lin Carter. What I really like about these volumes — in addition to the striking cover art by Murray Tinkelman — is that they collected Lovecraft's fiction thematically with each volume, including his Dream-Quest stories and his revisions.
These can be a tad more challenging to find in good condition, but still less expensive than buying new paperbacks, of course. I recently bought the seven volumes above on eBay — most in nearly brand new, unread condition — for less than six bucks each.
I'll explore these volumes a little more in future posts. For now, I'll leave you with a pic of the core set (above), and the cover of the very first Lovecraft paperback, The Lurking Fear, published by Avon in 1947 (click for bigger versions).
And remember: collect what you love and share your collection when you can. Collecting is a social hobby, when it's done right.
If you enjoy looking at pics of vintage paperbacks (and who doesn't?), our other articles on SF & fantasy series and collecting may interest you:
Collecting Lovecraft, Part I
Collecting Lovecraft, Part II
Collecting Lovecraft, Part III: The Arkham Hardcovers
Collecting Karl Edward Wagner
Collecting Robert A. Heinlein
Collecting Philip K. Dick
Collecting Arthur C. Clarke
Collecting Isaac Asimov
The Collections of Tanith Lee
The Novels of Tanith Lee: The Wars of Vis
James Bond in Outer Space: The Croyd Spacetime Maneuvres Novels of Ian Wallace
Clones, Deep Space Ships, and Surviving the Apocalypse on a Submarine: The Pocket Richard Cowper
See all of our Vintage Treasure posts here.