Collecting Isaac Asimov: Mark R. Kelly on the Best of Asimov
Collecting Isaac Asimov: Mark R. Kelly on the Best of Asimov
It's hard for me to be objective about Isaac Asimov. By modern standards, much of his fiction is not very readable. But the man introduced me to science fiction virtually single-handedly. More than that, he also instilled in me an enduring love of the pulps (via the amazing Before the Golden Age), taught me the fascinating history of the genre, and showed me convincingly that science fiction was, at its core, a community of writers — of fascinating people, who deserved to be read and known.
But of course, it began with his fiction. I thrilled to many of his books in my youth, especially I, Robot and his Foundation novels. I even read — and immensely enjoyed — The Early Asimov, a collection of barely-publishable stories from the earliest days of his career, interleaved with Asimov's funny and self-deprecating remembrances of life as an aspiring teenage writer in the late 30s. You probably had to be an aspiring teenage SF writer yourself to have any hope of appreciating that book… but I was, and I loved it.
I recently bought the collection of 35 Isaac Asimov books above on eBay. I paid quite a bit for it ($82.17, which is a lot for relatively modern paperbacks), but they were all in virtually flawless condition, and my copies had been read to pieces. I've been slowly unpacking the box they arrived in, and taking the time to sample Asimov's fiction and non-fiction. It's been a long time since I returned to the man who first acquainted me with SF. Coincidentally, I discovered that Locus Online editor Mark Kelly has been, like me, re-reading Asimov as an adult and blogging about the experience, and I found his thoughts mirrored my own in many respects.
[Click on any of the images for bigger versions.]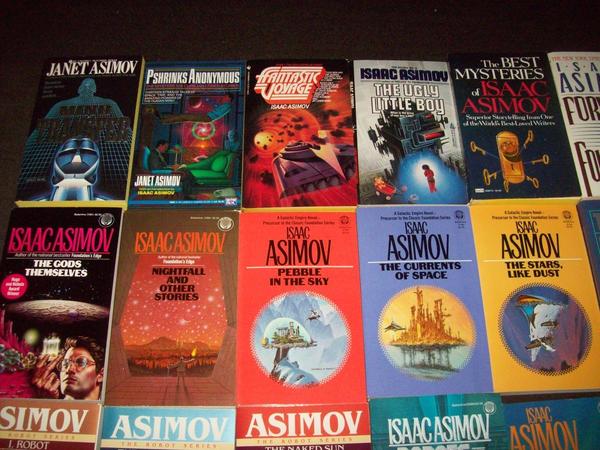 Mark's Rereading Isaac Asimov series stretched into four parts, all posted on his own blog, Views from Crestmont Drive. Here's the opening of Part 1:
In the past three weeks I've read or reread (mostly reread, after decades) some 50 short stories by Isaac Asimov — not yet all of his most notable stories, by criteria of awards or number of reprints or critical discussions, but many of them.

Asimov, of course, was one of the most popular SF authors of the mid-20th century, especially for stories built around a couple big ideas — robots, and his far future Foundation stories, driven by his idea of psychohistory, that describe the downfall and rebuilding of a Galactic civilization. These ideas have had profound consequences on subsequent SFnal thinking, and the influence of SF on the greater world: many current, famous technologists and economists (e.g. Paul Krugman!) still cite these as influential to their careers.

Yet, after all these years, re-reading these stories, the first and most obvious thing to say is that many of these stories, especially those written at the very beginning of Asimov's career, from 1939 and into the early 1940s, display crude pulp techniques that are embarrassing by contemporary standards.
Asimov's writing definitely improved as he got older, but he never entirely shook his pulp roots. Paradoxically, his most popular and enduring work — including his Robot and Foundation tales, which remained in print for decades — were all written very early in his career.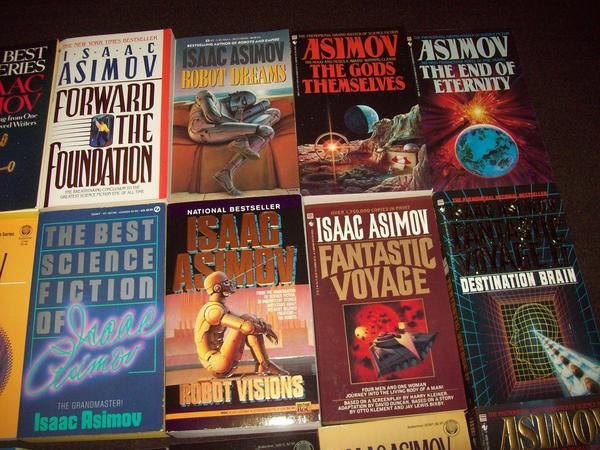 Mark reaches some more general conclusions in Part 2:
Many Asimov stories are basically puzzle stories: descriptions of circumstances that defy obvious explanation, with decontruction and explanations by experts like Susan Calvin (the robot stories) or Wendell Urth (several of the "Asimov's Mysteries")…
Most Asimov stories proceed on a very methodical fashion, as alluded in my previous post. One of the most remarkable, the late story "The Winds of Change," is virtually a monologue that, methodically, step by step, undermines his listeners' apprehension of reality.
As methodical and almost predictable as his stories might be, they are at the same time addictive – they're easy to read, and you can't read just one, there's always another at hand. All that extra reading, seeing how Asimov composed his stories, seeing his recurrent themes and patterns, makes one appreciate the truly exceptional stories all the more.
I would say the best Isaac Asimov stories are: "Nightfall," "Reason," "The Dead Past," "The Ugly Little Boy," and "The Bicentennial Man," for various reasons different for each story. There are many other notable stories, worth reading, especially several later stories in which Asimov responded to social developments of the '70s and '80s…
I might include a few Robot stories on Mark's "Best of" list, and maybe one or two Foundation novellas, but overall I think he got it right. As a rule, Asimov really shone at shorter length.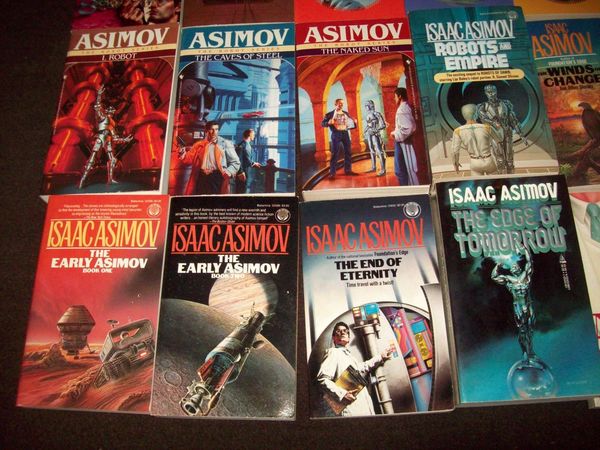 In Part 4, Mark reviews my all-time favorite Asimov story, which I consider one of the finest SF stories ever written.
"The Ugly Little Boy", an uncharacteristically emotional and non-puzzle story, with a heartbreaking conclusion. The set-up is about a woman, Edith Fellowes, who takes a job at Stasis, Inc., a government installation that employs a time travel "stasis" field to retrieve objects or people from the past into chambers inside their facility. Fellowes is brought in to care for a Neanderthal boy who's been retrieved from 40,000 years ago, to care for him as best she can within the confines of the stasis chamber. Over several months she bonds with the boy, whom she names Timmie, in spite of interference from psychologists. She comes to understand the limitations of the stasis fields, but then is told that the previous limitation of retrievals limited to more than 10,000 years ago has been overcome, meaning that her Timmie will be given up, returned to the past, in favor of more recent subjects of interest to historians. And then what she does.

As always, the premise and its consequences are explored in methodical detail. What's different here is that Asimov isn't trying to justify some clever conclusion. Instead he's following the consequences of the situation in terms of its human emotional impact.
In addition to Asimov's work as a writer, I think it would be a serious mistake to overlook his considerable talents as an editor. Asimov edited scores of anthologies, including some of the most important and bestselling in the field, such as The Hugo Winners, Volumes 1-5, Tomorrow's Children, Where Do We Go from Here?, Before the Golden Age, and 25 volumes of The Great SF Stories, covering the history of science fiction from 1939 through 1963.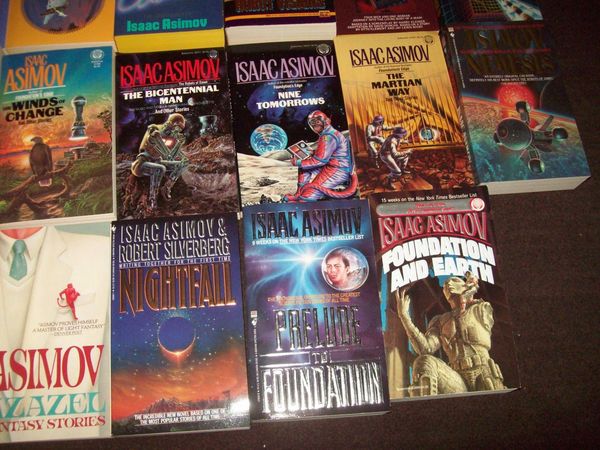 Our other titles in the Collecting series include:
Collecting Karl Edward Wagner
Collecting Robert A. Heinlein
Collecting Philip K. Dick
Collecting Arthur C. Clarke
Collecting Isaac Asimov
Collecting Lovecraft, Part I
Collecting Lovecraft, Part II
Collecting Lovecraft, Part III: The Arkham Hardcovers
The Collections of Tanith Lee
The Novels of Tanith Lee: The Wars of Vis
James Bond in Outer Space: The Croyd Spacetime Maneuvres Novels of Ian Wallace
Clones, Deep Space Ships, and Surviving the Apocalypse on a Submarine: The Pocket Richard Cowper
And you can read all four of Mark's Rereading Isaac Asimov posts here:
Part 1
Part 2
Part 3: "Reason" — a Creationist Robot!
Part 4
For the completests in the audience, here's a snap of another auction of Asimov's non-fiction by the same seller, which sold for $44.01. Even these two lots are a small fraction of the Good Doctor's astonishing output of over 500 books.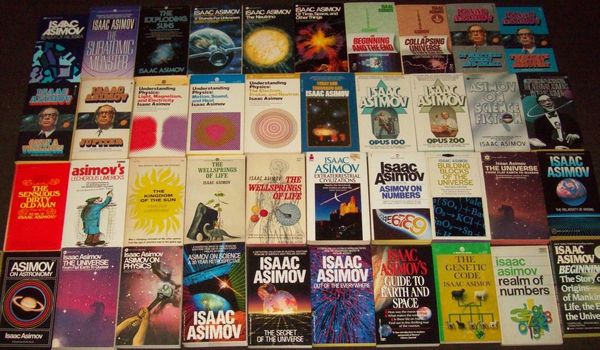 See all of our recent Vintage Treasures here