The Collections of Tanith Lee
The Collections of Tanith Lee
We're continuing with our look at the extraordinary 40-year career of Tanith Lee, who passed away on May 24th. So far we've covered 13 of her novels; today I'd like to look at her equally dazzling short story career.
Lee published well over 300 short stories during her long career, an amazing accomplishment. Her first three major collections were all published by her long-time publisher DAW, starting with the sword-and-sorcery collection Cyrion in 1982.
Cyrion (Sept 1982, 304 pages, $2.95, cover by Ken Kelly)
Red as Blood, or Tales from the Sisters Grimmer (January 1983, 208 pages, $2.50, cover by Michael Whelan)
Tamastara, or The Indian Nights (March 1984, 174 pages, $2.95, cover by Don Maitz)
A lot has been said about Cyrion over the years, but I think perhaps James Lecky, on his blog Tales from the Computerbank, said it best in his 2009 review.
Tanith Lee's stories of the mysterious swordsman Cyrion are as entertaining as they come. Now, this is not to say that the stories are superficial or one-dimensional or even – heaven forbid – lightweight in any way, but rather that they obey those laws of fiction that insist first and foremost on the reader, rather than the writer, having a good time.

Angelically handsome, devilishly clever and with a past shrouded in mystery, Cyrion could be likened to a quasi-medieval James Bond or, perhaps more accurately, like a medieval cross between James Bond and Sherlock Holmes. Never stuck for a solution to a problem, no matter how thorny or potentially fatal, always more willing to fight with his wits than his sword (although a deadly swordsman for all that) Cyrion bestrides a world modelled on the Middle East in a time roughly parallel to the crusades. A supercharged version of the Arabian Nights, if you will.

It is a time of magic and danger, when the veil between the natural and the supernatural is gossamer-thin and ghosts, monsters and sorcery stalk the land. Cyrion takes it all in his cool, handsome stride – from the demonic vampires of "A Hero At The Gates" to the black necromancy of "Cyrion in Wax" and "Cyrion in Bronze" or the vengeful ghosts of "One Night of the Year" there is no threat he cannot meet and no enemy he cannot conquer. And he's a real hit with the ladies, too.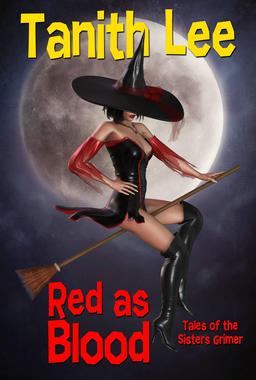 Her second DAW collection, Red as Blood, was nominated for a World Fantasy Award, and came in second in the 1984 Locus poll for Best Collection. Here's the description:
How would it be if Snow White were the real villain & the wicked queen just a sadly maligned innocent? What if awakening the Sleeping Beauty should be the mistake of a lifetime — of several lifetimes? What if the famous folk tales were retold with an eye to more horrific possibilities? Only Tanith Lee could do justice to it. In Red as Blood, she displays her soaring imagination at its most fantastically mischievous.

Not for nothing was the title story named as a Nebula nominee. Not for nothing was the author of The Birthgrave and The Storm Lord called by New York's Village Voice, "Goddess-Empress of the Hot Read." Here are the world-famous tales of such as the Brothers Grimm as they might have been retold by the Sisters Grimmer! Fairy tales for children? Not on your life!
With her third collection, Tamastara, or The Indian Nights (ranked third in the 1985 Locus poll for Best Collection), Lee turned her attention to the fabled land of India. In the opening story, "Foreign Skins," a young British boys acquires a naga as a tutor; "Bright Burning Tiger" uses William Blake's famous poem as a jumping off point for a concise tale of horror. "The Ivory Merchants" reveals the surprising consequences of reincarnation, and "Tamastara" is a time travel story with a unique twist. The three stories "Chand Veda," "Under the Hand of Chance," and "Oh, Shining Star" round out the collection.
Here's the book description:
All the magic and mystery of fabled India is woven into these marvel tales of seven strange nights. For that vast land which many have conquered and none have subdued is the home of ten thousand gods and a hundred thousand demons — and the teeming races that dwell on its shrouded plains and marbled cities have kept their mystic secrets.

Only the vivid imagination of Tanith Lee, who has been rightly called "Princess Royal of Heroic Fantasy," could penetrate the nighted veils of India's lore. In Tamastara she does so to delight the mind and season with scented curry the imagination of the West.

Here are hidden gods and demonic possession, here are were-beasts and subterranean terrors, here are beings transformed and souls reborn, here is Terror and Wonder. Winner of the World Fantasy Award and the August Derleth Award, Tanith Lee is at her best in this new book.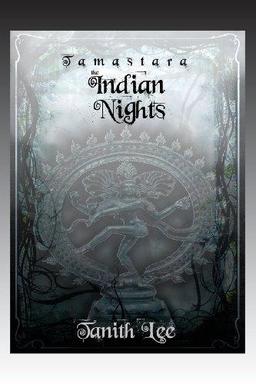 Cyrion has been out of print since 1982; there is no digital edition, but copies in good condition are available online for under $5. Red as Blood was reprinted in a new 30th Anniversary edition by Wildside Press in 2014, with a cover by George Mayer (above right), and a brand new short story, "The Waters of Sorrow." It is also available in digital format.
Tamastara was reprinted in a new trade paperback edition in February 2013 by Fantastic Books, with a new cover by John Kaiine (right). There is no digital edition.
We've covered the following Tanith Lee books so far:
The Novels of Tanith Lee: The Wars of Vis by John O'Neill
The Novels of Tanith Lee: Tales From the Flat Earth by John O'Neill
The Novels of Tanith Lee: The Secret Books of Paradys by John O'Neill
The Novels of Tanith Lee: Days of Grass by John O'Neill
The Collections of Tanith Lee by John O'Neill
Tanith Lee's Secret Books of Paradys by Matthew David Surridge
Return to The Flat Earth: Reviving a Masterpiece by John R. Fultz
Tanith Lee's Lionwolf Trilogy by John R. Fultz
See all of our recent Vintage Treasures here.