Tanith Lee, September 19, 1947 – May 24, 2015
Tanith Lee, September 19, 1947 – May 24, 2015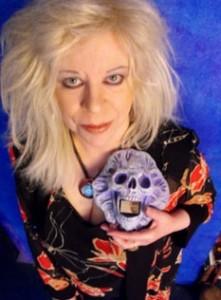 Tanith Lee's website, tanith-lee.com, is reporting that she passed away on May 24th.
I read my first Tanith Lee novel, Kill the Dead, in 1987. It was her twenty-fifth novel. In her long career she wrote 90 novels and some 300 short stories, as well as two episodes of the BBC series Blake's 7. Lee often mentioned that she was unable to read until she was 8, due to a mild form of dyslexia, and she began to write at the age of 9. Her first novel was the children's book The Dragon Hoard (1971); her first book for adults, The Birthgrave, the first novel in The Birthgrave Trilogy, was published four years later. Lee wrote this small epitaph for her website, and it was posted this morning:
Though we come and go, and pass into the shadows, where we leave behind us stories told – on paper, on the wings of butterflies, on the wind, on the hearts of others – there we are remembered, there we work magic and great change – passing on the fire like a torch – forever and forever. Till the sky falls, and all things are flawless and need no words at all.
— Tanith Lee
Tanith Lee was nominated for the Nebula Award twice, and won the World Fantasy Award twice, for her short stories "The Gorgon" (1983) and "Elle Est Trois, (La Mort)" (1984). She received a Lifetime Achievement Award at the 2013 World Fantasy Award ceremonies. She was the first woman to win the British Fantasy Award for best novel, for Death's Master (1980). Her most popular works include Don't Bite the Sun (1976), Tales From The Flat Earth (five books, 1978-1986), The Silver Metal Lover (1981), The Secret Books of Paradys (four novels, 1988-1993), The Secret Books of Venus (four novels, 1998-2003), and the Lionwolf Trilogy (2004-2007), which John R. Fultz reviewed for us in 2010. Tanith Lee passed away on Sunday, May 24, 2015. She was 67 years old.