The Great Savage Sword Re-Read: Vol 5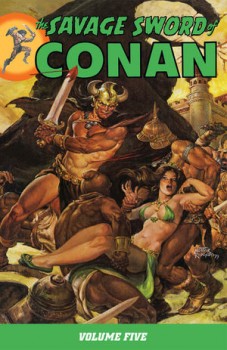 This series explores the Savage Sword of Conan collections from Dark Horse reprinting Marvel Comics' premiere black-and-white fantasy mag launched in the mid-70s. Previous installments: Vol 1 / Vol 2 / Vol 3 / Vol 4
Volume 5 collects issues #49 – 60 (1980 -'81), and it begins with the proverbial bang. Reigning art champs John Buscema and Tony DeZuniga return for a 4-issue adaptation of the L. Sprague DeCamp/Lin Carter novel CONAN THE LIBERATOR. These four issues are gorgeous–the Buscema/DeZuniga team is firing on all cylinders.
Story-wise this adaptation succeeds far better than the previous DeCamp/Carter adaptation, CONAN THE BUCCANEER (collected in Volume 4). Whereas BUCCANEER tended to meander and lack proper pacing, LIBERATOR moves at a brisk pace and gives us more classic Conan time.
LIBERATOR is basically a military fantasy with bit of sorcery thrown in to complicate the saga of Conan's revolt against a mad tyrant. We have a beautiful spy, a scheming wizard, and a truly insane king who butchers his own subjects in a futile quest for immortality. Here is the story untold by Conan creator Robert E. Howard: The story of exactly how Conan became King of Aquilonia.