The Great Savage Sword Re-Read: Vol 4
The Great Savage Sword Re-Read: Vol 4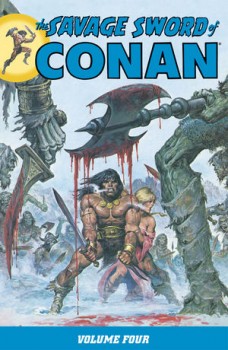 This series explores the Savage Sword of Conan collections from Dark Horse reprinting Marvel Comics' premiere black-and-white fantasy mag from the 1970s. Previous installments: Volume 1 / Volume 2 / Volume 3.
In volume 4 the superb team of John Buscema (pencils) and Tony DeZuniga (inks) continues to dominate the magazine's "Golden Age" (i.e. the late 70s). However, this volume begins with John's talented brother Sal Buscema stepping in for issue #37, ably inked by Rudy Nebres.
It's a good issue, but things really take off when the regular (John) Buscema/DeZuniga team returns in #38 to adapt the story "Road of Eagles" by Robert E. Howard and L. Sprague DeCamp. This is a landmark issue: Conan has never looked more fierce, and his world hasn't been this fully realized since Alfredo Alcala's hyper-detailed inks in the mag's early days.
I've read that Buscema didn't care much for DeZuniga's inks — but he didn't really like anyone's inks over his pencils except his own. That's fairly common for the Great Pencillers of comics history — yet they were usually too busy with deadlines to do their own inks.
Personal taste aside, Roy Thomas obviously realized the greatness of the Buscema/DeZuniga pairing. He made sure this team worked together as often as possible: 7 out of these 12 issues feature John Buscema pencils with DeZuniga inks. Roy even tapped DeZuniga to ink two more great issues penciled by Sal Buscema (i.e. #39 and #44).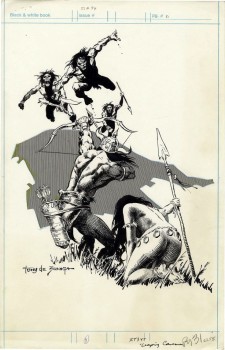 As with all these collections, original pin-ups by various artists bring added value as they're spread throughout and between the issues. Conan pin-ups used to appear on the back of each front cover, as well as in special "galleries" in the back pages. Dark Horse made the right decision to break up all of this Conan art and disperse it throughout each collection. This volume features a majority of pin-ups by Tony DeZuniga himself, who proves he can pencil as superbly as he inks the Buscemas.
Most of the issues in Vol. 4 adapt stories from Lin Carter and L. Sprague DeCamp. Conan purists generally cite these stories as "pastiches" that don't live up to the quality of Howard's original works. I'm not one to argue against that point. However, these non-Howard stories provided plenty of fodder for brilliant comics adaptations. In other words, if you didn't care to seek out and read the non-Howard Conan works, you can get them here in their comics-adapted form. There's no doubt that many of these "lesser" works come across much better as comics–especially the short stories.
Roy Thomas displays some serious ambition in his attempts to adapt every Conan book/story he can get his hands on. At this point he's done most of the Howard stuff, so he's focusing on what came after. If there's a "weak point" in this collection, it's the 4-issue adaptation of the novel Conan the Buccaneer by DeCamp and Carter (i.e. #40-43).
The problem isn't with the art — the Buscema/DeZuniga team makes every single page of thing of beauty — it's the story. The writing team of DeCamp/Carter worked much better when it came to short stories. Buccaneer features a long, drawn-out story that minimizes Conan for the majority of #40, spending way too much time on characters that are far less interesting.
This novel adaptation is proof that not even terrific art can save a story with bad pacing, ho-hum characters, and plodding execution. More Conan would have really helped this particular story.
Things rapidly improve with issue #44, another highlight of volume four. Sal Buscema and Tony DeZuniga form an art team almost as great as John and Tony; thanks to DeZuniga's heavy inks and iconic style, Sal's work here could almost pass for John's work. It's only when you look closely that you find Sal's more angular, Kirby-esque traits under the inks, whereas John's work is more about smooth lines and curves — a more organic and graceful style.
This fantastic single-issue adaption of "The Star of Khorala," a short story by DeCamp and Carter, proves my earlier thesis: It's a far more entertaining and exciting read than the long, drawn-out Buccaneer novel adaptation. In fact ALL of the short-story adaptations work better than the novel adaptations.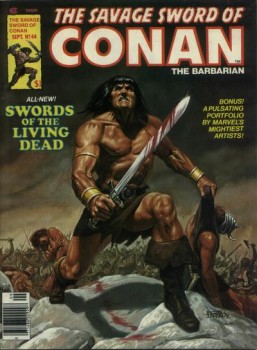 Buscema/DeZuniga return for "The Gem in the Tower" (a solid DeCamp/Carter tale) in SSoC #45. Penciller Ernie Colon steps in for issue #46 with a style that doesn't quite live up to that of the Buscemas — yet once again DeZuniga's powerful inking maintains a consistent tone. Existing fans of Ernie Colon's work may enjoy this issue more than I did, but it feels like what it is — a "fill-in" issue.
Basically we see a pattern here: Whenever anyone steps in to replace John Buscema on pencils, Savage Sword becomes the Tony DeZuniga Show. And what a terrific show it is.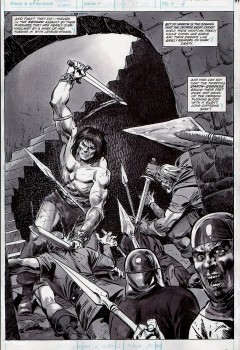 Issue #47 adapts "The Treasure of Tranicos" by Robert E. Howard and L. Sprague DeCamp (a posthumous collaboration). The art here is interesting but all-over-the-place since the great Gil Kane steps in for a "jam" issue — sharing art credits with John Buscema, Joe Rubenstein "and Company" — meaning we don't know exactly who else helped with the art on this issue.
However, the Gil Kane pages with Rubenstein inks work very well. A close look tells you that Kane did most of the pencils — his iconic style is everywhere — but Buscema pencils the second half of the issue. Transitioning from Kane to Buscema in mid-issue is rough, but would probably have been less jarring if DeZuniga was inking both of them.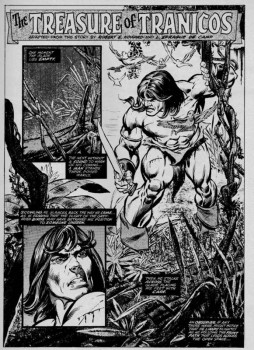 Issue #48 concludes the "Tranicos" adaptation with John Buscema pencils and the great Klaus Janson stepping in to handle ink chores. Janson provides a saturation of darkness that doesn't outshine the Buscema/DeZuniga work, but definitely holds its own. It's a pleasure to watch one of comics' most legendary pencilers (Big John) work with one of comics most legendary inkers (Janson), so this is a special issue for that reason alone.
NEXT TIME: Volume 5 sees the Buscema/DeZuniga powerhouse team continue to dominate the series.
___________________________________________________
John R. Fultz is the author of several novels including The Testament of Tall Eagle and the Shaper Trilogy: Seven Princes, Seven Kings, and Seven Sorcerers. His website is www.johnrfultz.com