Weirdbook Returns in October…
Weirdbook Returns in October…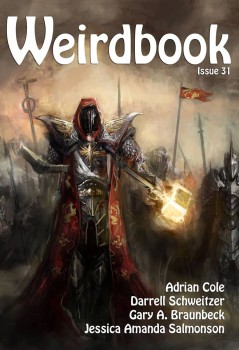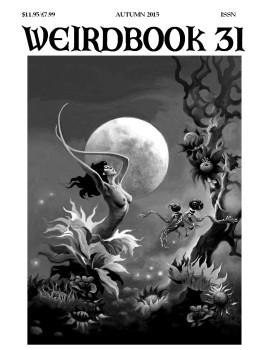 "It's alive! Alive!!!!!"
Weirdbook is coming back to life. New editor Doug Draa has done an immense job of resurrecting Paul Ganley's classic weird fantasy mag.
Weirdbook #31 will be the first issue since 1997, and it's slated for an October release from its new publisher Wildside Press.
On the left is a look at the front cover by Dusan Kostic. Click for a bigger version.
The back cover (right) will be a piece by the great Stephen E. Fabian, who did all the covers for the original WB run.
This issue is sort of a bridge between the magazine's past and its future.
Here's a look at the Table of Contents for Weirdbook #31.
FICTION
Chivaine by John R. Fultz
Give Me the Daggers by Adrian Cole
The Music of Bleak Entrainment by Gary A. Braunbeck
Into the Mountains with Mother Old Growth by Christian Riley
The Grimlorn Under the Mountain by James Aquilone
Dolls by Paul Dale Anderson
Gut Punch by Jason A. Wyckoff
Educational Upgrade by Bret McCormick
Boxes of Dead Children by Darrell Schweitzer
The Forgotten by D.C. Lozar
Coffee with Dad's Ghost by Jessica Amanda Salmonson
Missed It By That Much by Gregg Chamberlain
A Clockwork Muse by Erica Ruppert
The Rookery by Kurt Newton
Wolf of Hunger, Wolf of Shame by J.T. Glover
Zucchini Season by Janet Harriett
The Jewels That Were Their Eyes by Llanwyre Laish
The Twins by Kevin Strange
Princess or Warrior? by S.W. Lauden
POETRY
The City in the Sands by Ann K. Schwader
NecRomance by Frederick J. Mayer
The Shrine by Wade German
Bride of Death by Dave Reeder
Modern Primitive by Chad Hensley
Visit the Weirdbook homepage for more info.