Avatars of Wizardry
Avatars of Wizardry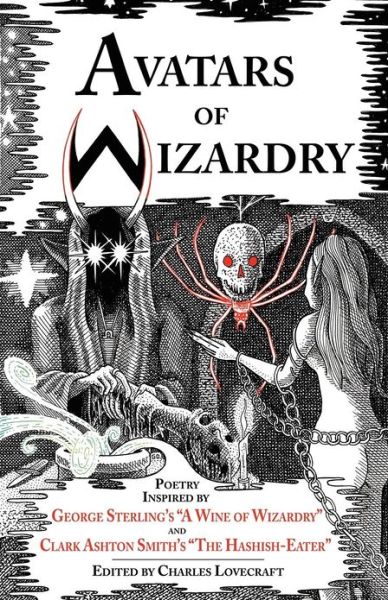 More often than not, the best art comes from the indie side of any field. Case-in-point:
AVATARS OF WIZARDRY from P'rea Press is one of the best works of pure dark fantasy I've read in a long time. This superb collection of poems inspired by the work of Clark Ashton Smith and his mentor George Sterling offers one fantastic, phantasmal head trip after another, transcendental goth romanticism with shades of cosmic sword-and-sorcery.
I'm not usually someone who seeks out poetry. I teach it often, but fantastic poetry is something of a rarity in academic texts. Reading this collection (with some Pink Floyd, Kyuss, or Monster Magnet rumbling softly in the background for good measure) takes me right back to the "wonder years" of my early reading life. From the ages of 9 to 12, I discovered the amazing fiction of Edgar Rice Burroughs, J.R.R. Tolkien, Robert E. Howard, Clark Ashton Smith, and other great fantasists. Reading AVATARS OF WIZARDRY sends me back to those days when fantasy was still dangerous, mysterious, and full of strange wonders.
One of Smith's greatest poems "The Hashish Eater, or The Apocalypse of Evil" was inspired by George Sterling's "A Wine of Wizardry." Both of these poems are celestial odysseys of fantasy perfection. They begin AVATARS OF WIZARDRY back-to-back and are followed by eight poems from more contemporary writers: Alan Gullette, Wade German, Michael Fantina, Richard L. Tierney, Liegh Blackmore, Bruce Boston, Earl Livings, and Kyla Lee Ward. The result is an epic fantasy experience like none other. The words "psychedelic" and "phantasmagorical" are barely enough to describe it.
These poems aren't for the shallow-minded 160-character world that we live in today. Each one is an epic adventure beyond space and time, directly into the center of eternal imagination, rife with cosmic transcendence. This is spirit-freeing fantasy in the best sense of the word, literary escapism as psychological catharsis. It's some of the best damn poetry I've ever read, which makes it some of the best fantasy I've ever read, period.
You don't have to be a poetry expert (or fan) to take this cosmic ride. Just get yourself a copy before they're all gone.