The Top 50 Black Gate Posts in October
The Top 50 Black Gate Posts in October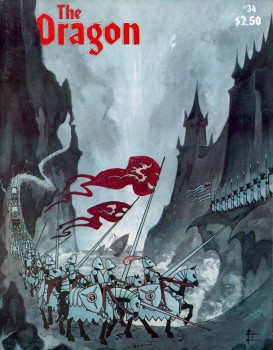 Sometimes people critique Black Gate by looking over the site, noting our focus on books and magazines, and proclaiming us "books snobs."
That's not true at all, I argue calmly. Look — you know what the most popular article on the Black Gate website was just last month? It was Scott Taylor's Art of the Genre post, "The Top 10 Dragon Magazine Covers of the 1970s & 80s."
You see? We're not merely book snobs. We're also art snobs.
This is Scott's second month at the top of the charts — back in September, he claimed the top spot with his article on the Top 10 TSR Cover Paintings of All Time, a nostalgic look at the finest artwork from the Golden Age of roleplaying. Scott certainly knows his stuff when it comes to fantasy art — and our readers love him for it.
The next few articles at the top of the charts don't do much to help my thesis that we're not book snobs, however. The #2 article for the month of October was M. Harold Page's "Four Books on Historical European Martial Arts." Hard to argue that you're not just all about books, when your most popular posts are all about books.
The #3 article for the month was my look at The Fantasy Roots of Fan Fiction, an argument that the modern fan fiction phenomenon grew largely out of the tradition of the pastiche novel, and especially the long-running success of the Conan pastiche, and the success of writers like Lin Carter, who wrote pastiches for most of his career.
#4 on the list was "Collecting Lovecraft, Part II," a look at some of the most collectible Lovecraft paperbacks on the market. And rounding out the Top Five was Erin Evans's guest post, "Crossing the Threshold: Making Ultra-Long Fiction Work For You."
After the list of top articles for October, I've also broken out the most popular blog categories for the month.
The complete Top 50 Black Gate posts in October were:
The top categories last month were:
The Top 5o Black Gate blog posts in September are here and you can see all 111 posts we made in the month of October here.