The Public Life of Sherlock Holmes: Holmes for Christmas
The Public Life of Sherlock Holmes: Holmes for Christmas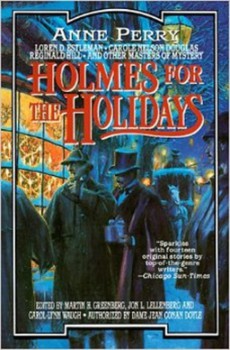 Of the sixty Sherlock Holmes tales penned by Sir Arthur Conan Doyle, only one is set during the holiday season. "The Adventure of the Blue Carbuncle" takes place two days after Christmas and involves a worn bowler hat and a goose worth more dead than alive.
That story doesn't actually have a whole lot to do with Christmas; it just happens to occur shortly afterwards. However, there are a few books in my Holmes library that definitely qualify as Christmas adventures.
One of my favorite anthologies is 1996's Holmes for the Holidays, which includes fourteen Christmas-themed adventures. Any Holmes anthology is likely to be a mixed bag. However, I consider this to be among the better of the multiple-author collections on my Holmes bookshelf.
Loren D. Estleman's (author of Holmes pastiches featuring Dracula and Jekyll and Hyde) "The Adventure of the Three Ghosts" is a sequel to Dickens's A Christmas Carol. Texan Bill Crider (give his Dan Rhodes mysteries a whirl) also continues the Scrooge story with "The Adventure of the Christmas Ghosts."
William DeAndrea's "The Adventure of the Christmas Tree" is a neat piece of Christmas-themed espionage. While Anne Perry's "The Watch Night Bell" is one of my favorite Holmes holiday stories.
Edward Hoch (the finest and most prolific short story writer I've come across) brings together Professor Moriarty and Charles Dodgson (if you don't know who that is, look him up) in "The Christmas Client." Carole Nelson Douglas (writer of the successful Irene Adler pastiches) spins a fine yarn in "The Thief of Twelfth Night," which sees Holmes as the Bean King.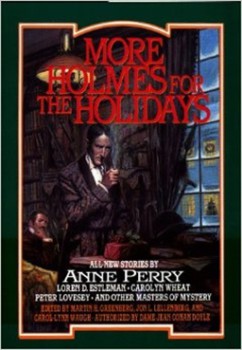 John Stoessel's "The Yuletide Affair" is quite short, but it puts Watson in the leading role and the good doctor saves a man's life. And Gwen Moffatt's "The Adventure in Border Country" takes a rather grave turn at the end.
All in all, I consider this collection to be a must-have for any Holmes library and I've gone back to it many a December.
Three years later, More Holmes for the Holidays came out, with many of the same authors. Peter Lovesy's "The Four Wise Men" has elements of a classic caper.
Loren Estleman is back, the case opening with delivery of a wax phonograph cylinder containing a mystery. Tiny Tim himself is the client in Carolyn Wheat's "The Case of the Rajah's Emerald."
Some of the first Holmes pastiches I ever bought were by Frank Thomas and L.B. Greenwood. So I was pleased to see Greenwood's "The Music of Christmas." Jon L. Breen brings Charles Darwin to Baker Street in "The Adventure of the Naturalist's Stick Pin."
The final story, "The Human Mystery," provided the biggest surprise for me, in that it was written by award winning sci-fi/fantasy author Tanith Lee.
Before everybody and their brother wrote Sherlock Holmes stories, Britisher Val Andrews was a prolific pastiche writer. He sends Holmes and Watson to a Christmas house party in Sussex in Sherlock Holmes and the Yule-Tide Mystery. It's been a few years since I last read that book, but I recall that I liked it and also that it was a bit depressing.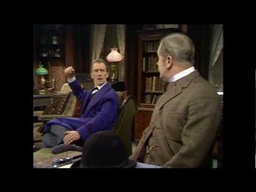 There's something about the lure of Holmes and Christmas: my first attempt at a Holmes story was "The Adventure of the Re-Wrapped Presents." It certainly reads like an amateur work, though I think I fared a bit better with my second effort, a retelling of Dickens' classic with Holmes in the feature role. It most certainly is not sappy. I've even written (page four) a short-short Solar Pons Christmas pastiche of Doyle's "How Watson Learned the Trick." And speaking of Pons…
I posted about Pons a few weeks ago. August Derleth wrote a stand-alone Christmas tale, "The Adventure of the Unique Dickensians." I think that this is a better story than "The Blue Carbuncle." In fact, I like it so much that I annotated it. It's one of my favorite Christmas stories. If you'd like a pdf of the annotated version, email me at Bob@SolarPons.com.
It's Elementary – Jeremy Brett starred in Granada's fine 1984 adaptation of "The Blue Carbuncle." Peter Cushing (remember that post?) had made his own version in 1968, while Eille Norwood (who I wrote about here) filmed a silent version way back in 1923.
---
You can read Bob Byrne's 'The Public Life of Sherlock Holmes' column here at Black Gate every Monday morning.
He founded www.SolarPons.com, the only website dedicated to the 'Sherlock Holmes of Praed Street' and blogs about Holmes and other mystery matters at Almost Holmes.