New Treasures: Jala's Mask by Mike and Rachel Grinti
New Treasures: Jala's Mask by Mike and Rachel Grinti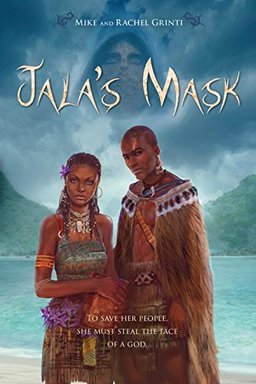 This is something of an unusual cover for Pyr. They're known for their heroic fantasy and sword & sorcery, and their covers have reflected that — with colorful action set pieces usually illustrating a dynamic narrative moment (Check out a few of the Pyr covers we've showcased in the past few months, such as James Enge's The Wide World's End, or the Nebula Awards Showcase 2014.)
Not so for Jala's Mask, which shows a couple in dull islander garb standing on a beach, doing… well, not much of anything, really. Not what I usually expect from Pyr. Good to see some racial diversity on a fantasy cover — Lords knows this industry could use it — but  would it kill you to throw in a sword, or maybe a gratuitous sea monster? I'm just sayin'. At least there's a dude in a mask floating behind the title to menace up the proceedings a bit — that's something, anyway.
Fortunately, I'm intrigued by the back cover blurb, which introduces us to a woman who must steal the face of a god in order to save her people.
For two hundred years, Jala's people have survived by raiding the mainland. By shaping the reefs around the Five-and-One Islands into magical ships, they can cross the ocean, take what they want, and disappear. Or so they have always believed. On the night after Jala becomes queen, a tide of magical fog sweeps over the islands, carrying ships from the mainland. Inside are a desperate people, driven half-mad by sorcery and looking for revenge.

Now Jala — caught between her family's unending ambitions, the politics of the islands thrown into turmoil, and her unexpected love for the king — must find a way to save them all if she can.

But there are greater powers at work, and the politics of gods are more terrifying than she could have imagined. To save the Five-and-One Islands she may have to leave them behind.
Mike and Rachel Grinti are also the authors of Claws. Jala's Mask was published by Pyr on November 4, 2014. It is 285 pages, priced at $18 in trade paperback and $11.99 for the digital version. The cover art is by Marc Simonetti.