The Top Black Gate 50 Posts in December
The Top Black Gate 50 Posts in December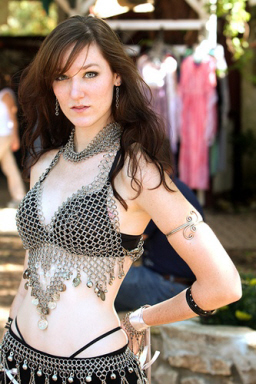 Marie Bilodeau, our newest blogger, didn't waste any time making a name for herself. Her first post, "Nine (mostly) Distinct (almost) Positive Traits of Chainmail Bikinis," shot right to the top of the traffic charts for the month of December, and stayed there. Welcome aboard, Marie! I think you're going to fit right in.
Sticking with the theme of fashionable armor, Dungeons and Dragons turned out to be a popular topic last month as well — and fantasy gaming in general, from Call of Cthulhu to the new Dragon Age game.
Mark Rigney examined early fantasy miniatures in our #3 post for the month, "AD&D Figurines: Youth In a Box?" And James Maliszewski proved that it's not just readers who are frequently overwhelmed with choices, with his post "The Coolest RPGs I've Never Played," fifth for the month.
Connor Gormley took a hard look at the overused trappings of much of modern fantasy in his article "Dwarves, Dragons, Wizards and Elves: Thinking About the Standard Fantasy Setting," which clocked in at #2.
Also on the Top Five was Adrian Simmons, with another look at subtle storytelling of J.R.R. Tolkien, "Frodo Baggins, Lady Galadriel, and the Games of the Mighty," a follow up to his popular article "Fools in the Hotzone: Saruman as the Bold but Incompetent Firefighter."
Moving on to the Top Ten, we have M Harold Page's latest review, "More Hardboiled than The Dresden Files: The Way Into Chaos: Book One of The Great Way by Harry Connolly." Harry's been a perennial favorite with our readers since we published his very first story, "The Whoremaster of Pald," back in issue #2.
Rounding out the Top 10 are James Maliszewski's look at gaming in the world of Alice in Wonderland, a review of the classic microgame Ogre, Sean McLachlan's photo-odyssey of the ancient kingdom of Axum, and James again, this time with a tribute to the great Fritz Leiber.
After the list of top articles for December, I've also broken out the most popular blog categories for the month.
The complete Top 50 Black Gate posts in December were:
The top categories last month were:
The Top 5o Black Gate blog posts in November are here, and you can see all 111 posts we made in the month of December here.