New Treasures: The Bullet-Catcher's Daughter by Rod Duncan
New Treasures: The Bullet-Catcher's Daughter by Rod Duncan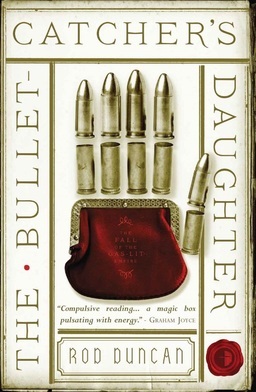 Rod Duncan is a mystery writer with three novels to his credit: Backlash, Breakbeat, and Burnout. His first fantasy novel, The Bullet-Catcher's Daughter, is advertised as the first book in The Fall of the Gas-Lit Empire series.
Duncan brings his talent for mystery to the shadowy streets of a fantasy metropolis, where Elizabeth Barnabus maintains a dangerous secret identity as she earns a living as a private detective. Graham Joyce called The Bullet-Catcher's Daughter "A magic box pulsing with energy. Compulsive reading from the get-go… [a] blend of steampunk alternative history wrapped in the enigma of a chase."
Elizabeth Barnabus lives a double life – as herself and as her brother, the private detective. She is trying to solve the mystery of a disappearing aristocrat and a hoard of arcane machines. In her way stand the rogues, freaks and self-proclaimed alchemists of a travelling circus.

But when she comes up against an agent of the all-powerful Patent Office, her life and the course of history will begin to change. And not necessarily for the better…
The Bullet-Catcher's Daughter was published by Angry Robot on August 26, 2014. It is 384 pages, priced at $7.99 in paperback and $6.99 for the digital edition. The cover is by Will Staehle.
See all of our recent New Treasures here.