Black Gate Online Fiction: "The Whoremaster of Pald" by Harry Connolly
Black Gate Online Fiction: "The Whoremaster of Pald" by Harry Connolly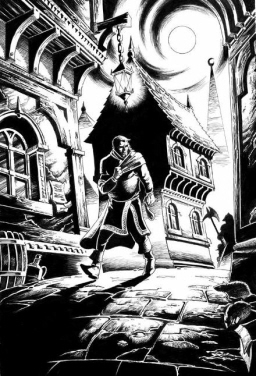 One of the most popular pieces of short fiction we've published in Black Gate magazine was Harry Connolly's first fiction sale, "The Whoremaster of Pald," which originally appeared in Black Gate 2.
Since that early sale, Harry has become a celebrated fantasy novelist, with titles including the Twenty Palaces novels Child of Fire and Game of Games. Featuring a brilliant and resourceful merchant in a corrupt and violent port city, "The Whoremaster of Pald" has all the hallmarks of his later fiction, and is filled with mystery, surprising twists, and great characters. Here are the opening paragraphs:
My prison cell stank like a bird cage. It was terribly dark, and I listened for the sound of rats. I despise rats. I lay down on the wooden plank that would serve as my bed for the night. My bruised back throbbed, but at least I could still breathe. It's always nice to breathe after a beating.

In the morning a sweet little sparrow of a girl would testify against me. The charge was murder, and she had seen me do it. It had started only the evening before, when I decided that something had to be done about the new Warden.
RPGNet called the story "remarkably rich and textured," and Locus magazine said:
["The Whoremaster of Pald"] was one of my favorites. Harry James Connolly's unlikely hero is a fat master of a whorehouse who cringes before bullies; not your usual fantasy hero at all. His story is told with smooth, vivid prose that is strongly reminiscent of Jack Vance, Connolly's Zed gradually engages reader sympathy as he veers between bullying protection racketeers, a new worker who decides she can't really stick to prostitution, a conniving rival, and the mayor's lout of a nephew… an unputdownable tale. Connolly works the twists and turns so cleverly it's impossible to guess what will happen. It's hard to believe this is Connolly's first published story.
Several years ago, we published the story in its entirety on the Black Gate website; we're proud to offer it again here as part of the new line up of Black Gate weekly Online Fiction.
Read the complete story here, and the complete catalog of Black Gate Online Fiction, including the adventure fantasy novelette "The Duelist" by Jason E. Thummel and Sean McLachlan's novella of dark fantasy, "The Quintessence of Absence," here.
Art by Chris Pepper.