New Treasures: Nebula Awards Showcase 2014, edited by Kij Johnson
New Treasures: Nebula Awards Showcase 2014, edited by Kij Johnson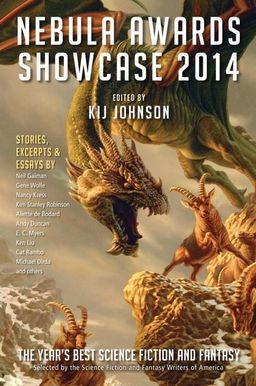 The first volume of the revered Nebula Awards anthologies was released nearly half a century ago, in 1966, and it's been an annual event ever since. I really can't think of a single anthology series that's lasted even half as long.
It's no accident, either. Year after year these books, which gather Nebula Award-winning short fiction from the previous year — alongside additional nominees, excerpts from winning novels, author retrospectives and appreciations, and survey pieces — collectively form a record of the most acclaimed SF and fantasy our industry has produced for the last 49 years.
Want an example? Have a look at the Tables of Contents for the first three volumes, which contained such stories as "Repent, Harlequin!" Said the Ticktockman" by Harlan Ellison, "The Doors of His Face, the Lamps of His Mouth" by Roger Zelazny, "Light of Other Days" by Bob Shaw, "The Last Castle" by Jack Vance, "We Can Remember It for You Wholesale" by Philip K. Dick, "Aye, and Gomorrah…" by Samuel R. Delany, "Behold the Man" by Michael Moorcock, and "Gonna Roll the Bones" by Fritz Leiber.
It's not just that those are some of the most famous SF tales ever written. It's that the Nebula Awards — and these volumes — helped preserve and promote them and they're likely the reason you know about these stories today.
All that begs the question: who's in the latest volume? Who are the writers who will be remembered and acclaimed half a century from today?
Nebula Awards Showcase 2014, on sale today, answers those questions. It collects the Nebula Award winning short fiction from last year, including an excerpt from Kim Stanley Robinson's novel 2312, the 110-page novella "After the Fall, Before the Fall, During the Fall" by Nancy Kress, "Christmas Inn" by new Grand Master Gene Wolfe, "Close Encounters" by Andy Duncan, and "Immersion" by Aliette de Boudard. It also includes two additional nominees, "The Bookmaking Habits of Select Species," by Ken Liu, and Cat Rambo's "Five Ways to Fall in Love on Planet Porcelain." There are also two appreciations of Gene Wolfe by Neil Gaiman and Michael Dirda, as well as several poems. (Read the complete list of 2014 Nebula Award winners here).
Nebula Awards Showcase 2014 is edited by Kij Johnson and published on May 13, 2014 by Pyr. It is 291 pages, priced at $18 in trade paperback and $11.99 for the digital edition. The colorful cover is by Raoul Vitale. And check out the 2013 Nebula Awards Nominations, announced on February 25th.