The Public Life of Sherlock Holmes: The Hammer Hound
The Public Life of Sherlock Holmes: The Hammer Hound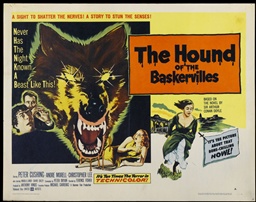 Last week, we looked at Tom Baker's relatively unknown Hound of the Baskervilles. As this post is being published on May 26, which is the birthday of a classic Holmes, we'll look his version of The Hound. For on this date in 1913, Peter Cushing was born in Surrey.
Basil Rathbone's contract expired in 1946 and, feeling imprisoned in the role of Sherlock Holmes, he refused to renew it. So great was his shadow that it would be thirteen years before another studio even attempted to make a Sherlock Holmes movie. Hammer Films is legendary in England for their run of horror films, starting in the fifties.
Those old Universal classics from America had never caught on across the pond. Hammer, however, made a series of successful horror films, frequently co-starring Peter Cushing and Christopher Lee.
In 1959, Hammer broke new ground with the first colorized version of The Hound. Not surprisingly, they turned to Cushing and Lee to carry the movie.
Either man could have played the lead, but it would be Peter Cushing who starred as Holmes in the lavish production. He had the sharp, lean features that are the stock and trade of a successful screen Holmes. Just as importantly, he was an excellent actor. There are quite a few Sherlockians out there who consider him the finest Holmes.
A close study of Cushing's performance leaves one with the distinct impression that Jeremy Brett was quite influenced by his mannerisms. The explosive movements, the use of his hands, the theatrical flair in delivering lines: I find more of Cushing in Brett than from any other Holmes.
He brought a sense of gravity to the role, which was fitting for Hammer's gothic atmosphere. Lee would give a solid performance as Sir Henry Baskerville. And his look of terror as a non-Canonical tarantula crawled on his shoulder was authentic: he was dreadfully afraid of spiders!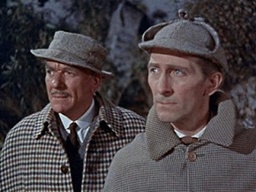 Deserving of special mention is Andre Morell as Watson. He took the prevailing image of the good doctor as a doofus (thank you, Nigel Bruce) and turned it completely on its head. I believe there have since been better performances, but none more important. Morell showed that the character could be translated to the screen as Doyle wrote it. Holmes's assistant could be more than comic relief.
The viewer can understand why Holmes kept Watson around; something that made no sense with Nigel Bruce's character.
I was amused that Frankland is converted into a bishop (and he's the etymologist, not Stapleton) and actually plays the role in the Bruce style.
Francis De Wolff is so unpleasant as Dr. Mortimer that I hoped he was going to be the killer. The man clearly has some anger issues.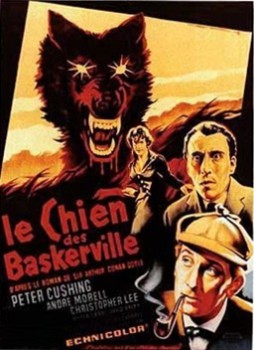 This was intended to be the first of a series. However, it did not fare well critically and wasn't a smash at the box office, so the idea was dropped. It has been reported that the Doyle Estate wanted too much for rights to another film. Hammer would have made quite a "Creeping Man"!
I always think of the word "garish" when this movie comes to mind. But it remains one of the better attempts and is certainly worthy of multiple viewings.
Peter Cushing would don the deerstalker again (succeeding Douglas Wilmer) in a sixteen episode British television series in 1968. Cushing landed the part after Robert Stephens and Eric Porter were unsuccessfully pursued. He then made one more Holmes film in 1984: The Masks of Death. That was intended to be the first of multiple Holmes films for Cushing, but his health was failing and it wasn't possible to shoot even one sequel.
Though he was not called upon to play the great detective, Lee would begin a long association with Sherlock Holmes. He would play Sir Henry Baskerville in this Hound; Sherlock Holmes just three years later in the German film, Sherlock Holmes and the Necklace of Death, and Mycroft Holmes in 1970's The Private Life of Sherlock Holmes.
He would return as the great detective in two made-for-television movies in the early nineties. The plots are plodding, but Lee plays a solid Holmes. You, dear reader, of course, already read my column on Lee's turns as Holmes, right?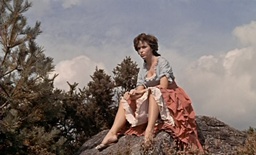 Hammer's Hound had significant story changes, from the Hugo legend to the final showdown, with notable differences in between. For example, Stapleton's conscience-stricken sister becomes a hot-blooded daughter. However, it is still clearly recognizable as The Hound of the Baskervilles and it makes a refreshing change from the same story that is portrayed in film after film. Not every movie could pull this off. Cushing's version does so.
The Hound has not been tackled on the big screen since Cushing's version. Along with Rathbone's production, it remains the standard others are measured against. Cushing would revisit The Hound himself in a two-parter for his 1968 BBC television series, Sherlock Holmes. It clearly reflects a non-film budget, but is certainly a solid, if unspectacular, production.
Peter Cushing appears on just about every "Best Holmes" list and this Hound is the most commonly known version of his work as the great detective. You can argue which is better: Cushing's Hound or Rathbone's (Ian Richardson's version might be number three, but I prefer his Sign of the Four). It may simply come down to a preference of color or black and white. They're both that good.
---
Bob Byrne founded www.SolarPons.com, the only website dedicated to the 'Sherlock Holmes of Praed Street' and blogs about Holmes and other mystery matters at Almost Holmes. 
For over a decade, he ran HolmesOnScreen.com, the Net's leading resource for Holmes in film and on television.