The Public Life of Sherlock Holmes: Lord of Misrule
The Public Life of Sherlock Holmes: Lord of Misrule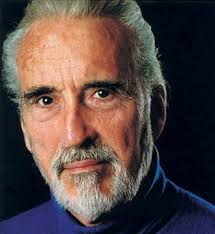 Question – What do Dracula, Frankenstein, the Mummy, James Bond, Fu Manchu, Star Wars, The Lord of the Rings, John Belushi and Sherlock Holmes all have in common?
Answer – Lee. Christopher Lee (one of his autobiographies was titled Lord of Misrule)
In May, talented British actor Christopher Lee turns 92 years old. Thanks to his performance as Saruman in the Lord of the Rings trilogy, he is as popular today as he ever has been. And proving he knows how to get in on a winning franchise, he was Count Dooku in the second Star Wars trilogy. Which chronologically was the… oh, never mind.
But Lee first made his name in the horror flicks produced by Hammer Films in Great Britain in the late fifties and sixties. Lee played the monster (Dracula, Frankenstein, the Mummy), while friend Peter Cushing was the protagonist.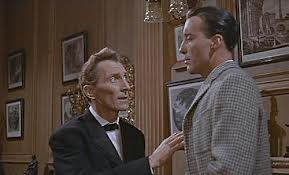 The two even paired up in 1959 for Hammer's garish Hound of the Baskervilles: Cushing was Sherlock Holmes while Lee played Sir Henry Baskerville in what is commonly cited as the best Hound film of them all.
A few years later, Lee himself would don the Inverness cape in the disappointing Sherlock Holmes & The Deadly Necklace. A multinational effort filmed in Germany, it suffered from too many cooks (two directors?) and an incoherent script revision.
But worst of all, in the end every bit of dialogue by Lee and Walters was dubbed by other actors from England … into English!  Plans for a sequel were immediately abandoned, though that fledgling effort eventually became A Study in Terror, in which John Neville's Holmes took on Jack the Ripper.
If you recognize Moriarty's driver, he went on to play General Burkhalter in Hogan's Heroes (I'm pretty sure his voice was dubbed as well!).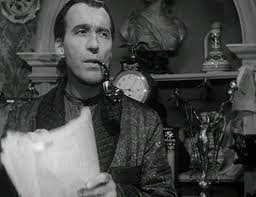 Lee turned in a solid performance and he said, "My portrayal of Holmes is, I think, one of the best things I've ever done because I tried to play him really as he was written – as a very intolerant, argumentative, difficult man – and I looked extraordinarily like him with the make-up on…"
Not long afterwards, Lee would portray Sax Rohmer's Fu Manchu in five films helmed by Harry Alan Towers. And he popped up as Sherlock's brother Mycroft in Billy Wilder's The Private Life of Sherlock Holmes. All of which leads us to Sherlock Holmes: The Golden Years.
In late 1990, Towers and Lee reunited to film two Holmes movies for television. From Towers:
It's going to be eight one-hour adventures set in the days when Holmes is a worldwide celebrity and can't go anywhere without meeting equally famous people who welcome him as a friend. Against wonderfully exotic backgrounds he does the good old Sherlock Holmes stuff and solves mysteries.
And there you go. Former Avenger Patrick MacNee was tapped as Watson (he had been a forgettable one in Roger Moore's Sherlock Holmes in New York). Since both men were nearing seventy, we were getting a senior Holmes and Watson.

The idea of eight one-hour episodes was quickly scrapped and two three-hour movies were written. Bob Shayne (writer of 1987's forgettable The Return of Sherlock Holmes) penned both scripts. They were far too long and meandered all over the place. Tightly plotted, ninety-minute episodes would have been much stronger.
The first film, Sherlock Holmes & The Leading Lady, featured the still vivacious Morgan Fairchild as Irene Adler. Almost thirty-years younger than Lee and looking even more so, the romantic angle between the two was irreparably flat.
Filmed in Vienna and Budapest, the script includes Sigmund Freud, Emperor Franz Joseph, Eliot Ness, and anarchists: the only thing missing in the credits is the kitchen sink. It's watchable, but probably only once.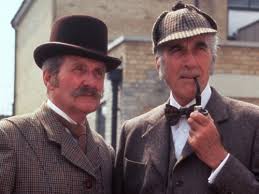 Incident at Victoria Falls (filmed second but shown first) was shot in brutal heat in ninety days in Zimbabwe, with only a two-day break after finishing The Leading Lady. Lee recounted a railroad car scene where it was about one hundred thirty degrees inside.
Even though Sherlockian H.R. Keating helped out on both films, Bob Shayne's script was again flawed. The premise of this one isn't bad: Holmes is sent to Africa by King Edward VII to safeguard The Star of Africa (a diamond). Much shenanigans and skullduggery ensue.
Theodore Roosevelt (amusingly played by Claude Aiken), Lillie Langtry (Jenny Seagrove: Mary Morstan opposite Jeremy Brett's Holmes), Raffles, Marconi, and Edward VII make up the guest list this time around.
Once again, it's just too long and wanders all over the place. It's unfortunate, as the pieces were there for a solid Holmes movie. Both films were delayed, went straight to video and then shown on US television, considerably edited down (Seagrove is completely cut out of Incident).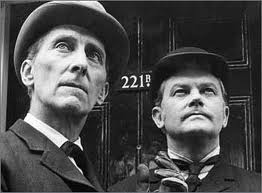 Lee is a pretty good elderly Holmes, though MacNee, better than in New York, doesn't add much. He was actually third choice, but Nigel Stock (Watson opposite Peter Cushing and Douglas Wilmer) and Gordon Jackson (British TV veteran) were dead. To give MacNee credit, he wasn't a shadow of Nigel Bruce.
The idea for this series was better than the execution and, because of the poor scripts, the films are rather dull. This is a shame, as Christopher Lee was given the deerstalker three times without the structural support to make a memorable Holmes film.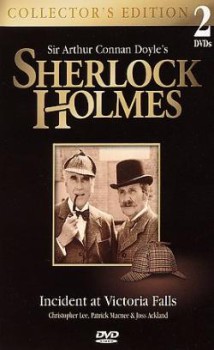 A classic Dracula, Frankenstein, mummy, and wizard, Christopher Lee absolutely had the makings of a great Sherlock Holmes. A DVD package, including both movies, is readily available for $5.00. Lee's performance is certainly worth that small price.
If you want a Holmes kick, watch Harry Allen Towers's The Brides of Fu Manchu. Lee plays the diabolical doctor of evil, former Holmes Douglas Wilmer is Nayland Smith and Howard Marion Crawford, who played Watson 39 times opposite the under-appreciated Ronald Howard, is Dr. Petrie.
The relatively young Ian McKellen has been tapped to play an octogenarian Holmes in A Slight Trick of the Mind. Could not Saruman be enticed to make a guest appearance in Gandalf's Holmes film?
And in case you were wondering, Lee played the German naval captain in John Belushi's silly but enjoyable 1941.