March/April Magazine of Fantasy & Science Fiction now on Sale
March/April Magazine of Fantasy & Science Fiction now on Sale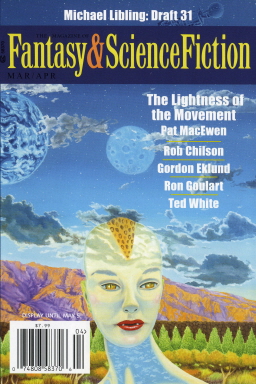 I'm so far behind reading Fantasy & Science Fiction. Seriously. I need to take a long vacation just so I can catch up.
Now, I know reading F&SF is ultimately a time-saver. When I did have time to keep up, it always pointed me towards the hottest new fantasy writers on the market. Believe me, considering all the bad fantasy novels I've read (or tried to read) in the last few years, if I'd just spent half that time reading F&SF, I would have known which writers to try instead.
Well, I suppose I'll have a nice stack of magazines to read when I'm retired.
Jamie Lackey at Tangent Online is more disciplined than I am… not only has she read the latest issue, she had time to write a lengthy review. Here's her thoughts on Sarah Pinsker's contribution:
"A Stretch of Highway Two Lanes Wide" by Sarah Pinsker opens when Andy wakes after a farming accident to find that his arm has been replaced by a prosthetic. As he works at getting used to his new appendage, he realizes that the arm thinks that it's a stretch of road in Colorado. It's a unique concept, and the prose is beautiful. As Andy deals with his new arm's sense of self, he also gains more understanding and acceptance of his own place in the world.
This issue contains stories by Gordon Eklund, Ron Goulart, Albert E. Cowdrey, Ted White, and many others.
Here's the complete Table of Contents.
NOVELLA
"The Lightness of the Movement" – Pat MacEwen
NOVELETS
"Apprentice – Jon DeCles
"Draft 31 – Michael Libling
SHORT STORIES
"Collar" – Leo Vladimirsky
"A Struggle Between Rivals Ends Surprisingly" – Oliver Buckram
"Hark, the Wicked Witches Sing" – Ron Goulart
"A Stretch of Highway Two Lanes Wide" – Sarah Pinsker
"Byzantine History 101" – Albert E. Cowdrey
"Albion Upon the Rock" – Daniel Marcus
"The Uncertain Past" – Ted White
"Butterscotch" – D.M. Armstrong
"I Said I Was Sorry Didn't I" – Gordon Eklund
"Our Vegetable Love" – Rob Chilson
Departments this issue include book reviews by Charles de Lint and Michelle West, film reviews from Kathi Maio, Coming Attractions, and a Curiosities entry by David Langford. The cover is by Kent Bash for "The Lightness Of The Movement."
The Magazine of Fantasy and Science Fiction is edited by Gordon van Gelder. The cover price is $7.99 for a thick 258 pages. Check out the complete TOC and additional free content at the F&SF website.
We last covered F&SF here with the January/February issue.